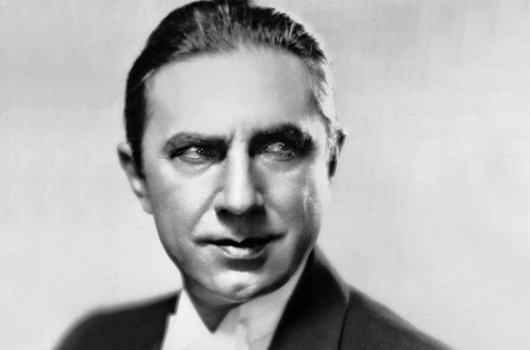 Bela Lugosi
Bela Lugosi – the unknown Hungarian actor who gave the world its most iconic Count Dracula
Bela Lugosi, the youngest of four children, was born Béla Ferenc Dezsõ Blaskó, on 20th October, 1882, in Lugos, Hungary. His father, István Blaskó, was a baker turned banker, and the son clashed with his authoritarian patriarch about becoming a professional actor. Having trained at the Budapest Academy of Theatrical Arts, Lugosi started appearing on the Hungarian stage as early as 1901. The darkly handsome actor managed to break into silent films in 1915, although usually under the name Arisztid Olt.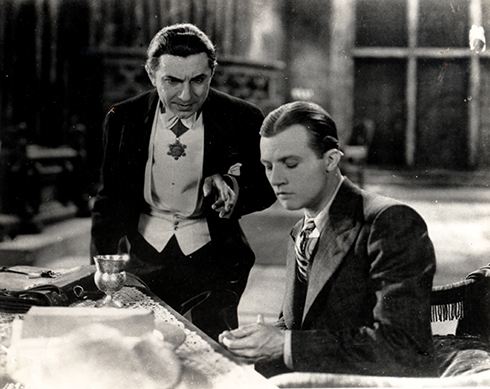 Dracula (Bela Lugosi) is captivated by Renfield's (Dwight Frye) injury in Dracula (Universal 1931)
Lugosi organised an actor's union in 1918, during the collapse of the Hungarian monarchy and the establishment of a Communist government. When the Communists were subsequently defeated in 1919, Lugosi was forced to flee to Germany because of his left wing politics. He appeared in a number of films in Germany, including as a butler in F W Murnau's unauthorised adaptation of Robert Louis Stevenson's The Strange Case of Dr Jekyll and Mr Hyde.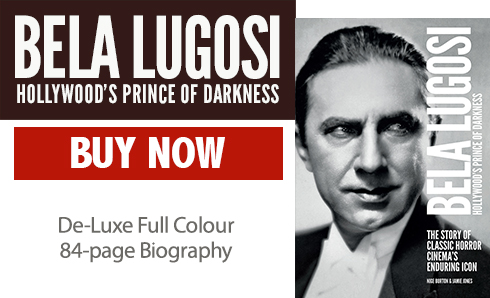 During the First World War, Bela Lugosi served as an infantryman in the Austro-Hungarian Army, from 1914 to 1916, where he rose to the rank of captain in the ski patrol. He was awarded a medal for wounds he suffered while serving on the Russian front, but these injuries would persist throughout his life, blighting his career, personal life and health.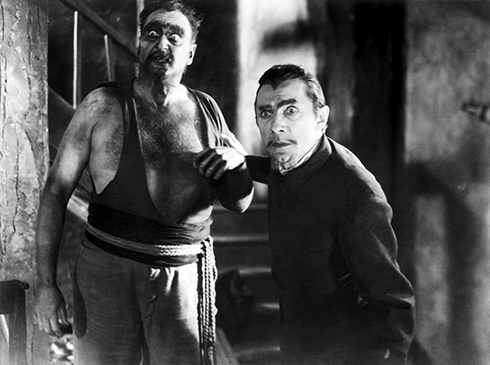 Murder Legendre (Lugosi) is up to no good in White Zombie (Halperin 1932)
In 1921, Lugosi emigrated to the United States and began acting on stage and in films. He eventually landed the role of Dracula on Broadway in 1927, going on to tour in the role for the next two years, eventually appearing in Los Angeles. After being cast in Tod Browning's The Thirteenth Chair (1927), he famously went on to take the lead in that director's 1931 film version of Dracula, after Lon Chaney rejected the role.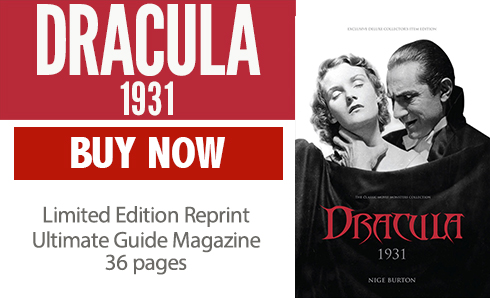 Bela Lugosi's Dracula was handsome and charismatic, a far cry from Bram Stoker's source material, and his performance catapulted him to overnight fame. Delighted with the commercial success of Dracula, if not with its integrity as a production, Universal immediately screen tested their new star for the role of the Monster, in their follow up to Dracula, a film adaptation of Mary Shelley's Frankenstein.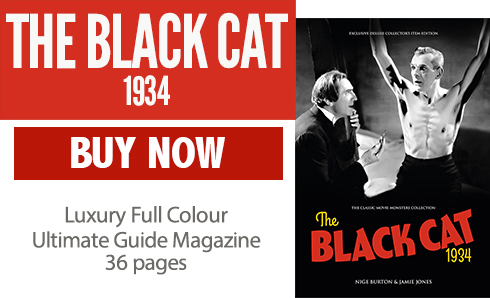 It is oftentimes reported that Lugosi rejected the role arrogantly, citing the facts that it required too much heavy makeup and had no dialogue, and thus making way for his main rival-to-be, the English actor Boris Karloff. But what must be considered is that the version Lugosi would have starred in was to be directed by Robert Florey, and was vastly different from the James Whale classic that was eventually made. The screen tests showed the 6' 1" actor in a flowery, Golem-like get up, and it is reported that Carl Laemmle Jr burst into fits of laughter in front of Lugosi when he first saw it. The project was shelved, and Bela Lugosi and Robert Florey went on to make Murders in the Rue Morgue (1931), leaving the way clear for Whale to pick up the property and Karloff to make his entrance.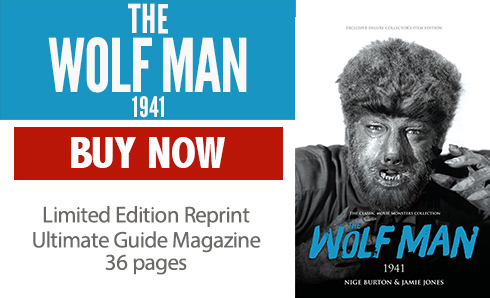 Although for a while Lugosi and Karloff were evenly matched, the latter quickly began to take the lead, even being honoured with the Garbo-esque accolade of surname only billing. Whilst both seemed stuck with the horror genre, Karloff received meaty, interesting roles, while Lugosi was often included for name value alone.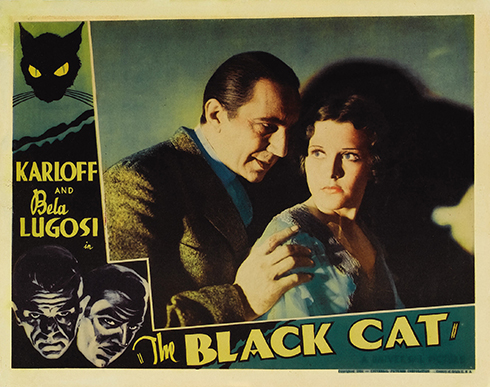 A moody lobby card for The Black Cat (Universal 1934)
Trading on the double value theory, Universal did see the sense in combining the talents of both of their stars, and genuine classics emerged, such as The Black Cat (1934), The Raven (1935) and The Invisible Ray (1936), but Karloff always received top billing, much to Lugosi's chagrin. This seems unfair, as Lugosi's performances were fine and, in some instances, outshone those of his co-star. He more or less played Dracula again when he was cast as Count Mora in Tod Browning's remake of London After Midnight, Mark of the Vampire (1935), opposite Carroll Borland as Luna. But the horror is not real; they are spoof vampires engaged in detective work. In many ways, this film is more satisfying than Dracula.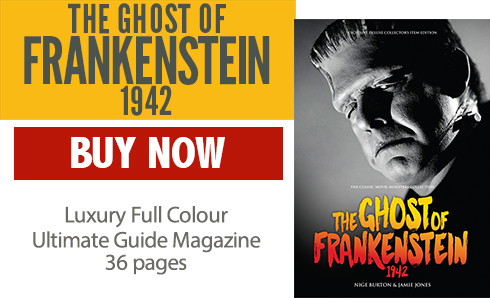 The injuries Lugosi had sustained in his military career were beginning to take their toll, and, suffering excruciating pain on a daily basis from sciatic neuritis, the actor resorted to morphine and methadone in an attempt to keep the chronic condition at bay. It was, however, becoming clear to studio bosses that he was battling addiction, and this, combined with a change of management at Universal following the ousting of the Laemmles in 1936, horror films being banned in Britain and Lugosi's propensity to be typecast, led to a low point in his career. Consigned to bit parts in Universal's non-horror B-list films, Lugosi tried to supplement his income with theatre work, but when his son, Bela George Lugosi, was born in 1938, the star had to borrow money from the Actors' Fund to pay hospital bills.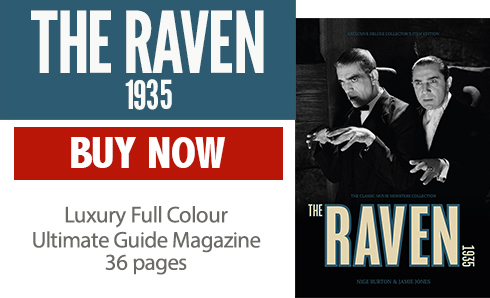 By a stroke of good fortune, Bela Lugosi's career did receive a much needed boost in August, 1938, when Californian theatre owner Emil Umann decided to revive the popularity of Dracula and Frankenstein by reissuing them as a double-bill in his cinema. The move was so successful that Umann had to schedule extra shows to accommodate the crowds queueing around the block, and as an extra stunt, he hired Lugosi to make personal appearances, delighting a whole new audience who had not seen Dracula on its original release. Noting the sagacity of Umann's strategy, Universal launched its own national re-release of the same two films as a double feature to similar effect and, as a result, re-hired Lugosi for new films. "I owe it all to that little man at the Regina Theatre," he said at the time. "I was dead, and he brought me back to life."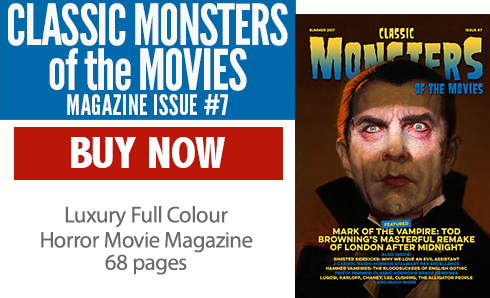 Bela Lugosi was reunited with Boris Karloff for the epic Son of Frankenstein (1939), in which he played the Monster's assistant, Ygor, an elvish shepherd who had escaped the hangman's noose with nothing more than a broken neck. After Dracula, this was surely Lugosi's finest hour; his superb characterisation of the deformed villain is spellbinding to watch even today. After another beautiful cameo as Bela the werewolf in The Wolfman (1941), Lugosi reprised the role of Ygor in The Ghost of Frankenstein (1942) in which his brain ends up inside the head of Lon Chaney, Junior's Monster, bringing the fates full circle for Frankenstein Meets the Wolfman (1943). Finally, Lugosi was to play the Frankenstein Monster.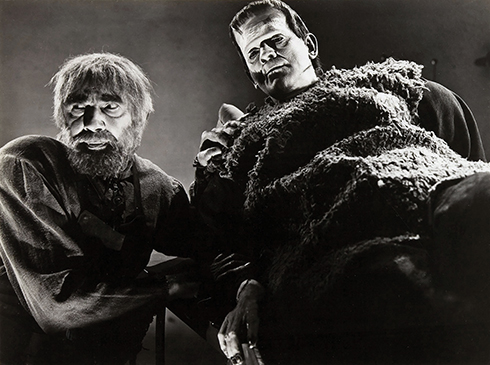 Lugosi's finest hour after Dracula was as Ygor opposite Boris Karloff in Son of Frankenstein (Universal 1939)
His performance in this fine film is often criticised as stilted and odd, but one must consider that at the end of the previous film, the Monster ended up with Ygor's brain and voice, before going blind as his body rejects the transplanted organ. Thus, for Frankenstein Meets the Wolfman, Lugosi plays the Monster as a blind hulk with Ygor's personality. But when changes were made prior to the film's release, and the Monster's dialogue cut along with all reference to his blindness, Lugosi's performance simply doesn't make sense. Add to this the fact that, because of his pain and addiction, many scenes had to be taken by a double, who was playing a sighted Monster, and it is not surprising that the plot became so muddled and nonsensical. These odd and confusing factors blight what could otherwise have been a nigh on perfect film, and the episode did the 62 year old Lugosi's career no favours at all.
Lugosi once again sank into low budget, poverty row specials from the likes of Nat Levine, Sol Lesser, and Sam Katzman, a move which may have helped him financially if not artistically. A high point was being cast as Joseph, in the low budget Val Lewton shocker The Body Snatcher (1945). Karloff again hogs the film, but Lugosi's desperate cameo is nothing short of terrific. His last A-picture came in the guise of Abbott and Costello Meet Frankenstein (1948) in which he was again to play Dracula, but only for the second time in his career. His drug use was so notorious by this time that the producers mistakenly believed him to be dead, and were set to cast Ian Keith in Lugosi's stead.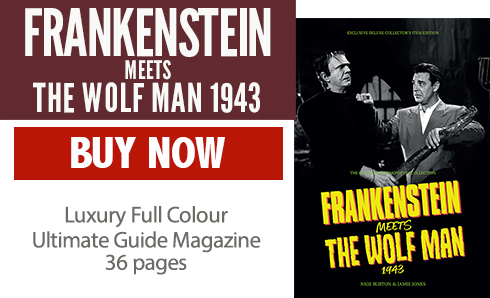 What followed was a series of low-key television appearances prior to summer stock reruns of Dracula on stage. He embarked upon a touring production of the play in England and, while there, filmed Old Mother Riley Meets the Vampire (1952) with Arthur Lucan and Dora Bryan. Returning to America, he lamented his typecasting in a television interview, wistfully reflecting "Now I am the Boogie Man. I wish I could play more comedy, like the Mother Riley films." Independent producer Jack Broder took him at his word, and cast him in a jungle-themed comedy, Bela Lugosi Meets a Brooklyn Gorilla, co-starring nightclub comedians Duke Mitchell and Sammy Petrillo.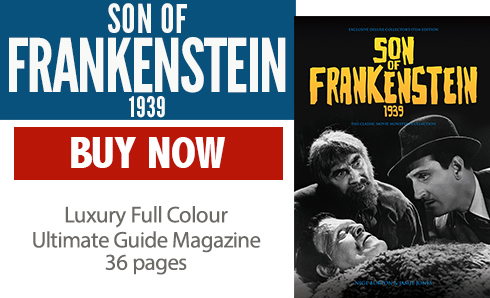 Bela Lugosi's sun was undoubtedly setting, although he was once again to receive top billing in the ludicrous series of films by director Edward D Wood, Junior. He was a voice-over for the transvestite film Glen or Glenda, and a Frankenstein-esque mad scientist in Bride of the Monster. During post-production of the latter, Lugosi decided to seek treatment for his drug addiction, and the premiere of the film was said to be intended to help pay for his hospital expenses. It is, however, reported that Frank Sinatra, who heard of Lugosi's problems, helped with expenses and visited at the hospital. Lugosi would later recall this with some amazement, since he had never known Sinatra previously.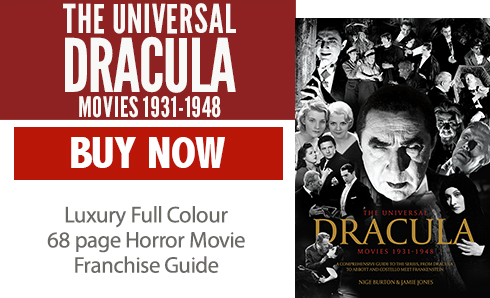 Throughout his life, Lugosi claimed that most of his fan mail came from women, and sexy movie star Clara Bow became so obsessed with his performance that she initiated a torrid affair with the actor, leading to the demise of his second marriage to Beatrice Weeks. In total, the actor married five times, and it was his 1933 marriage to his third wife, Lillian Arch, which produced his son. Lugosi married for the fifth and final time in 1955, when he took Hope Lininger as his wife. She had been a huge fan, writing him letters during his hospital incarceration while recovering from Demerol addiction. She would always sign her letters off 'A dash of Hope".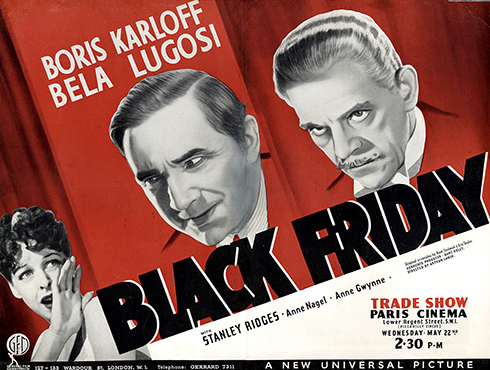 A stylish poster for Black Friday (Universal 1940)
Bela Lugosi was found dead from a heart attack, lying on a couch in his Los Angeles home, on 16th August, 1956. He was buried at the Holy Cross Cemetery in Culver City, California, wearing one of his trademark Dracula capes. This was not, as is often reported, at his own request, but the suggestion of his ex wife Lillian, and son Bela Junior.
It is without doubt Lugosi's iconic Dracula that has informed all popular cultural references since the release of that 1931 production so long ago, supplanting even that of the original novel in the minds of the population at large. But Bela Lugosi remained proud to his dying day that his Dracula was entirely his own invention, and not Stoker's.