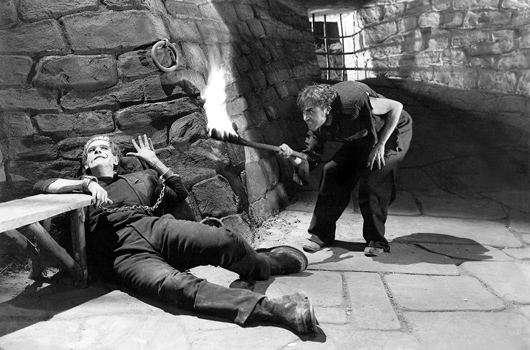 Frankenstein (Universal 1931)
Frankenstein was not the automatic next choice for Universal despite the unprecedented commercial success of Dracula (1931), and their fortunes remained precarious.
In addition to a rifeness of nepotism (at one point it seemed as if new Laemmles were arriving from Europe daily) the studio did not have an arm of theatres awaiting new productions, so Universal were reliant on independently-owned outlets for most of their business, which put them at a major disadvantage from competitors.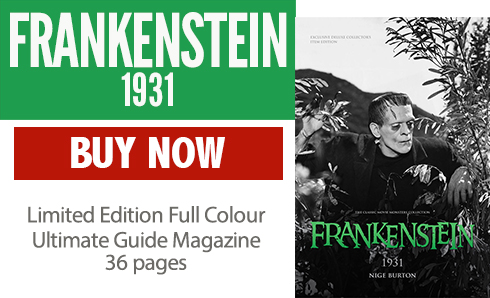 Feeling a little stuck with the new horror genre, Carl Laemmle Sr did not see a sequel as the most obvious next step, so looked around for another property to film. His attention rested on Mary Shelley's gothic novel Frankenstein: or The Modern Prometheus, but he knew that the book would be difficult to make sense of on film, particularly on a restricted budget.
Robert Florey created the first draft and, with dialogue contributions from Garrett Fort, stripped the novel back to the mere premise of Shelley's ideas, basing it on the English stage play by Peggy Webling. With its handful of sets and to-the-point storyline, it was virtually unrecognisable as the same work, but it did retain something of the author's moral tale and essence of foreboding.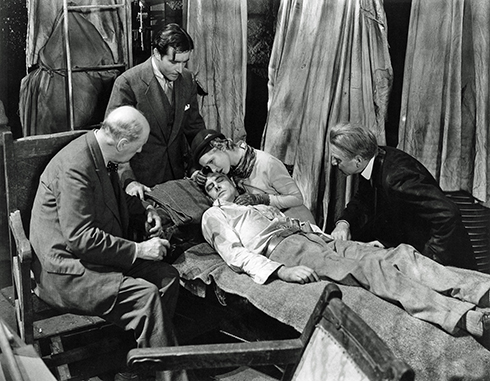 Exhausted by his efforts, Henry Frankenstein (Colin Clive) is comforted by Elizabeth (Mae Clarke) while Baron Frankenstein (Frederick Kerr), Victor Moritz (John Boles) and Dr Waldman (Edward Van Sloan) look on in Frankenstein (Universal 1931)
The twenty minute test reel, much sought after but never found, showed Bela Lugosi stomping around in Jack Pierce's early Golem-inspired make-up. "He looked like something out of Babes in Toyland!" joked co-star Edward Van Sloan. Laemmle rejected the tests, Lugosi rejected the role, and Florey rejected the film, he and his star coming over all Poe-esque and moving on to Murders in the Rue Morgue (1932). The project was shelved.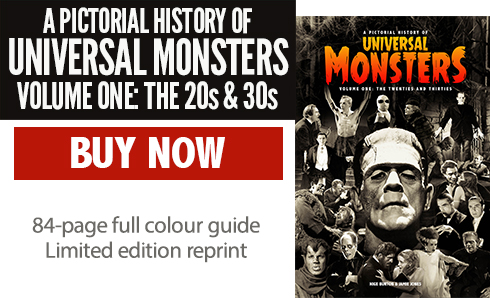 Fresh from his huge success with the romantic Waterloo Bridge (1931), English director James Whale was given the pick of over thirty Universal properties for his next project; he chose Frankenstein. "I thought it would be amusing to try and make what everybody knows is a physical impossibility seem believable," he later said.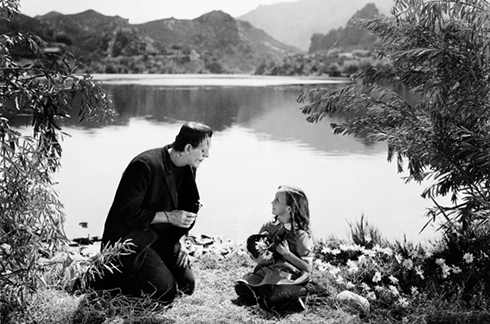 The Monster (Boris Karloff) befriends little Maria (Marilyn Harris) with tragic consequences in Frankenstein (Universal 1931)
The director rejected Leslie Howard for the title role, insisting instead on friend Colin Clive, who had excelled on both stage and screen as Captain Stanhope in Whale's Journey's End (1930). But who could play the Monster?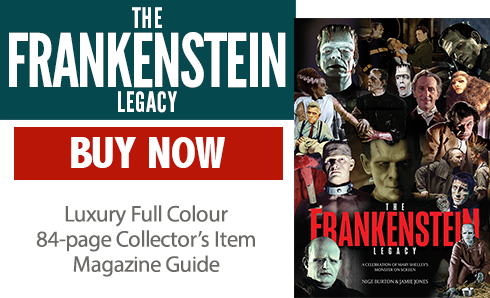 Lunching one day in the studio canteen, Whale's eyes rested on Boris Karloff, an English bit part actor who was working on the film Graft (1931) and something about his features fascinated him. Once a cartoonist, Whale set to work on developing the look of the character: "I made drawings of [Boris Karloff's] head, added sharp bony ridges where I imagined the skull might have joined. His physique was weaker than I could wish, but that queer, penetrating personality of his, I felt, was more important than his shape, which could easily be altered."
It was not as easy as anticipated, especially for Karloff. For two weeks, make-up artist Jack P Pierce experimented on him while perfecting the make-up; gone was Lugosi's Golem-look, in favour of a more scientific approach.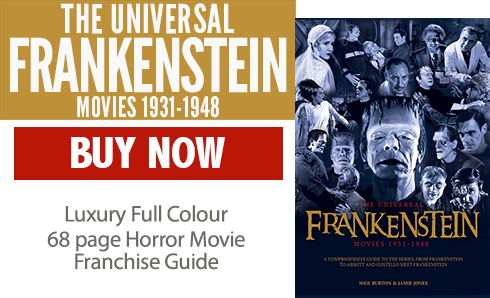 "I did some research in anatomy, surgery, criminology, ancient and modern burial customs and electrodynamics," said Pierce. "I discovered there are six ways a surgeon can cut the skull, and I figured Dr Frankenstein, who was not a practising surgeon, would take the easiest. That is, he would cut the top of the skull off, straight across like a pot lid, hinge it, pop the brain in, and clamp it tight. That's the reason I decided to make the Monster's head square and flat like a box, and dig that big scar across his forehead, and have metal clamps hold it together. The two metal studs that stick out the sides of his neck are inlets for electricity – plugs. The Monster is an electrical gadget and lightning is his life force."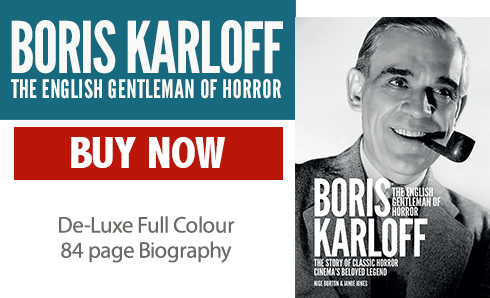 The film shot over a gruelling summer schedule and, when finally released, came with a prologue warning from Edward Van Sloan: "How do you do. Mr Carl Laemmle feels it would be a little unkind to present this picture without just a word of friendly warning. We are about to unfold the story of Frankenstein, a man of science, who sought to create a man after his own image without reckoning upon God. It is one of the strangest tales ever told. It deals with the two great mysteries of creation, life and death. I think it will thrill you. It may even shock you. It might even horrify you. So if any of you do not care to subject your nerves to such a strain, now's your chance to… Well, we've warned you!"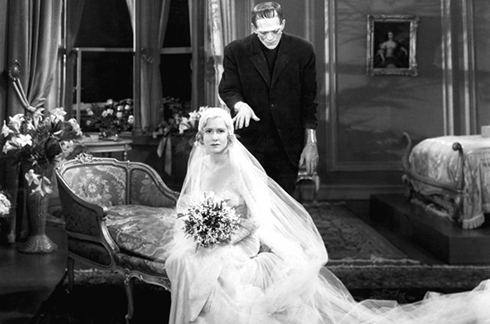 The Monster (Karloff) confronts Elizabeth (Clarke) on her wedding day in Frankenstein (Universal 1931)
Despite Uncle Carl's little warning, a pre-Christmas preview in 1931 in Santa Barbara caused an outcry, and demands were made to considerably revise the film before general release. One of the casualties was as the Monster befriends little Marilyn Harris: he floats flowers with her by a river, and then wonders if she too will float. Upon throwing her in, he is dismayed when she drowns. The cut made things worse when next she is seen dead and bedraggled in her father's arms. In Britain, the censor chose to leave that scene in, preferring instead to shorten the scene where the Monster menaces Mae Clarke in her bedroom; again, the implication is far worse than the intent or, indeed, the original scene. A 'happy' ending was also added, showing the young Frankenstein recovering in his father's house.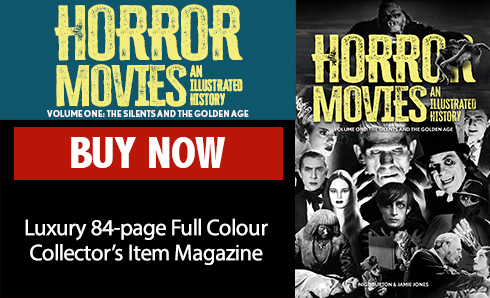 The film, even today, remains superlative. Clive's unnerving Frankenstein is still powerful, egged on by his crazed sidekick Fritz (Dwight Frye). Karloff's Monster, spectacularly brought to life by Kenneth Strickfaden's electrical wizardry and Clive's infamous cries of "It's Alive!" is filled with pathos, despite not uttering a single word of dialogue. Like Lugosi's Dracula, Karloff's Monster is the iconic form given to Shelley's creation in the minds of all and, while it might be a far cry from what the young writer intended, it has made Frankenstein one of the most enduring novels in English literature.
Frankenstein was released on the 21st of November, 1931.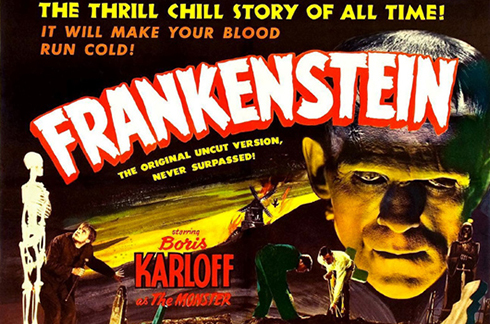 A theatrical release poster for the uncut re-released version of Frankenstein (Universal 1931)