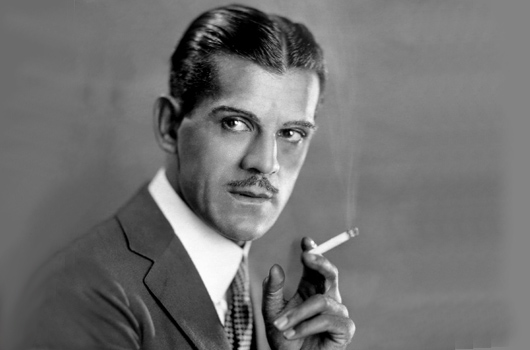 Boris Karloff
The English gentleman of the classic horror film, Boris Karloff, was born William Henry Pratt on the 23rd of November, 1887, at number 36 Forest Hill Road, Honor Oak, London.
Karloff is, of course, best remembered for his horror roles, and in particular, his definitive portrayal of the Frankenstein Monster, in Frankenstein (1931), Bride of Frankenstein (1935) and, with the costume addition of a now iconic sheepskin liberty bodice presumably fashioned by scruffy shepherd friend Ygor (Bela Lugosi), in Son of Frankenstein (1939).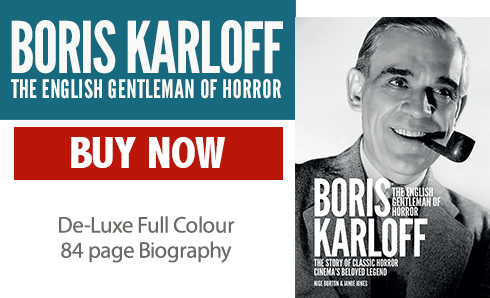 Growing up in Enfield, Karloff was the youngest of nine children and, after his mother's death, was brought up by his elder siblings. His grammar school education led to a place at King's College, London, where he studied for a career in the consular service. Disenchanted with this idea, he dropped out of college in 1909, picking up various odd manual jobs before drifting into acting. The young Karloff was bow-legged, stuttered badly and had a lisp and, although in later life he managed to conquer his stutter, his lisp remained, becoming a trade-mark of his myriad personifications.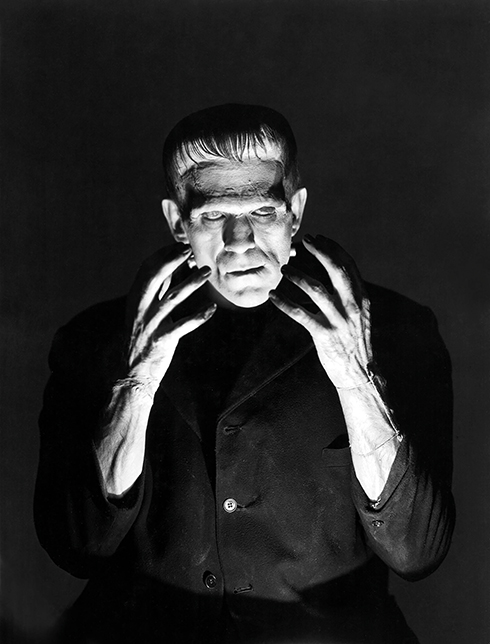 The face of the Frankenstein Monster in popular culture: Boris Karloff, unknown at the time, transformed by Jack P Pierce's layers of cotton and collodion in Frankenstein (Universal 1931)
Moving to Canada, he embarked upon a career with a touring theatre company, and changed his name to Boris Karloff. He explained that he thought the first name of Boris sounded rather exotic, and that Karloff was variously his mother's maiden name and a Slavic family name, but daughter Sara Karloff refutes this, publicly denying any knowledge of Slavic familial connections. It seems that the young actor, who always considered himself the 'runt' of the litter, may simply have changed his name to avoid any family embarrassment. Concerns that they would disapprove of his monsterly claims to fame, he did not reunite with them until he returned to England to film The Ghoul (1933); his fears were unfounded, and there was a joyous reunion.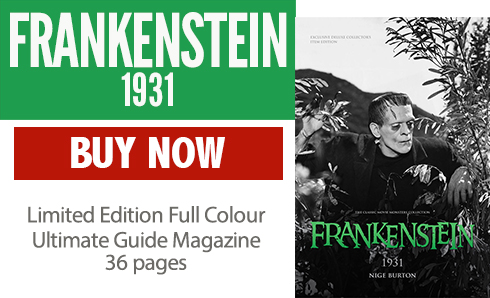 His fame and fortune with Frankenstein came relatively late in his career. Director James Whale was searching for somebody to play the Monster in his new production when he glimpsed Karloff in the canteen on the Universal back lot. Fascinated by the lines and characterful expressions of the actor's face, he made sketches and, pleased with the result, determined to offer him the part. Karloff was 44 by the time the film premiered, and it transformed his life from a hungry bit part player in some eighty films to an overnight star.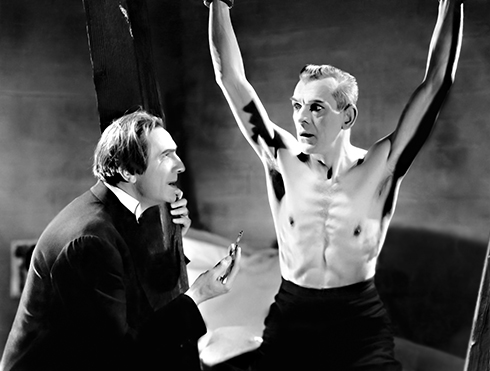 Vitus Werdegast (Bela Lugosi) prepares to skin his old enemy Hjalmar Poelzig (Boris Karloff) alive in a scene which was heavily edited by censorial demand prior to the release of The Black Cat (Universal 1934)
Partly due to the years of manual labour he had undertaken, but exacerbated by the wearing of a brace as part of the Monster make-up, a situation made yet worse by his having to carry Colin Clive to the top of the burning windmill, Karloff had lifelong back problems. It is interesting to reflect that, despite severe, debilitating pain, he weathered his handicap with constant activity rather than resort to the slippery slope of addictive medication adopted by some of his contemporaries.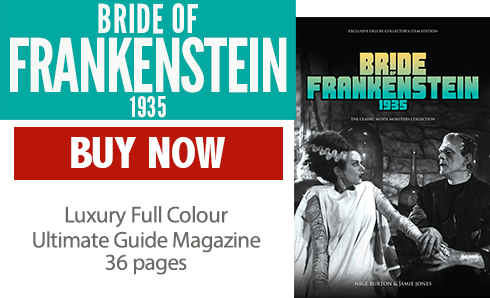 Karloff's success famously followed the rejection of the part of Frankenstein's Monster by the new Universal superstar Bela Lugosi, although it must be noted that the treatment offered to the latter was vastly different to Whale's ultimate incarnation for Karloff. This led to a predictable pairing of the two celebrities, and they went on to co-star in such classics as The Black Cat (1934), The Raven (1935) and The Invisible Ray (1936), but never were they teamed so well as in Son of Frankenstein, where Lugosi had his finest hour since Dracula (1931).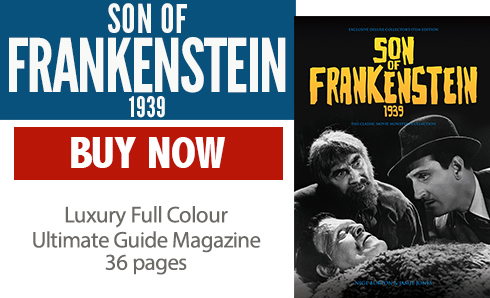 At 51, Karloff felt he was getting too old to don the 18lb boots any more, and handed the reins of the Monster over to Lon Chaney, but he did appear as the mad Dr Niemann in the sixth entry in the series, House of Frankenstein (1944), patiently coaching new Monster Glenn Strange offscreen in the art of lumbering with pathos.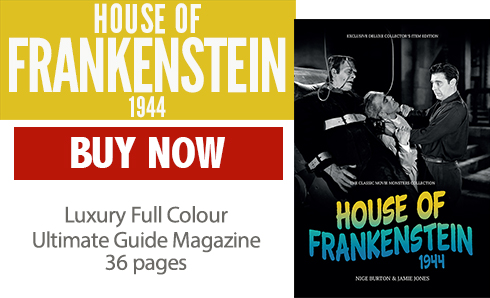 He made a series of broody chillers for Val Lewton over at RKO, comprising The Body Snatcher (1945), Isle of the Dead (1945) and Bedlam (1946); the first of these would be his last outing with Lugosi. The two had worked together successfully for fourteen years and, although never close friends, the partnership produced some of the greatest works of the horror film genre.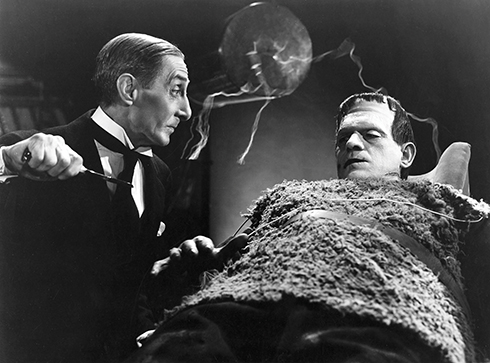 Benson (Edgar Norton) attempts to keep the Monster (Boris Karloff) at bay in Son of Frankenstein (Universal 1939)
Karloff apparently had a great love and respect for Lewton, saying he saved him from "the over-extended Frankenstein franchise at Universal". Karloff further cited Val Lewton as "the man who rescued me from the living dead and restored, so to speak, my soul."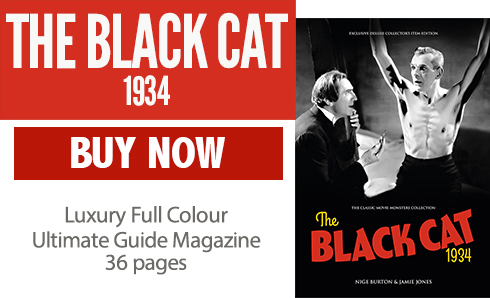 With his career now augmented by regular television work, Karloff carved a new niche with a handful of the Roger Corman low budget features of the 1960s, playing opposite contemporaries Vincent Price and Peter Lorre. Although he made a number of films which were released posthumously, his most fitting epitaph remains Peter Bogdanovich's Targets (1968), in which he plays himself, thinly disguised as Byron Orlock, a famous horror star nearing retirement who comes face to face with a teenage sniper; it was art imitating reality imitating art, bringing together the horror that was golden with the horror of today.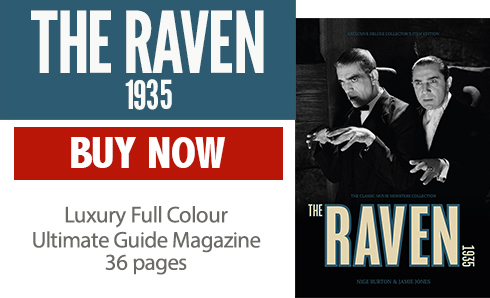 Karloff married five times, and had daughter Sara, his only child, by fourth wife Dorothy Stine. Sara was born while the actor was filming Son of Frankenstein, and he was allegedly rushed from the movie set to the hospital still sporting full Monster make-up in order to be present at the birth.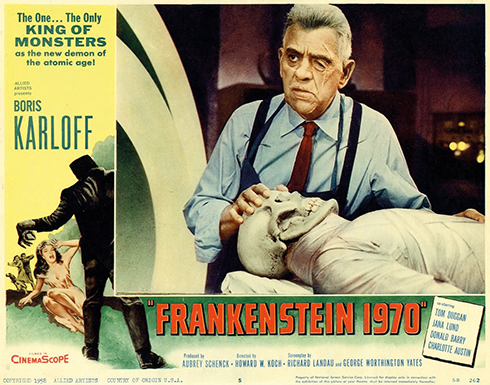 As Baron Victor von Frankenstein, Karloff once more returned to the other side of the Monster scales in Frankenstein 1970 (Allied Artists 1958)
Completely at odds with his on-screen persona, Karloff was a quiet, bookish gentleman who had a passion for cricket and "the quieter things in life". He was known to have adored children, often giving gifts during visits to sick children on hospital wards.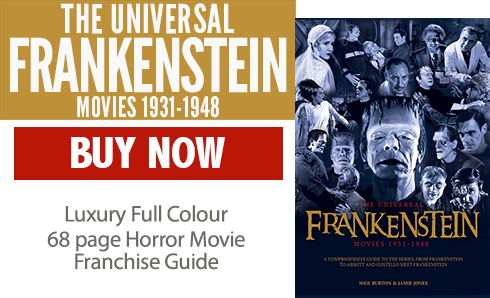 In the grip of emphysema for the last years of his life, Karloff's final performances were delivered by virtue of the actor having to take pure oxygen between takes; he had only half of one lung operational. He lived his dotage out at Roundabout, his Hampshire cottage in England, before succumbing to a bout of pneumonia in the Edward VII Hospital in Midhurst, Sussex, on the 2nd of February, 1969, aged 81. His low-key cremation and service took place at Guildford Crematorium in Godalming, Surrey, where he is commemorated by a plaque in the Garden of Remembrance. A memorial service was held in St Paul's Church, Covent Garden.
Boris Karloff has two stars on the Hollywood Walk of Fame.