Product Description
In stock for immediate shipping.
The House of Frankenstein Ultimate Guide evokes the atmosphere in the brochure you might have bought at the cinema in 1944!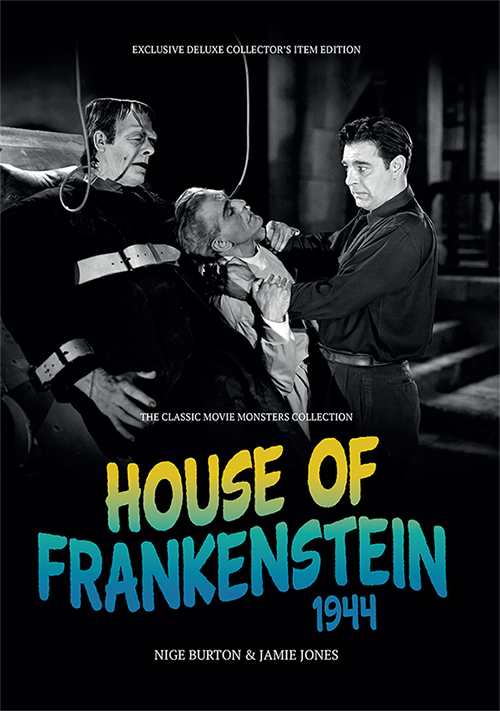 House of Frankenstein continued the parallel stories of Larry Talbot and the Frankenstein Monster in an unforgettable extravaganza of thrills and horror. A new roster of characters, from the callous Dr Niemann to tortured hunchback Daniel and his beloved Ilonka, brought fresh intrigue to the ongoing monster saga, with Dracula himself casting a sinister shadow across proceedings as well. We celebrate this dramatic, devastating chapter in Universal's Frankenstein series with the luxurious House of Frankenstein Ultimate Guide magazine, a beautiful and atmospheric tribute to this second generation classic.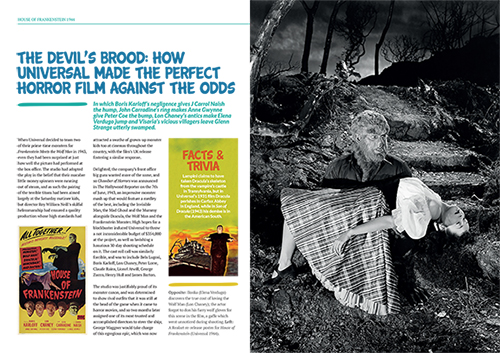 Capturing the twists and turns of this beloved motion picture through glorious full colour design, engaging writing and crisp movie stills, our House of Frankenstein guide magazine is the ideal way to explore Visaria all over again. A range of absorbing articles leads you through the original concepts for the movie, its development and the hurdles faced by the people who brought it to the screen. Our commitment to using the very best stills means you've never seen a House of Frankenstein movie magazine like this one – each image is carefully restored to look its finest, while our use of full colour print processes ensures that even black and white stills have a richness, detail and vibrancy that traditional black and white printing can't match.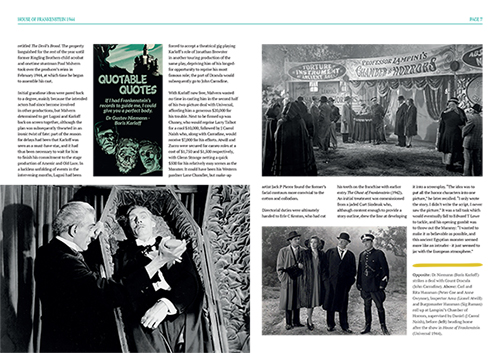 An exploration of the movie's production is just the beginning, as you'll find a wealth of informative cast and crew biographies to reveal the people behind the magic. This House of Frankenstein magazine guide is packed with facts on the key personnel involved with the movie, from stars Boris Karloff, Lon Chaney Jr, Elena Verdugo and J Carrol Naish to director Erle C Kenton, make-up artist Jack P Pierce and special effects wizard John P Fulton. Throughout, you'll find everything sumptuously illustrated with stills, posters and artwork.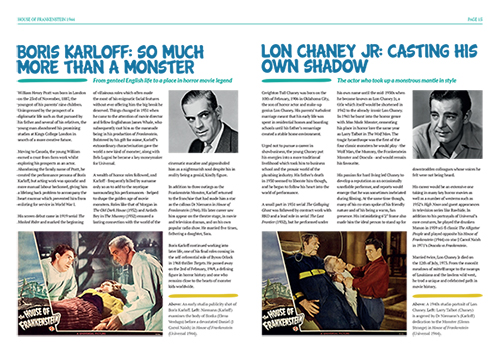 Every page of the House of Frankenstein Ultimate Guide is inspired by the movie, with a clean timeless design enhanced by design flourishes to capture the spirit of this wild journey through mittelEurope. You'll discover trivia from behind the scenes, rarely seen stills and a host of information to enrich your experience of the movie and inspire a fresh viewing.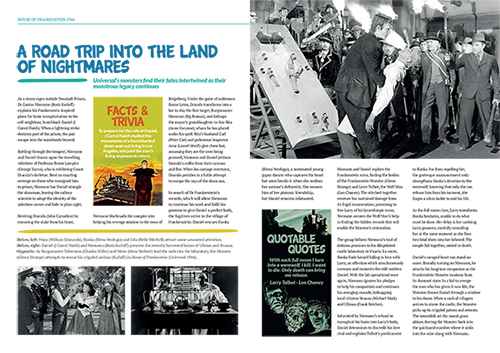 The Frankenstein ruins are frozen over but our magazine guide to House of Frankenstein is one hot prospect, so put on your dancing shoes and rediscover this horror classic with us…
36 pages
A4
Full colour throughout
Luxury gloss laminated cover