Product Description
In stock for immediate shipping.
The Black Cat 1934 Ultimate Guide Magazine captures the icy thrills of the movie in a beautiful, evocative celebration of a Universal horror classic. Capturing the excitement and anticipation of the brochure you might have bought at the cinema in 1934, this is the perfect way to rediscover The Black Cat.
It's going to be a good game… The Black Cat is an undisputed classic of the Golden Age of Universal horror, pitting Boris Karloff and Bela Lugosi against each other with devastating results in the first of their eight on-screen pairings. Our full colour Black Cat Ultimate Guide Magazine takes you back to the movie's claustrophobic world of betrayal and vengeance, offering a richly illustrated and informative window into a lethal cinematic battle of wits inspired by the short story by Edgar Allan Poe.
This luxurious magazine guide to The Black Cat is an ideal companion to a fresh viewing of the movie. The clean, elegant design captures the glacial beauty of Hjalmar Poelzig's home, with meticulously restored stills bringing the story to life. Our use of full colour print processes ensures that even black and white stills look their best as you lose yourself in a range of articles charting the movie's course from the words of Poe to the movie masterpiece we love today.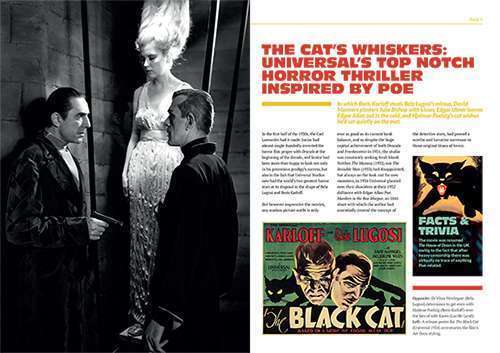 Key to the movie's success was its use not of gratuitous monster effects, but of psychological elements. Atmosphere and introspection made The Black Cat a defining moment in the psychological horror cinema subgenre: the sterling performances of stars Lugosi and Karloff laid human cruelty – both mental and physical – bare for audiences. Within the pages of this magazine guide to The Black Cat you'll discover the unsettling themes that director Edgar G Ulmer explored to such compelling effect. The movie wasn't Universal's biggest box office hit of 1934 for nothing – this beautiful magazine takes you through every moment of a most unique cinematic nightmare.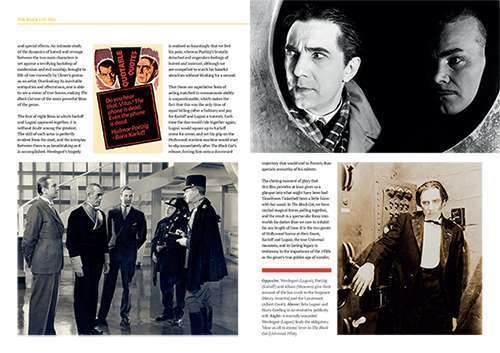 As well as tracing the development of the movie itself, The Black Cat Ultimate Guide introduces you to the people who worked so successfully both in front of the camera and behind it, with insightful biographies telling the diverse stories of cast and crew alike. Karloff is a revelation as crazed architect Poelzig, a character taking inspiration from occultist Aleister Crowley whilst remaining assuredly one of a kind. Meanwhile, Lugosi seethes with fury as Vitus Werdegast, bitter and forsaken – and most inventive in his vengeance. But The Black Cat was very much a team effort: you'll meet co-stars such as David Manners and Julie Bishop, as well as the support players like Harry Cording and Lucille Lund, not to mention visionary crew members like make-up supremo Jack Pierce and special effects wizard John P Fulton.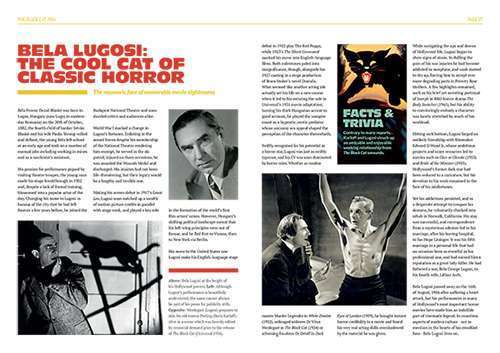 This magazine guide to The Black Cat is printed and produced to the highest standard, with an engaging balance of beautiful imagery and absorbing journalism making it a must for any collector. Lovingly researched and written with a true passion for this chilling Poe-inspired tale, it's an unmissable read for any fan of Karloff, Lugosi, Poe or Universal horror.
The dark of the moon is upon us and the chessboard is set for another game, but there's no need to worry. Just dive into The Black Cat Ultimate Guide and you'll find everything you need to enjoy your stay with Mr Poelzig. Just don't head down into the basement – there's not much life down there…
36 pages
A4
Full colour throughout
Luxury gloss laminated cover