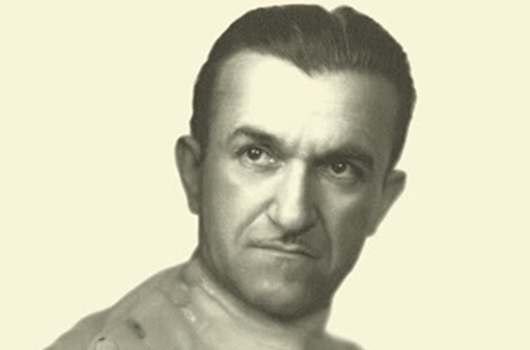 Jack P Pierce
Monster make-up maestro Jack P Pierce was born Janus Piccoula, on the 5th of May, 1889, in Valdetsyou, Greece. Immigrating to the United States as a teenager, he pursued a number of careers, including amateur baseball, before the world of cinema beckoned.
A range of roles within the cinema industry gave Jack P Pierce a broad knowledge of the movies, but it was in the field of make-up that – consensus would have it – he found his true calling. Starting in 1915, he came to the attention of Carl Laemmle with his work on The Monkey Talks (1927), and just a short time later sculpted the macabre fixed grin worn by Conrad Veidt as Gwynplaine in The Man Who Laughs (1928).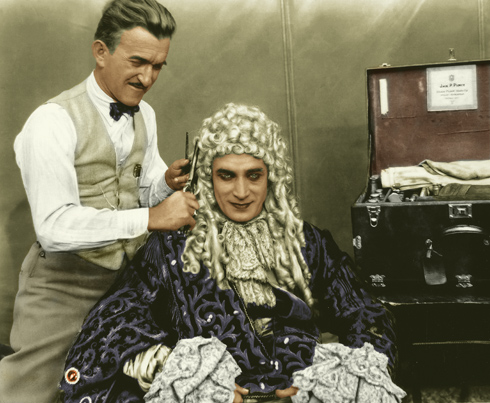 Bigwig: Jack Pierce applies make-up and curls to Conrad Veidt for the role of Gwynplaine in The Man Who Laughs (Universal 1928)
Placed on a full-time contract by Universal, Jack P Pierce went on to become as much a part of the world of classic monsters as the stars whose images he created. Audiences had become accustomed to seeing the work of Lon Chaney, and his death in 1930 left the way open for Pierce's own brand of monster design.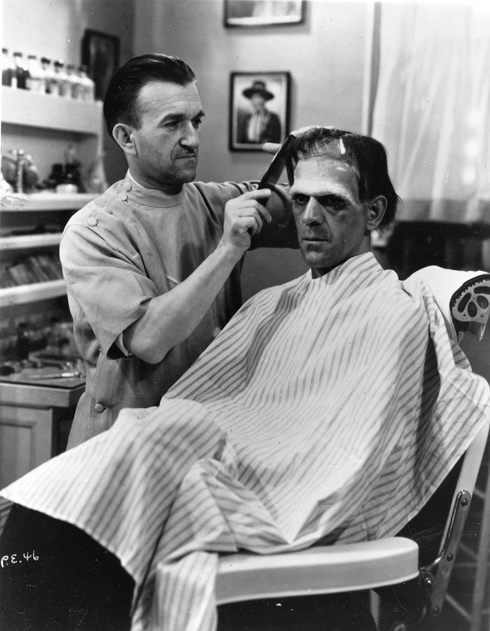 Short back and sides: Jack Pierce applies the definitive Monster make-up to Boris Karloff for Frankenstein (Universal 1931)
Although his work on Dracula (1931) was relatively limited, owing to Bela Lugosi's theatre-learned dedication to applying his own make-up, Jack P Pierce's influence runs throughout the character's appearance – the widow's peak hairstyle became a Pierce trademark, seen in movies including White Zombie (1932), The Black Cat (1934) and Son of Dracula (1943).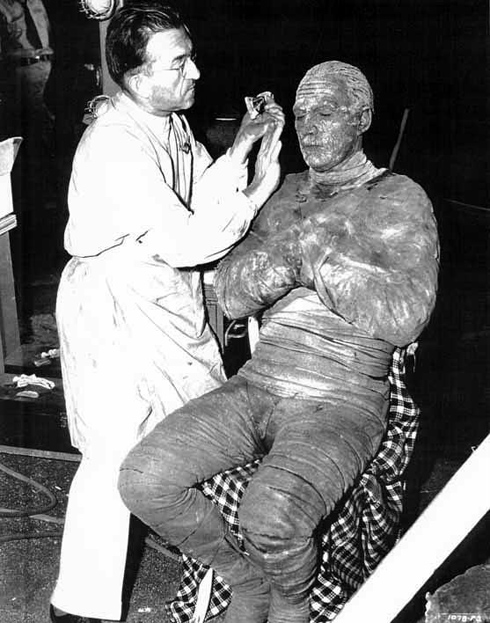 Mummy ~ fie! Pierce worked hard to make Tom Tyler up to look like Karloff for The Mummy's Hand (Universal 1940)
Recognised as the "go-to" make-up artist for all their monster needs, Jack Pierce was given the latitude to create some of the most striking creatures in cinema history. His most famous creation was probably that of Boris Karloff's Monster for Frankenstein (1931), a process which took four patient hours in the chair to achieve.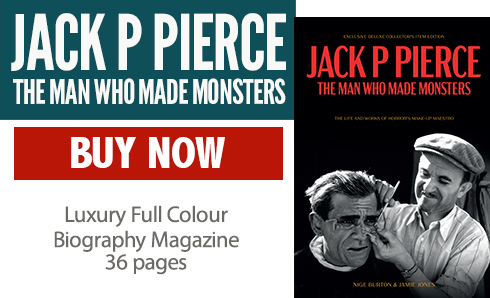 The magnificent result has become the globally accepted image of Mary Shelley's creation, and is forever knitted into popular culture. Pierce also worked with Karloff on the make-up for the Mummy and allegedly got on well with the English actor, which no doubt contributed to the success of their collaborations.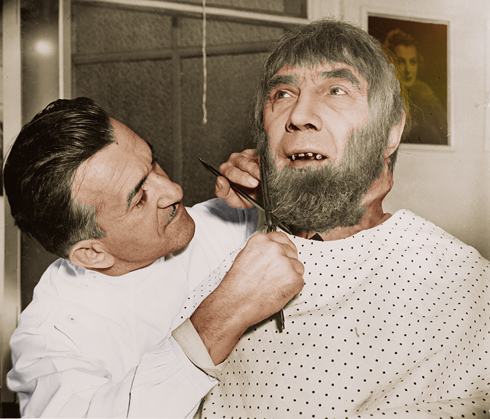 Weird beard: More inspirational make-up, this time for Lugosi as Ygor in Son of Frankenstein (Universal 1939)
Elsewhere, Jack P Pierce had a reputation for being difficult, something of a behind-the-scenes diva. His demands for punctuality, and his procedure of "admitting" an actor into the make-up chair, rather than them just wandering in, are the stuff of Hollywood legend. He and Lon Chaney Junior were the Bette Davis and Joan Crawford of their genre, and worked together with great difficulty due to their mutual detestation of each other. (It does bear noting, however, that Chaney was, like Pierce, not generally recognised as being particularly easy to work with.)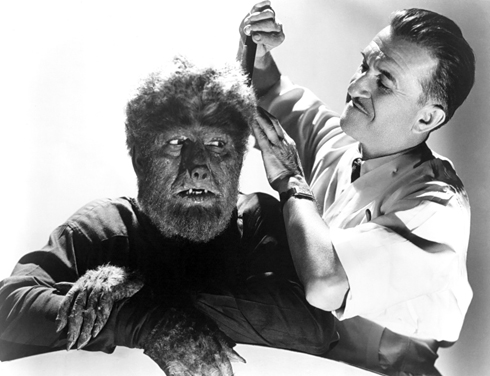 Yak knack: Jack Pierce's make-up – fashioned from yak hair – for Lon Chaney in The Wolf Man (Universal 1941) was another triumph.
Notwithstanding this, Jack P Pierce's make-up for The Wolf Man (1941) was another masterpiece, but later in the 40s his meticulous methods were called into question for cost considerations, and he was eventually let go by Universal in 1946, the studio preferring to adopt pre-made latex masks, a cheaper alternative to the grease paint, cotton and collodion, and to which Pierce would neither subscribe nor adapt.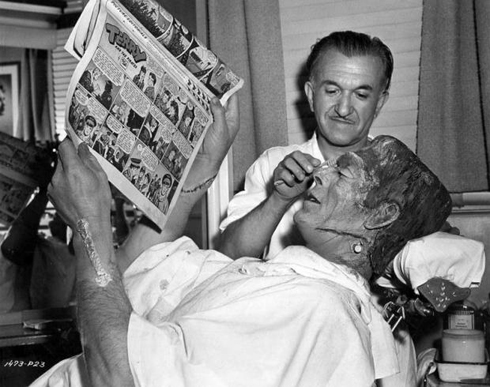 Easy Monster: Sections of moulded latex rubber ensured the make-up for the Monster was quicker and easier to apply by the time Glenn Strange stepped into the role, seen here being transformed for House of Dracula (Universal 1945)
Jack P Pierce's final credit is as make-up artist for TV series Mr Ed (1961-1964). He died on the 19th of July, 1968 in Hollywood, California, and although there is as yet no star on the Hollywood Walk of Fame bearing his name, a memorial gallery at Cinema Makeup School in Los Angeles pays respectful tribute to his timeless work.