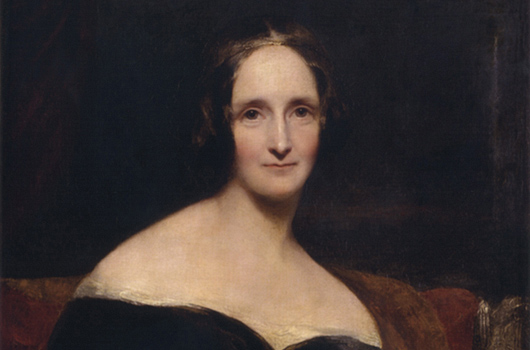 Mary Shelley, Frankenstein's creator
Mary Shelley was born Mary Wollstonecraft Godwin on the 30th of August, 1797 in Somers Town, London, and would go on to create one of the most classic monsters of all.
Mary Shelley was born into a highly intellectual household, to the political philosopher William Godwin and philosopher and feminist Mary Wollstonecraft. After her mother's death within eleven days of her birth, the young Mary and her half-sister were brought up by their father.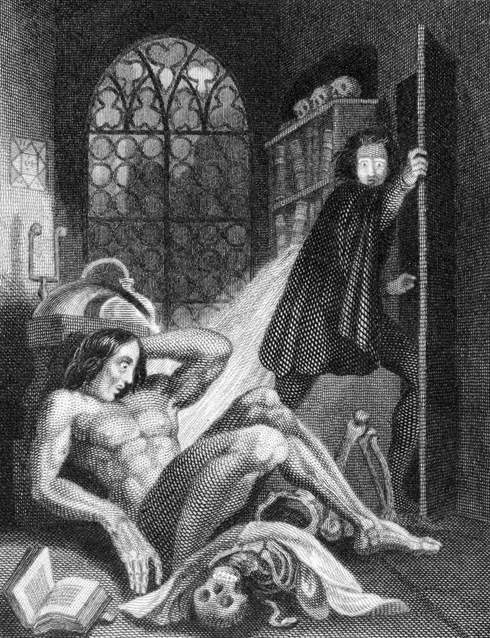 Theodor M Von Holst's frontispiece illustration of the third edition of Mary Shelley's Frankenstein
Mary enjoyed a liberal education, far beyond that granted to most girls of the time, with free access to her father's extensive library as well as to the many learned guests who visited them. Her father's second marriage to Mary Jane Clairmont was a success, but caused Mary Godwin a great deal of distress, reportedly as Clairmont favoured her own children over her new stepchildren.
William Godwin's financial difficulties led to his gradual dependence on a variety of benefactors, one of whom was the radical poet and philosopher Percy Bysshe Shelley. Estranged from his wife, Shelley began an affair with Mary Godwin. The two eloped to France and Switzerland in company with Mary's stepsister Claire Clairmont, but were forced to return due to lack of funds. Mary Shelley – married to Percy in all but name – was plunged into a deep depression by the loss of her first child in 1815, but conceiving for a second time served to raise her spirits.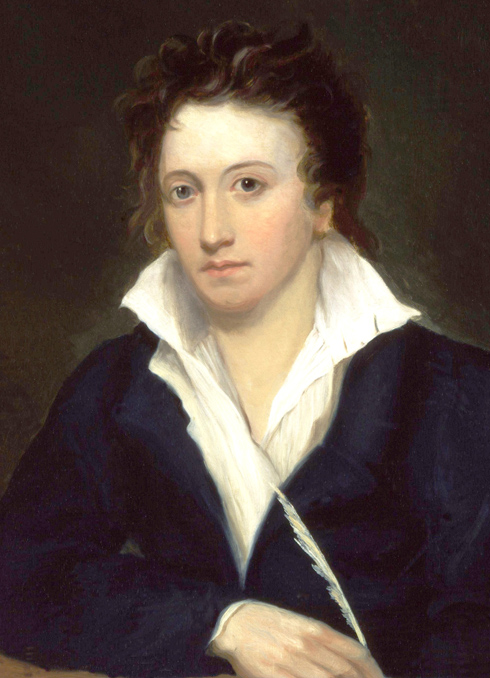 A portrait of the young Percy Bysshe Shelley by Alfred Clint
The creation of Frankenstein is, of course, the most famous episode in the life of Mary Shelley. Staying at Lake Geneva with Percy, her son, Claire, and the poet Lord Byron, she spent a dreary summer frequently confined to the house by inclement weather. Challenged by Byron to devise ghost stories as a diversion, the group shared tales of horror; but it was Mary Shelley's waking dream of the created being which has stood the test of time. Frankenstein: or, The Modern Prometheus was initially published anonymously, but would go on to write Mary Shelley's name in the annals of classic monster history and is often viewed as the very origin of the science fiction genre.
A somewhat nomadic – some would say almost Bohemian – lifestyle formed the backdrop for Mary Shelley's life post-Frankenstein. Living for extended periods in Italy, she had to face the deaths of her second and third children, as well as the drowning of her husband in a storm in 1822. She returned to England and continued her work as a writer, as well as working to immortalise the life of her late husband despite his father's attempts to silence her.
In later life, Mary Shelley found her life devastated by headaches and bouts of severe paralysis. On the 1st of February 1851, at the age of fifty-three, she passed away from what her physician believed to be a brain tumour. She was buried in St Peter's Church, Bournemouth, but lives on in the hearts of all who admire her undying creation.