Max Schreck
Maximilian Schreck – best known to film fans as Max Schreck – was born on the 6th of September, 1879.
Passionate about the theatre from an early age, the young Schreck was discouraged from his thespian ambitions by his father and held down a 'respectable' job as an apprentice, his mother funding his acting lessons in secret.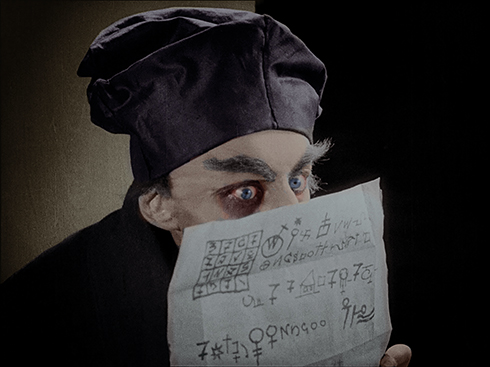 Graf Orlok (Max Schreck) pores over the contract for his new property purchase in Nosferatu (Prana 1922)
After the death of his father, he enrolled in drama school and spent two years travelling around Germany. Key engagements in Berlin for Max Reinhardt, and later in Munich for Otto Falckenberg, enabled him to make connections with prominent figures in the theatre industry.
Between 1919 and 1922 he became a regular performer at the Munich Kammerspiele theatre. At the same time he branched out into the new world of cinema, making his screen debut in 1920 stage-to-screen adaptation The Mayor of Zalamea which starred Lil Dagover, previously seen in 1919's The Cabinet of Dr Caligari.
1921 also saw his being cast in a seminal movie for the horror genre, when he brought the inhuman Count Orlok to startling afterlife in Nosferatu (1922). The movie also featured a small role played by his wife Fanny, whom he had married in 1910. His portrayal of Orlok is clear evidence of his performance skill, yet he was noted for his otherworldly bearing off-camera too – the kind of immersion in nature which dovetailed perfectly with the expressionist style of the role with which he is most identified.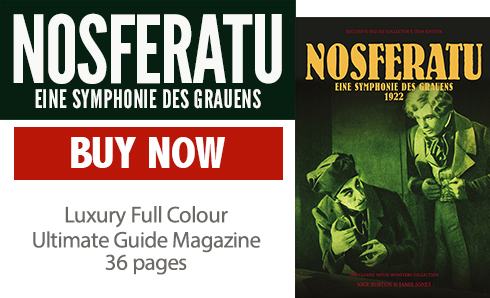 Although his appearance as Count Orlok remains his most famous role, Schreck neither sought nor found the kind of brutal typecasting which is so evident in the horror world: he went on to take parts in eerie 1923 drama The Street and 1926 comedy The Pink Diamond. He had honed his ability to move between genres in the unforgiving world of the theatre, and received particular praise for his title role in Molière's play The Miser.
The latter half of the 1920s saw Schreck continue to move between the worlds of the stage and screen. He returned to the boards of Munich's Kammerspiele in 1926 whilst continuing to work steadily in motion pictures, including 1933 science fiction tale The Tunnel. His successful shift into the world of talking pictures should have heralded a new phase in his career, but this was not to be. After a performance of the play Don Carlos on the 19th of February, 1936, he became ill and was taken to hospital, where he succumbed to heart failure the following morning.
Max Schreck was buried on the 14th of March, 1936 in Brandenburg's Wilmersdorfer Waldfriedhof. His career was a diverse one, and notable for a commitment to the integrity of the arts; however, his legacy is undoubtedly defined by his appearance in Nosferatu, a performance which has transcended the horror world to become a familiar part of popular culture.