Product Description
In stock for immediate shipping.
Return to the plague-haunted nightmare of a silent horror cinema classic with the Nosferatu Ultimate Guide. This sumptuous full-colour film guide is a stylish companion to a journey back into F W Murnau's expressionist masterpiece – packed with information, stills and atmosphere, it's an essential addition to your horror movie collection. Whether you're a long-standing fan of the movie or have only just discovered it, this Nosferatu guide magazine will draw you deeper into the intriguing story of the movie's production, as well as the eerie tale that unfolded on the screen.
If you love the 1922 horror movie Nosferatu, you will adore our stunning full-colour luxury magazine guide to this milestone in horror cinema. Like all Classic Monsters Ultimate Guides, this beautiful publication is designed and produced to the very highest standards, evoking the spirit of the movie with every turn of the page. This is a Nosferatu magazine guide the likes of which you've never seen, its design inspired by the movie's chilling mood yet with a timeless clarity that makes it a joy to explore. You'll soon be immersed in the story of how F W Murnau and his colleagues created a most sinister kind of movie magic… and what a story it is.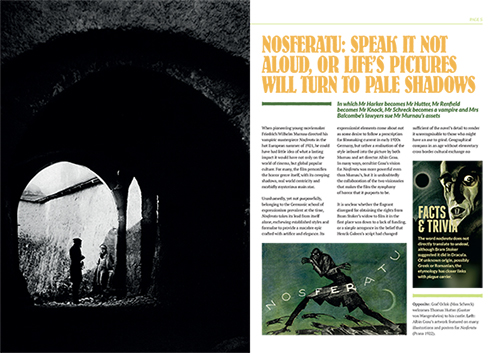 A unique combination of occultist aesthetic, filmmaking ambition and sheer audacity led Murnau, screenwriter Henrik Galeen and artist Albin Grau to craft their now-iconic vampire tale, but of course it wasn't really theirs at all. The controversial, unauthorised use of Bram Stoker's novel 'Dracula', and the resulting court action by Stoker's widow, should have been the end of the matter, but as the Nosferatu Ultimate Guide reveals, the movie slipped into the shadows to delight generations of fans. As you immerse yourself in this Nosferatu movie magazine, a series of engaging articles detail the film's gradual development, release and enduring impact, placing you right at the sinister heart of this beloved motion picture classic.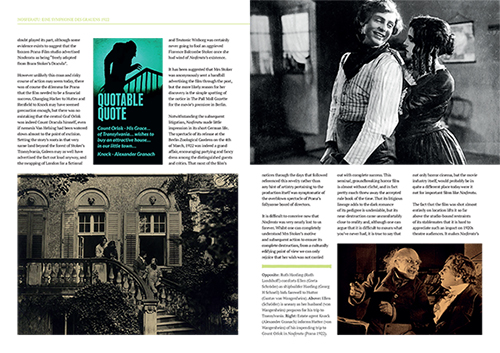 As well as compelling, fact-filled articles, the Nosferatu 1922 Ultimate Guide magazine includes a huge quantity of stills and artwork, all carefully restored and reproduced to the highest standard using the finest print processes in A4 (210mm x 297mm) format. Our use of full-colour print means that even black and white stills have an enviable depth and detail, and the high quality paper stock makes for a premium reading experience. It's no wonder the sumptuous Classic Monsters range of movie guides are taking the world of horror movie magazines by storm. Never before has there been a dedicated printed publication to this iconic German expressionist silent film that pays such loving tribute to one of moviemaking's defining moments.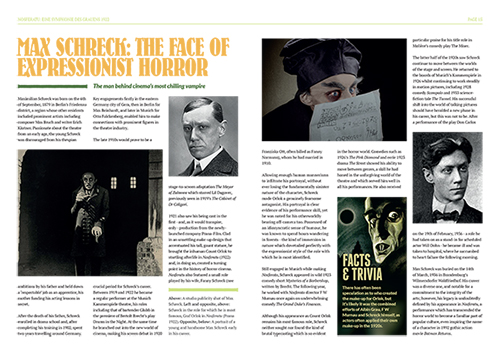 You'll soon discover that in addition to the story of the movie itself, this Nosferatu movie guide magazine also turns its focus on the people who made it all happen. Biographies of the cast and crew shine a fresh light on the people who brought Count Orlok's shadow-haunted horror tale to life, giving you an insight into the multiple talents whose combined effort created one of cinema's all-time classic monsters. You'll learn about the lives and careers of stars Max Schreck, Gustav von Wangenheim and Greta Schröder among many other cast members, seeing beyond Nosferatu and into the wider context of their lives. Meanwhile, the groundbreaking and celebrated work of director Murnau, whose work went far beyond the horror genre, and the likes of cinematographer Fritz Arno Wagner, offer a deeper understanding of the movie's significance. The Nosferatu Ultimate Guide magazine is a must-have for any fan.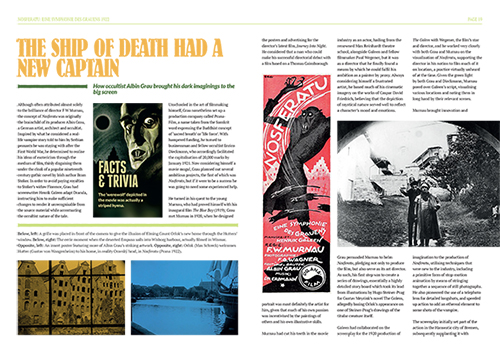 That ship in the harbour looks rather empty, but there do seem to be an awful lot of vermin around lately. So come with us as we walk the eerie streets of Wisborg, and take a fresh look at a turning point in horror cinema. Just like the movie itself, this is a Nosferatu magazine guide you can't afford to ignore!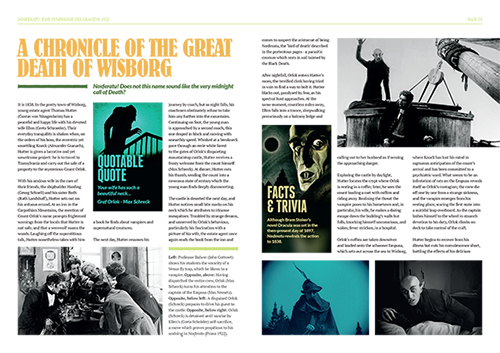 36 pages
A4
Full colour throughout
Luxury gloss laminated cover