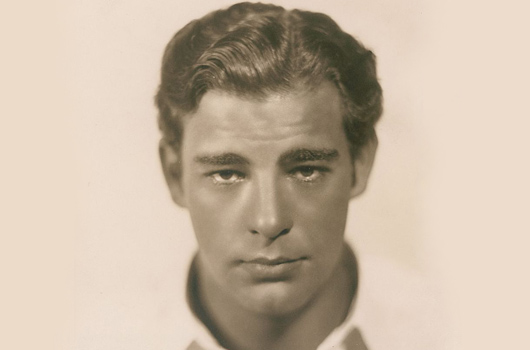 Lon Chaney Jr
by Jamie Jones
Lon Chaney Jr was born Creighton Tull Chaney on the 10th of February, 1906 in Oklahoma City.
It's a scene that could itself have come from a horror movie. On a freezing winter night, a man rushes from a tiny wooden cabin outside Oklahoma City, his face wracked with panic – yet also determination, an unshakable resolve to save the tiny bundle he cradles in his arms. He streaks through the eerie, snow-capped trees, crashing onwards, holding fiercely to the seemingly lifeless form crushed to his chest. He rushes on, clambering across the solid ground, never losing his footing until he reaches the shores of the Belle Isle Lake. The man then proceeds to smash a hole in the ice of the lake with his full force, shattering it into a thousand sharp diamonds.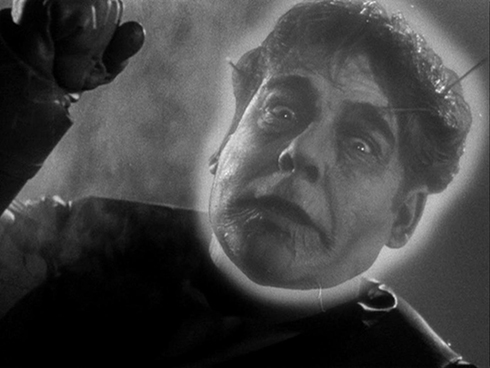 Lon Chaney Jr as Dynamo Dan the Electric Man, fully charged, in Man Made Monster (Universal 1941)
There is no beat of hesitation in what follows, not even a blink of the eyes in which this man wavers, reconsidering the vast risk he is about to take: no, he takes the bundle in his arms, this bundle which is a naked child – as black and still as the waters of this silent, deserted lake – and he thrusts the child through the hole he has smashed in the ice. And then, at once – for he knows that any delay could be lethal – he pulls the infant from the water again, and presses it to him, to his heart which is beating so furiously that he fears it might explode in his chest, and in that glimmer of a moment he sees that the child, his newborn son, is breathing and roaring and staring up at him.
The man who reportedly carried out this most audacious act was Lon Chaney senior, who would go on to become one of the greatest stars of the silent screen. And on this day, February 10th, 1906, he has just shocked his prematurely born son into life.
Lon Chaney Jr in his favourite role, that of Larry Talbot in The Wolf Man (Universal 1941)
Or so the story goes. The baby of the piece was adamant in his recital of this version of events, and yet the tale has in the intervening years been refuted by both his son and stepsister. That the truth of the matter has become enshrouded in uncertainty after more than a century is inevitable. Its dramatic potential, though, is irresistible.
The son of silent film star Lon Chaney and cabaret performer Frances Cleveland "Cleva" Creighton, the young Chaney spent much of his early life in residential homes and boarding schools after his parents' 1913 divorce. Upon his father's remarriage in 1916, he was able to move in with Chaney Sr and new wife Hazel Hastings.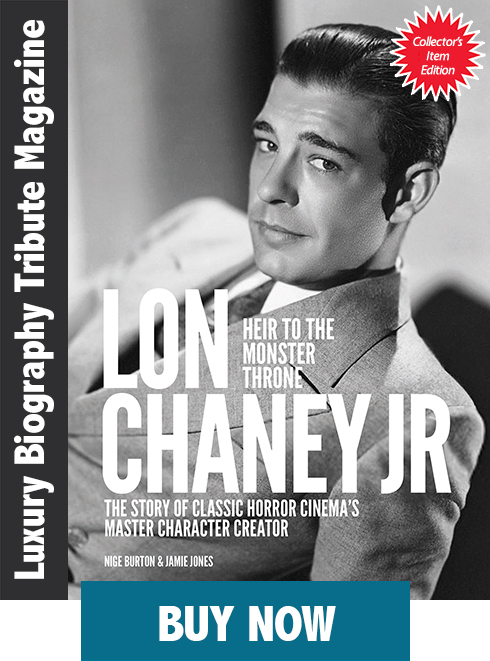 It has been widely alleged that the young Chaney thought his mother had died when he was very young, and was only told she was still alive after the death of his father.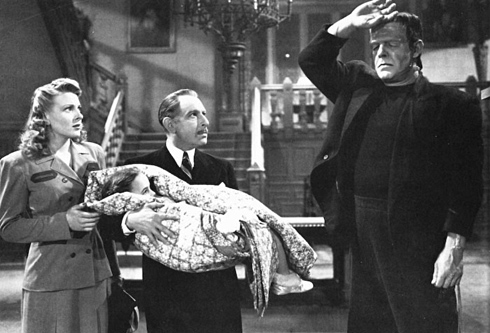 Elsa Frankenstein (Evelyn Ankers) and her father Ludwig (Cedric Hardwicke) are aghast at the Monster's (Lon Chaney Jr) demand for a brain swap with Cloestine Hussman (Janet Ann Gallow) in The Ghost of Frankenstein (Universal 1942)
Lon Chaney Jr was keen not to become a miniature version of his father – indeed, Chaney Sr actively encouraged him to stay away from showbusiness – but the fascination with the screen remained. Chaney Jr attended business college and worked in a diverse range of jobs to support himself, whilst also learning how his father created his compelling screen make-up.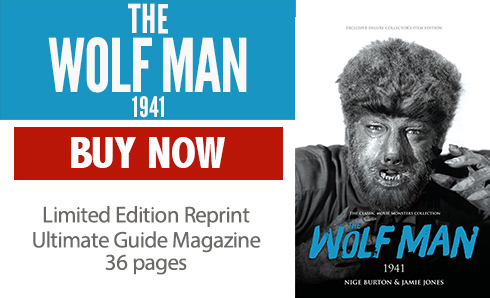 Creighton Chaney married Dorothy Hinckley in 1926 and the union produced two sons, Lon Ralph Chaney and Ronald Creighton Chaney. Chaney worked for his father-in-law at the General Water Heater Company in Los Angeles, reaching the position of Secretary-Treasurer of the firm.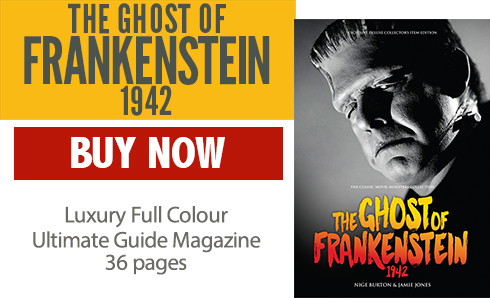 Following his father's death in 1930, Lon Chaney Jr made the leap into movies, playing minor roles under his real name so as not to trade on his father's reputation, a move of which he felt unworthy. In 1935, a producer advised him to perform as Lon Chaney Jr and, although reluctant, he saw the business sense in the suggestion, and acquiesced. In 1936, he separated from his wife, and later that year married model Patricia "Patsy" Beck; the marriage would last for the rest of his life.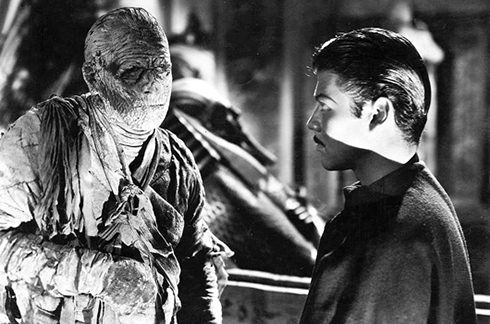 Revived by Mehemet Bey (Turhan Bey), the mummy Kharis (Lon Chaney Jr) is the scourge of Mapleton in The Mummy's Tomb (Universal 1942)
Lon Chaney Jr's real break came with his acclaimed 1939 performance as Lennie in Of Mice and Men, and he tested for the role of Quasimodo in The Hunchback of Notre Dame (1939), which eventually went to Charles Laughton, denying the younger Chaney the chance to take on a part which his father had also played.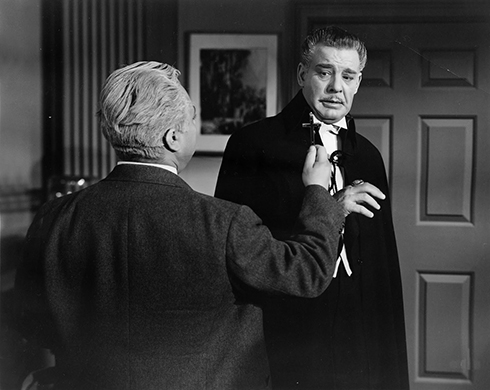 Professor Lazlo (J Edward Bromberg) demonstrates the efficacy of a crucifix against the vampire Alucard (Lon Chaney) in Son of Dracula (Universal 1943)
Similarly, a year later he was refused the chance to use his make-up skills on One Million BC because of production decisions and union rules.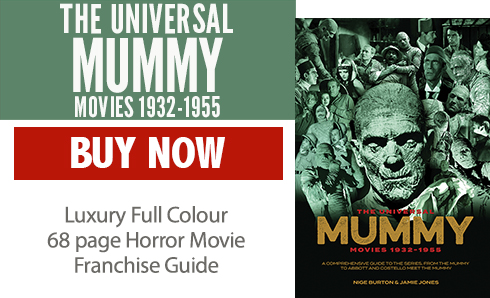 Chaney Jr signed with Universal and garnered the starring role in sci-fi horror Man Made Monster (1941); his performance as electrically-charged killer Dan McCormick leading to his casting as tortured hero Larry Talbot in The Wolf Man (1941) – a role which, for better or worse, would forever be linked with the Lon Chaney Jr name.

Larry Talbot (Lon Chaney) goes on the rampage in Cardiff after escaping from the city's Queen's Hospital in Frankenstein Meets the Wolf Man (Universal 1943)
The Larry Talbot / Wolf Man character became a Universal staple, appearing in the likes of Frankenstein Meets the Wolf Man (1943) and House of Frankenstein (1944).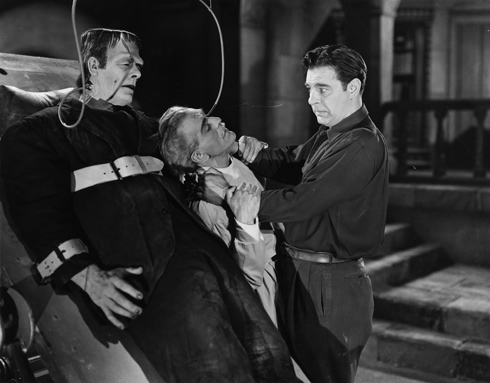 An enraged Larry Talbot (Lon Chaney) attacks Dr Niemann (Boris Karloff) for devoting all his time and attention to the Monster (Glenn Strange) in House of Frankenstein (Universal 1944)
Chaney Jr played other monsters too, and was in fact the only actor to ever portray the four great Universal monsters, playing Frankenstein's Monster in The Ghost of Frankenstein (1942), Dracula in Son of Dracula (1943), the Wolf Man, and the Mummy in three films starting with The Mummy's Tomb (1942). Chaney Jr was highly protective of the Wolf Man character and refused to let any other actor play his "baby".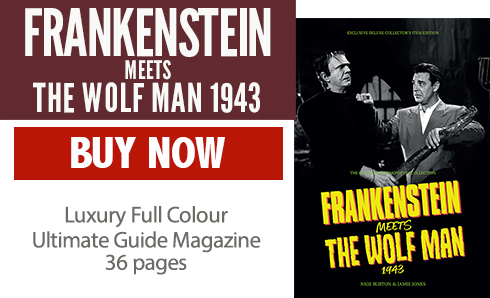 The much-loved horror spoof Abbott and Costello Meet Frankenstein (1948) was a notable point in Lon Chaney Jr's career, albeit for the wrong reasons. Chaney Jr was vocal about his detestation of the comedy romps: "Abbott and Costello ruined the horror field … they made buffoons out of the monsters." His decrying of this new direction in the genre serves as testimony to his passion for the characters which had helped to make him a popular name in Hollywood.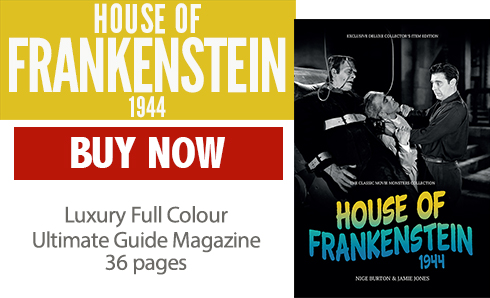 The horror genre never seemed far away, movies like The Black Castle (1952) offering a brooding atmosphere even as he moved into middle age and the potential wilderness of 'character actor' casting. Working hard to avoid being typecast despite his CV thus far, Chaney Jr gained a number of roles in crime films and westerns, as well as radio show appearances. He played a key part in High Noon (1952) with Gary Cooper, and appeared alongside Robert Mitchum and Frank Sinatra in Not as a Stranger (1955).

Nina (Jane Adams) and Larry Talbot (Lon Chaney) are a little concerned at Dr Edelmann's (Onslow Stevens) interest in the Monster (Glenn Strange) in House of Dracula (Universal 1945)
His reputation as a solid character actor grew, and although he did not step entirely out of his father's shadow, he remained credible across a variety of genres. He was also known for standing up for underdog actors who he felt were not being given due respect by the studios.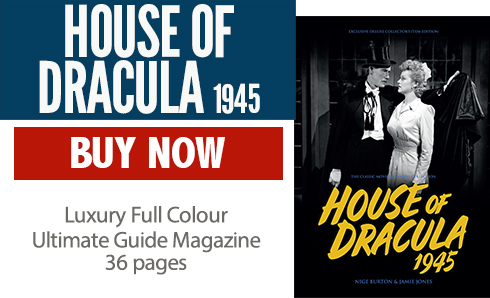 Years of hard living, however, took a severe toll on Lon Chaney Jr's health, and he spent his later years battling both throat cancer and chronic heart disease. He died of heart failure on the 12th of July, 1973 in San Clemente, California and his body was donated to medical research.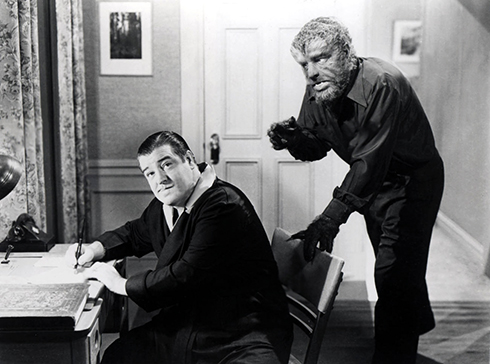 The Wolf Man make-up worn by Chaney as Larry Talbot had evolved somewhat from its 1941 origins, thanks to Bud Westmore's cost-cutting latex mask pieces seen with Lou Costello in Abbott and Costello Meet Frankenstein (Universal 1948)
Lon Chaney Jr's final resting place may be unmarked, but his impact on horror movie history is undeniable.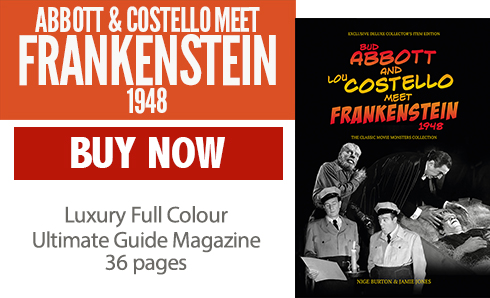 Jamie Jones is assistant editor of Classic Monsters of the Movies magazine and makes regular contributions to the range of Classic Monsters publications.