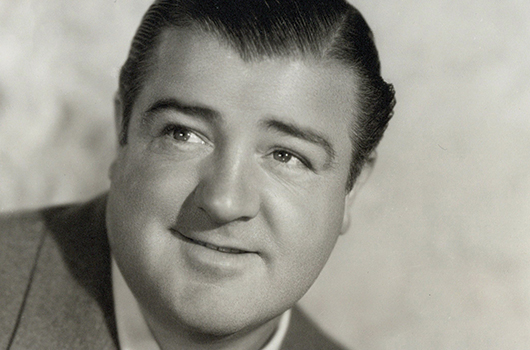 Lou Costello
Louis Francis Cristillo was born in Paterson, New Jersey on the 6th of March, 1906.
Though a gifted athlete, he was determined to become an actor and hitchhiked to Hollywood in 1927 to find acting work, later returning east to become a burlesque comic in the early 1930s. In January 1934 he married dancer Anne Battler, with whom he had four children. The following year, he shared the stage with producer, performer and established straight man Bud Abbott, marking the beginning of one of comedy's most beloved partnerships.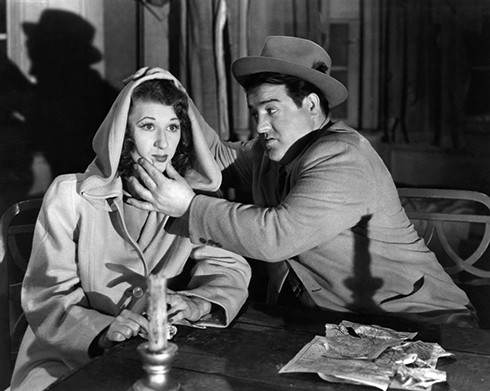 Camille (Joan Davis) and Ferdie (Lou Costello) encounter ghostly goings-on as they try to plan a way out of the Forrester's Club in Hold That Ghost (Universal 1941)
The irresistible chemistry of the Abbott and Costello brand led quickly from Broadway to radio and a Universal movie contract that soon saw that duo appear in powerhouse comedies like Buck Privates (1941) and Hold That Ghost (1941). The pair worked hard during the war years, their engagements including a 1942 campaign for war bonds.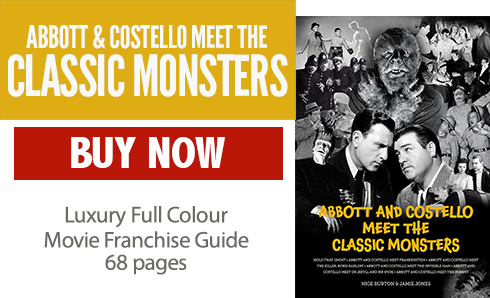 Returning from the latter, Costello endured an attack of rheumatic fever and was unable to work for six months. Tragedy struck the following year, when his infant son Lou Jr drowned in the family pool; ever the professional, Costello teamed with Abbott the same day to perform their popular radio show.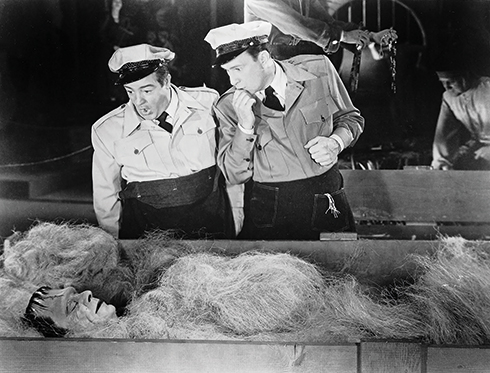 Wilbur (Lou Costello) and Chick (Bud Abbott) are shocked to discover that the Frankenstein Monster (Glenn Strange) really is inside the crate they have delivered in Abbott and Costello Meet Frankenstein (Universal-International 1948)
Their movie work included crossovers like Abbott and Costello Meet Frankenstein (1948), and they branched out into live television, also launching their own sitcom, The Abbott and Costello Show. However, Costello's recurring health issues dogged his work, and after being dropped by Universal and suffering the effects of media overexposure, as well as mounting pressure from the Internal Revenue Service, the partnership ended.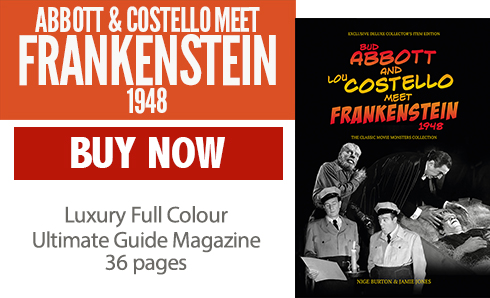 Returning to his stand-up roots, Costello worked in Las Vegas and in variations on his old comic routines, as well as a serious role in western series Wagon Train. In 1959 he starred in The 30 Foot Bride of Candy Rock, but suffered a heart attack soon after, and passed away on the 3rd of March, 1959, three days shy of turning 53.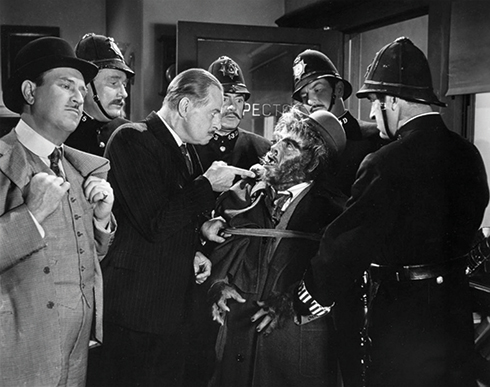 Slim (Bud Abbott) enjoys his moment of triumph as he presents his monster (Lou Costello) to the Inspector (Reginald Denny) in Abbott and Costello Meet Dr Jekyll and Mr Hyde (Universal-International 1953)