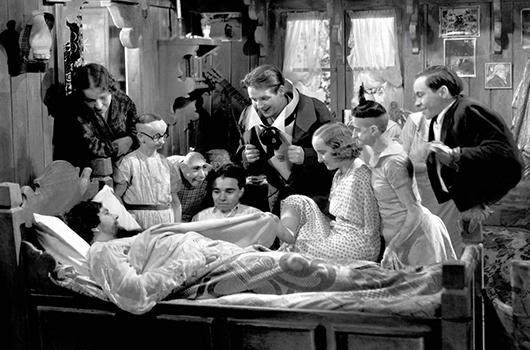 Freaks (MGM 1932)
Made by MGM in the autumn of 1931 and released the following year, Freaks used real sideshow 'freaks' among its cast of performers and quickly became notorious for its effect on both critics and the cinemagoing public of the early 1930s, eventually being banned in several countries including the United Kingdom, where the film didn't see the light of day for some 30 years.
The story of Freaks began some years earlier, while Tod Browning was still working very successfully at MGM with silent superstar Lon Chaney. The pair were collaborating on the silent version of The Unholy Three in 1925 along with co-star Harry Earles, who played a dwarf criminal pulling scams by posing as a baby. The movie was based on the 1917 novel of the same name by Tod Robbins, and Earles became fascinated with another short story by the same author entitled Spurs. He excitedly presented the work to Browning, who in turn became interested in the narrative and saw it as a possible new vehicle for himself and Chaney, and so promptly persuaded MGM to buy the rights to it. The subject matter was one close to Browning's heart; having run away from home at the age of 16 for the love of a sideshow dancer, he had carved out a career as a clown with the Ringling Brothers Circus before settling in Hollywood.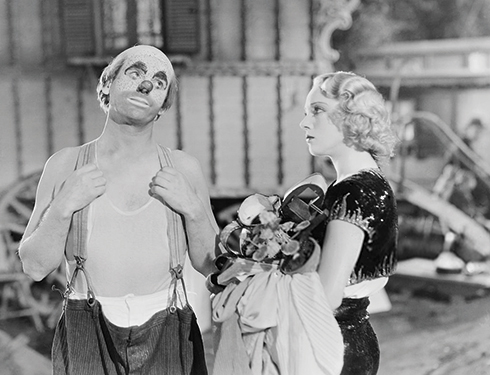 Phroso (Wallace Ford) tries to lighten the mood after colleague Venus (Leila Hyams) finds herself suddenly single in Freaks (MGM 1932)
Following Chaney's untimely death due to complications from lung cancer on the 26th of August 1930, Browning returned to MGM fresh from his success with Dracula at Universal, and found he could still pretty much rule the roost. Persuading studio executive Irving Thalberg to get the ball rolling on the project, which had been put on ice for some six years, he suggested to Thalberg that former journalist and screenwriter Willis Goldbeck be commissioned to turn Spurs into a filmable script, and the scribe's only instruction from the MGM executive was that the resulting draft should be "horrible".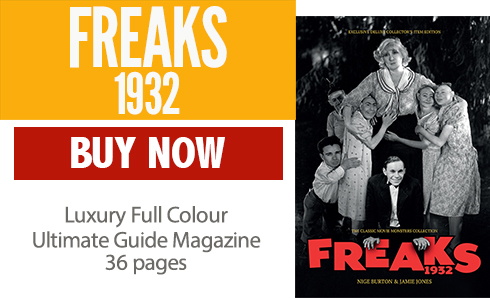 The story follows the overlapping professional and personal lives of a group of travelling circus workers. From the outset Browning insisted not only on authenticity, but that real sideshow performers, the 'freaks' of the story, be given an opportunity to take the parts of the 'family' of characters rather than relying on intricate make-up and disguises, especially now Chaney was out of the picture. His first choice was Earles, who was cast as Hans, the lovesick dwarf of the piece, and the actor's real-life sister Daisy was engaged to play his onscreen fiancée Frieda.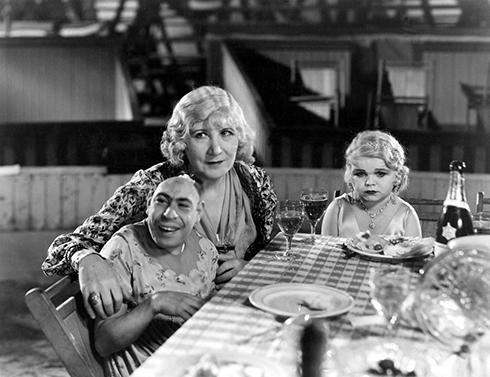 Madame Tetrallini (Rose Dione) looks after Schlitze as a heartbroken Frieda (Earles) watches her dreams unravel at the wedding feast in Freaks (MGM 1932)
The trigger for the movie's unfolding plot is Hans' growing fascination with trapeze artist Cleopatra (played by Russian actress Olga Baclanova, previously seen in 1928's The Man Who Laughs) and Frieda's increasing insecurity. Casting director Ben Piazza assembled a memorable troupe of co-stars including the famous halfboy Johnny Eck, 'living torso' Prince Randian, dwarf actor Angelo Rossitto, who would go on to have a successful career on screen for the next fifty years, Siamese twins Daisy and Violet Hilton, armless girls Frances O'Connor and Martha Morris, microcephalics Elvira and Jenny Lee Snow, human skeleton Peter Robinson, bearded lady Olga Roderick, bird girls Koo Koo and Elizabeth Green, half woman-half man Josephine Joseph and, perhaps the most iconic and endearing, 'pinhead' Schlitze.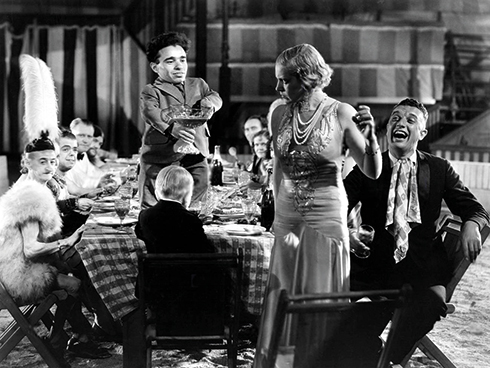 Angeleno's (Angelo Rossitto) offer of a loving cup as a welcoming gift to Cleopatra (Olga Baclanova) after her wedding to Hans (Harry Earles) is met with horror and resentment by the bride, but with peals of laughter from Hercules (Henry Victor) in Freaks (MGM 1932)
Themes of loyalty and revenge run throughout the movie, Cleopatra's false affection for Hans driven by her desire to get her hands on his fortune; as she and her lover Hercules (Henry Victor) poison the dwarf, he and his 'freak' counterparts arrange a violent retribution in a scene staggering for its audacity in suggesting mutilation.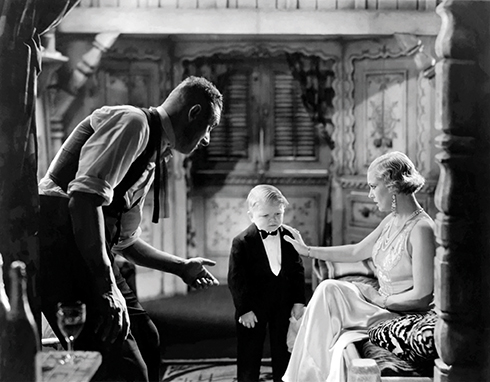 Hercules (Henry Victor) and Cleopatra (Olga Baclanova) are full of false contrition with Hans (Harry Earles) as they put their plot into motion in Freaks (MGM 1932)
When the finished cut of Freaks finally had its preview in San Diego in the January of 1932, the audience's reaction was unprecedented and brutal, and most were up in arms. While some reviews turned out to be positive, the movie was pulled from circulation, a move which proved disastrous for Browning's career.
In the intervening years, Freaks has become a movie which has survived in spite of itself, and has grown in stature to become a twentieth century fable still more poignant and relevant in the twenty-first, as it serves as a salutary lesson against prejudice of any kind.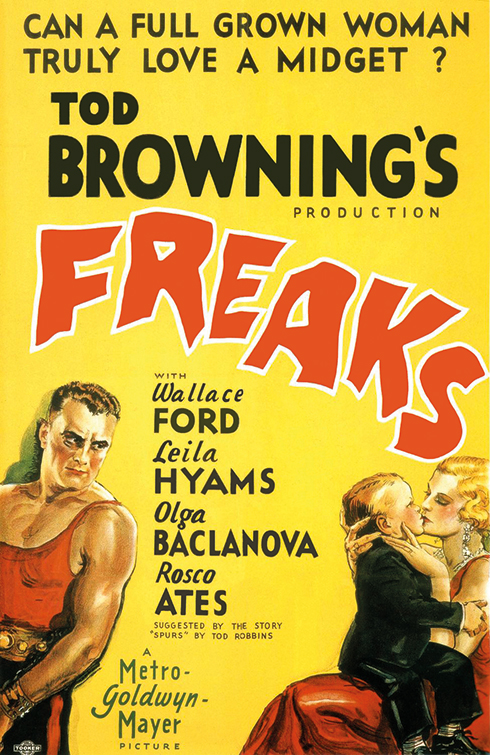 Provocative poster art for Freaks (MGM 1932)