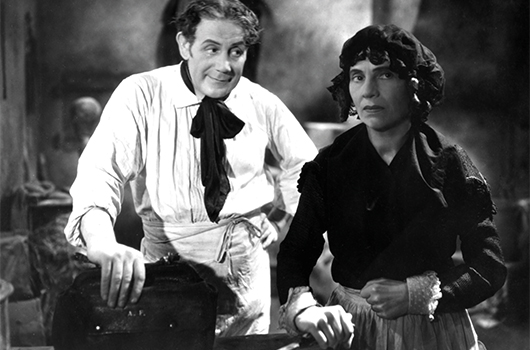 Sweeney Todd: The Demon Barber of Fleet Street (George King 1936)
The British horror films of what would come to be regarded as Hollywood's Golden Age were vastly removed from the staple literary monsters being served up by the likes of Universal on the other side of the Atlantic.
Tinseltown's two greatest horror stars made their individual marks on the burgeoning genre in England by appearing in such notable classics as The Ghoul (1933), in which Boris Karloff plays a 'resurrected' Egyptologist for Gaumont British and The Mystery of the Mary Celeste (1935) in which Bela Lugosi appears as a nefarious seafarer in the fledgling Hammer studio's second screen venture.
But Britain did, of course, have its own answer to these deliciously dark big screen celebrities in the guise of one Norman Carter Slaughter, born in Newcastle-upon-Tyne on the 19th of March, 1885, and better known by his stage name of Tod Slaughter.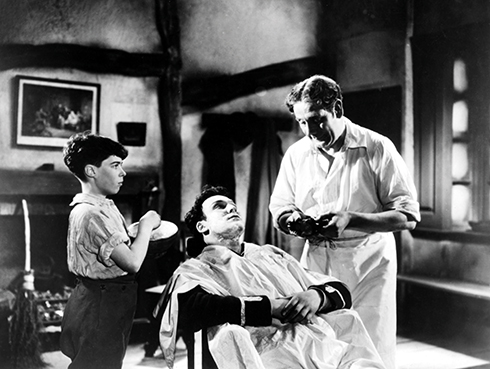 Tobias (John Singer) provides the lather as Mark Ingerstreet (Bruce Seton) submits to Todd's (Tod Slaughter) questionable care in Sweeney Todd: The Demon Barber of Fleet Street (George King 1936)
First treading the boards in 1905, Slaughter made something of a name for himself as the central villain in a host of Victorian melodramas which he toured around England. As cinema became ever more popular he took the natural step of committing his grisly parlour tales to celluloid, beginning with 1935's Maria Marten, or Murder in the Red Barn, in which he embraced the role of rapist and killer Squire William Corder with sufficient relish to ensure further vehicles. Although the film suffered from rather pedestrian direction by renowned actor-turned-director Milton Rosmer, its producer George King saw the potential for more.
When mounting Sweeney Todd: The Demon Barber of Fleet Street (1936), King was taking no chances, and decided to occupy the director's chair himself. But it would be Slaughter who would make the picture the success it was, menacing his way through Victorian London with such depravity that audiences squealed in delight on both sides of the Pond.
With better support than Maria Marten and capable if not slick helmsmanship by King, Sweeney Todd provides the perfect opportunity for Slaughter to sparkle. The grotesqueness of Todd as he brazenly flaunts his redolent corruption to his partner in crime Mrs Lovatt (superbly underplayed by niche actress Stella Rho), even going as far as to nonchalantly dye his hair in front of her as he prepares to ensnare the young but feisty Johanna Oakley (Eve Lister), is a touch of genius that fleshes out Todd's heinous nature to perfection.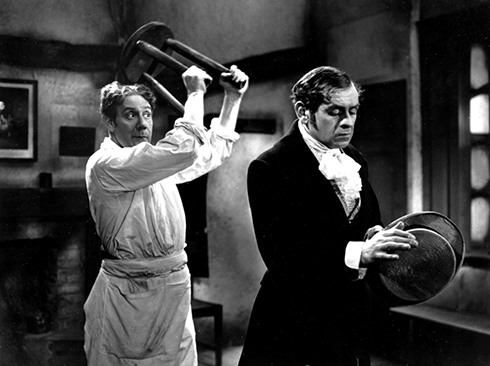 Fearful of his cover being blown, Todd (Tod Slaughter) does away with Parsons (Billy Holland) in Sweeney Todd: The Demon Barber of Fleet Street (George King 1936)
The treatment for Sweeney Todd came from Frederick Hayward, who has just three credits to his name in the director's chair, and three more as a writer, his two other projects in the latter capacity both Tod Slaughter vehicles too. The rather flowery dialogue was down to South African-born playwright, theatre actor and director Henry Francis Maltby. They are lines that are relished by Slaughter, as his tongue rolls around such exquisite pronouncements as "a lovely lot of throats, the lot of them… beautiful throats, rich and mellow to a razor," and questions like "May I polish you off sir?" as his prospective customers arrive laden with riches at the docks.
Filmed at the new Sound City at Shepperton studios, which at the time was a mere four years old, the picture uses a framing story to draw parallels between its ultimate Victorian setting and a 'modern' 1930s Britain. The humour works well too, with its main bearer being Jerry Verno, who manages not to overdo things too much as shipmate Pearley. Interestingly, the sight of young apprentice boy Tobias effectively in drag as he swaps outfits with Johanna is probably funnier than it ought to be, thanks in part to the above average acting prowess of John Singer, who turned twelve the month the film was shot.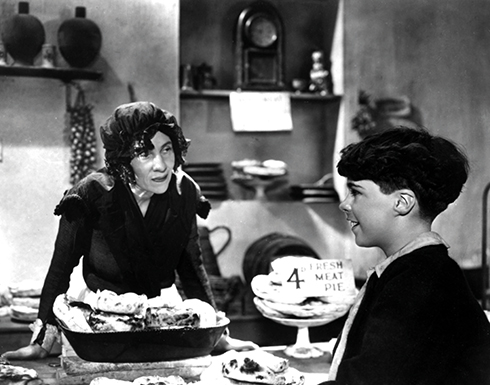 An apparently innocent meeting between Mrs Lovatt (Stella Rho) and Tobias (John Singer) belies the grim truth in Sweeney Todd: The Demon Barber of Fleet Street (George King 1936)
With a lively score by Eric Ansell and set-piece art direction by Percy Bell, Sweeney Todd has all the flavour of a music hall romp, infused with occasional sequences of grim horror. Jack Parker's cinematography, although at times a little stagey, creates enough mood and atmosphere to enhance Slaughter's genuine creepiness, and even though much of the worst depravities are only hinted at – it is only implied that Mrs Lovatt uses the bodies of Todd's victims as filling for her pies, we never actually see any throats get cut, and we can only guess at what has befallen Todd's seven former apprentices – there is an element of dis-ease that runs throughout the film which can be unnerving. Slaughter's villain is thoroughly unlikable in just about every trait he displays, and his wild overacting only serves to make Todd even more of a grotesque as he slinks his way through an unsuspecting London, outwardly respectable to the last inch.
Sweeney Todd: The Demon Barber of Fleet Street may well be a little creaky today, but it is an important part of Britain's contribution to horror films in the 1930s. It is pretty much the epitome of what the UK added to a genre dominated by Hollywood in a time of censorial prejudice, featuring a native star who, despite only racking up twenty-two screen acting credits in his whole career, is as synonymous with horror pictures as many of his contemporary mainstreamers. As twenty-first century consumers of such fare, we can only be grateful that these treasures continue to survive at all.
You can read this article in full in Classic Monsters of the Movies issue #23: