Product Description
In stock for immediate shipping.
Classic Monsters of the Movies issue #23 is another essential in your horror movie magazine collection. We shine our unique spotlight on the classic movies you love, as well as some you might not yet know, with a compelling combination of analysis, commentary and beautiful imagery that you'll adore. Our passion for the genre shines through in every page, giving Monster Kids all over the world a horror movie magazine that boasts high-end production values whilst awakening fond nostalgia. Existing fans know the delights that await; new readers have a whole world of vintage frights to discover.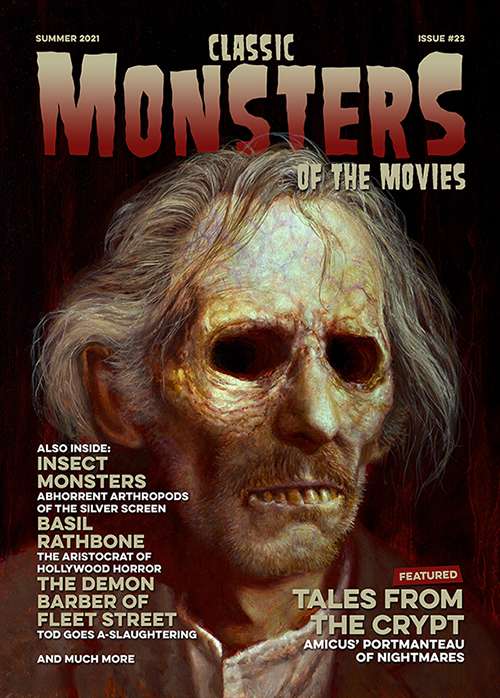 The cover painting of Classic Monsters of the Movies issue #23 leaves no room for doubt as to our lead feature; Daniel Horne's gloriously macabre painting of Arthur Grimsdyke is the perfect introduction to our exploration of Amicus' 1972 star-studded portmanteau shocker Tales from the Crypt. This collection of five grisly tales has been giving us delicious chills for years thanks to its sickly atmosphere and hypnotic performances from the likes of Peter Cushing, Joan Collins and Ralph Richardson; let's stick close together as we explore the making of a turning point in horror pop culture.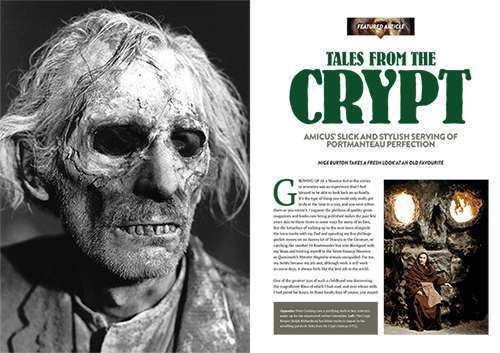 Just as creepy, but with an added dose of crawly, is our round-up of the many insect monsters that have made us cringe and scream over the years. The golden age classics had a sprinkling of spiders that added a decrepit mood to proceedings, while the atomic nightmares of science fiction brought us all manner of giant bugs – and that's before we look at the many monstrous creations that came later. That can of bug spray under the kitchen sink won't be any good against those enormous radioactive ants or that tarantula tearing the wall off your house…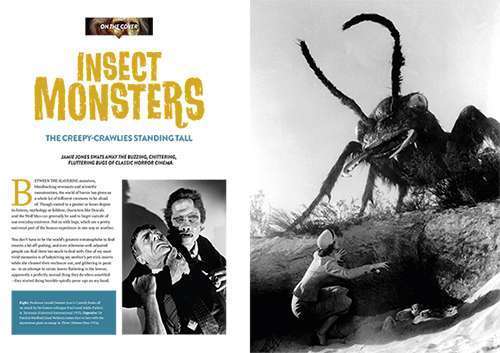 All that fretting about the wildlife is liable to leave you feeling quite exhausted, so you'll be delighted to discover that Classic Monsters of the Movies issue #23 also has an absorbing biography of suave star Basil Rathbone. Although he's perhaps best known for his many movie portrayals of Sherlock Holmes and his legendary swordfighting skills, horror fans celebrate him for his many journeys into the monster world. Son of Frankenstein (1939), The Black Sleep (1956) and The Comedy of Terrors (1963) are just a few of the many movies in which he showed a distinct flair for the uncanny in the course of a life lived to its fullest.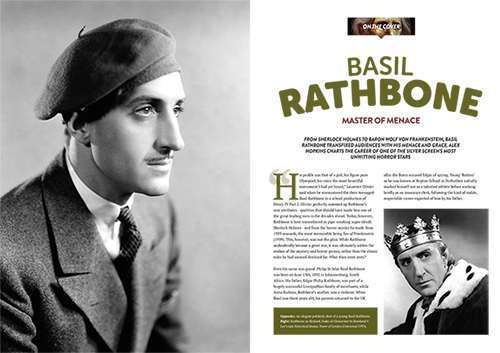 As you explore this issue of Classic Monsters of the Movies, you'll encounter an altogether different kind of smooth operator, in the shape of Sweeney Todd: the Demon Barber of Fleet Street. Our appraisal of this 1936 horror melodrama takes you into the world of Victorian London as depicted by the inimitable Tod Slaughter – we examine the movie's development, its impact, and the reasons for its enduring appeal today. Now, sit back and make yourself comfortable as you prepare for a barbershop experience like nothing else…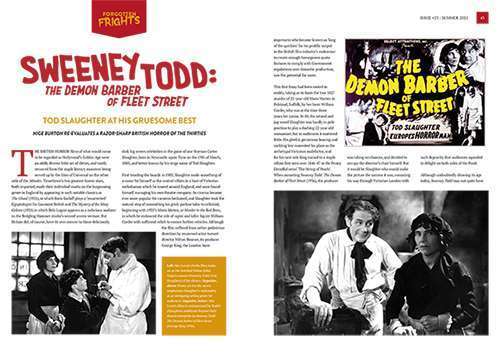 Heading from the streets of period London to a more modern incarnation, you'll discover the eerie delights of 1964's Seance on a Wet Afternoon. Our examination of this nerve-jangling thriller is packed with information and immerses you in the sinister suburban world of crazed psychic Myra (Kim Stanley) and her downtrodden husband Billy (Richard Attenborough). Beautifully and atmospherically directed by Bryan Forbes, this is a little-seen masterpiece that will expose you to the darker sides of human nature.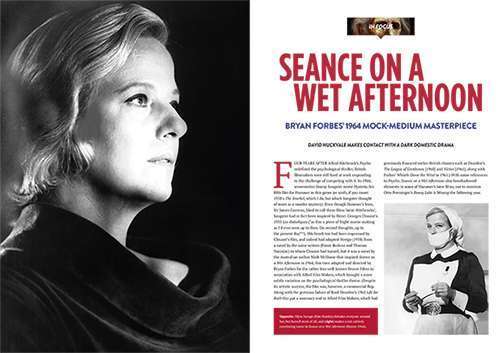 We return to the realms of science and an altogether different kind of sci-fi horror. Richard Denning takes centre stage in 1955's Creature with the Atom Brain, a veritable rollercoaster of camp dramatic excess. This is a revenge thriller with an atomic-powered difference: as you'll discover in our Kitsch Corner feature, an army of zombies is just what you need when you're looking to get things done. It's a perfect example of hysterical fifties science fiction, so fire up the zombies and let's get going!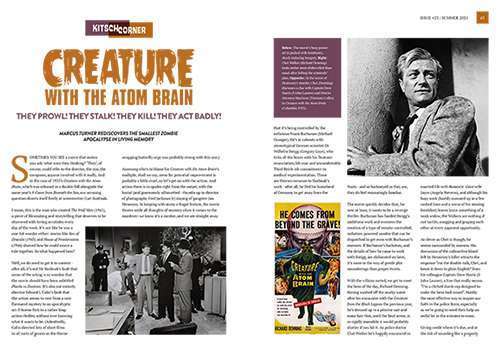 Classic Monsters of the Movies issue #23 is produced to the absolute highest standard, bringing a passion for classic horror cinema into the 21st century with high-end printing, rich glossy covers and meticulously restored stills that bring familiar movies back to life in style. A clean, timeless design means every image looks its best, and a full-colour print process means even black and white stills have a luxurious depth and richness. Couple this with the variety of engaging viewpoints from our skilled team of writers and you'll find there's nothing like Classic Monsters of the Movies – a horror movie magazine inspired by the classic publications but brought bang up to date.
Issue 23 of Classic Monsters of the Movies includes:
Tales from the Crypt – our cover story looks at the creation of a movie legend, its journey from page to screen, and the many reasons it remains such a favourite for horror fans. The blood may be a little bright, but there's plenty of darkness to make up for it…
Basil Rathbone – renowned for his suave charisma and screen presence, and often cast as villains, this South Africa-born actor became a popular choice in all manner of movies. His contribution to the horror genre is an important one, and his life makes for intriguing reading.
Insect monsters – it could be an average house spider or a skyscraper-sized bug, but somehow it doesn't matter – insects in horror films are always creepy. Keep your feet off the floor as we encounter the crawling, buzzing nasties that have played such a big role in horror cinema.
Sweeney Todd: the Demon Barber of Fleet Street – the iconic tale gets the Tod Slaughter treatment in a movie packed with shocks. A wealth of beautiful stills draw you into a world of murder and meat pies as Tod Slaughter brings his own particular brand of gusto to the notorious barber.
Seance on a Wet Afternoon – is Myra Savage a real medium, or is she just desperate for attention? Her insane plan takes you on a rollercoaster ride of deceit and cruelty in this lesser-known chiller – we explore its richly detailed Victoriana oppression and the twisted psyches of its protagonists.
Creature with the Atom Brain – radioactive zombies and revenge plots go hand in hand as Richard Denning battles a gang with a difference. The posters of the time said it was 'shock full of thrills', and they weren't kidding.
And more besides!
No fan of vintage horror cinema should miss Classic Monsters of the Movies issue #23. We're dedicated to bringing you the very best in horror movie retrospectives, commentary and discussion. Fascinating articles, glorious imagery and professional flair are just some of the reasons why our readers are so passionate. It's the ideal way to find a fresh appreciation of your favourite movies while making some exciting new discoveries along the way.
Magazine specification:
68 pages
Full colour throughout
Packed with stills, posters, articles and info
Printed and finished to the highest standard