Product Description
Limited edition reprint.
Classic Monsters of the Movies issue #22 is an absolute must-have for any fan of classic horror cinema. Your favourite vintage monster movies burst back into life in a top-end publication that's printed to the absolute highest standard: packed with stills and information, with articles from our acclaimed panel of writers, Classic Monsters of the Movies explores the horror films of yesteryear with a reverence and passion that honours the genre. The unique combination of quality content and high production values make this a horror movie magazine like no other.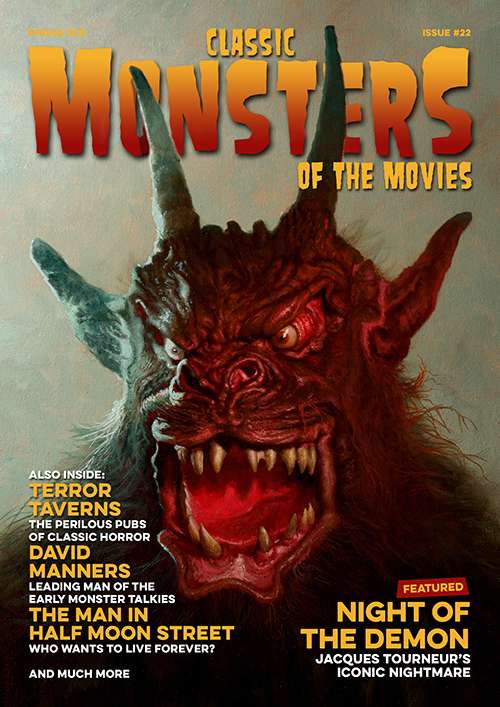 This issue's cover feature is celebrated by a truly jaw-dropping Daniel Horne oil painting of one of horror cinema's most powerful images, the summoned beast in 1957's Night of the Demon. Our detailed analysis of the movie's production and themes, as well as its origins in the work of author M R James and its realisation on the screen by director Jacques Tourneur, is an absolute essential for any fan, deepening your appreciation of a beloved moment in horror history. There's something evil in the trees, and it's heading this way…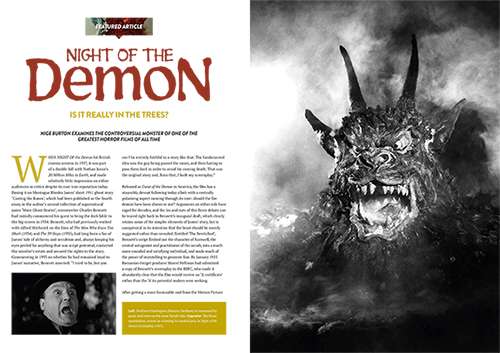 After dodging demons you might want to relax with a glass of something cool, but our next feature shows why relaxing in the pub is rarely a good idea in horror films. Whether you're a familiar local or an outsider, the village tavern is a focal point for many a classic monster movie, fo all sorts of reasons. From the mittelEuropean taverns of Universal yore to Hammer's Cafe Kleve and The Slaughtered Lamb, we show that popping out for a pint has never been more threatening.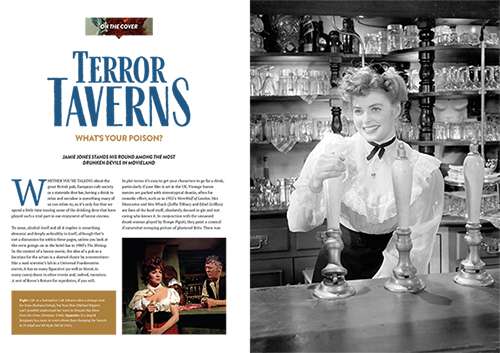 Classic Monsters of the Movies issue #22 also has an eye on the real lives of horror's stars, thanks to a biography of David Manners. His performances in some of Universal's most iconic horror movies have made him an unforgettable part of the genre, but his career was packed with other highlights too, while his life away from the Hollywood glitz showed him to be possessed of a profoundly insightful nature. This feature will give you a greater understanding of the dashing leading man who shared the screen with some of the golden age's most glamorous stars.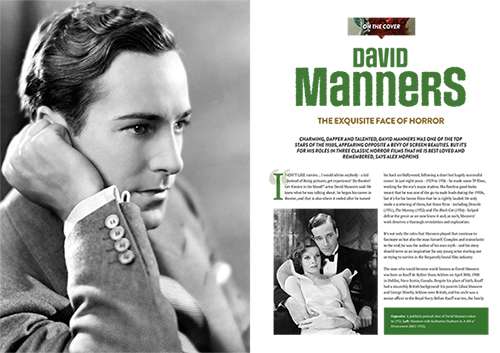 Further excitement awaits with our feature on 1945 sci-fi thriller The Man in Half Moon Street. Nils Asther and Helen Walker make for an unlikely and tragic couple in a story which revamps the fittingly ageless tale of Dorian Gray; this time, eternal life comes as a result of science and murder rather than mysticism. Adapted from a play, this remains one of the lesser-known interpretations of the story, so this richly illustrated and fact-packed article is indispensable for any horror fan looking to broaden their horizons and discover something new.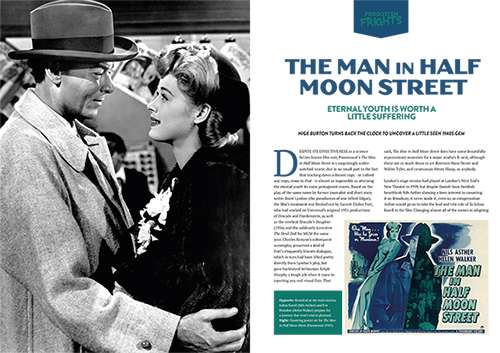 There's more dastardly dabbling ahead with our study of Hammer's iconic journey into the unholy, 1968's The Devil Rides Out. Positively dripping in evil atmosphere thanks to Terence Fisher's direction and a raft of effective performances including a noble star turn by Christopher Lee opposite Charles Gray as the evil Mocata, it never fails to immerse you in its story of good against evil. And while writer Dennis Wheatley didn't approve, it gave moviegoers an absolutely unforgettable experience. Our richly illustrated and insightful article is another reason why Classic Monsters of the Movies issue #22 is not to be missed.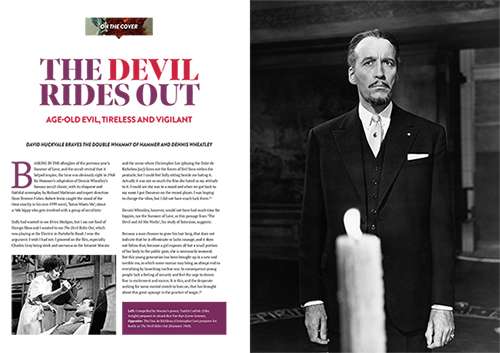 We head away from the occult and back into the world of strange science for this issue's Kitsch Corner, as Bela Lugosi discovers the dangerous side of cosmetics in 1940's The Devil Bat. Outrageous, improbably and utterly unforgettable, it's packed with all manner of horror movie essentials. It's important to make sure you smell nice, even when there's a monstrous bat terrorising the neighbourhood, but Dr Carruthers is surely up to no good…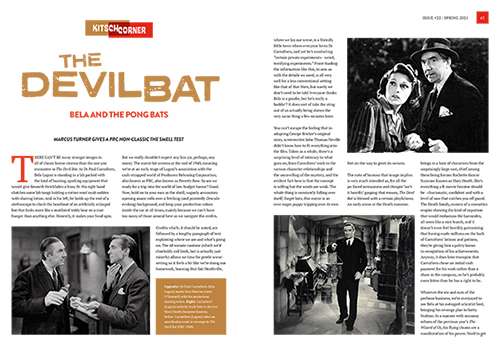 Of course, there's plenty more to discover within the pages of Classic Monsters of the Movies issue #22. Our commitment to bringing you the most compelling articles means you'll see your beloved favourites in a new light, as well as encountering movies you may be less familiar with. Designed with a clean timeless elegance, each page is printing using a full-colour process, so even black and white stills have a richness and depth to their tones that you don't see with monochrome print. Coupled with the high production values, quality paper stock and beautiful finishing, this means every issue of Classic Monsters of the Movies is a true collector's piece.
Issue 22 includes:
Night of the Demon – M R James' haunting story Casting the Runes became a truly horrifying movie experience. We explore its production, its performances, and its terrifying legacy.
David Manners – he battled vampires and mummies as a horror hero, before becoming a suave, dashing leading man; yet his life had a depth that transcended the glamour of Tinseltown.
Terror taverns – the village pub is a centrepiece of so many horror movies, the backdrop to many a sinister plot point. We explore the significance of the humble tavern in the horror genre.
The Devil Rides Out – evil is in the air as Christopher Lee and Charles Gray engage in spectacular supernatural battle. We explore the many nuances of this unnerving demonic classic.
The Man in Half Moon Street – switching between horror and melodrama with a healthy dose of science fiction, this intriguing picture explores questions of morality where the stakes couldn't be higher.
And more besides!
Inspired by the classic monster movie magazines of yore, but with a fresh modern twist and high-end production, Classic Monsters of the Movies issue #22 is a vibrant experience for any fan of classic horror movies. This is the horror film magazine you've been waiting for – a quality publication bursting with beautiful artwork and engaging articles. We share your passion for vintage monster cinema and every page has something new to offer. Whether you're a lifelong horror fan, or a newcomer to the genre, Classic Monsters of the Movies is your perfect companion.
Magazine specification:
68 pages
Full colour throughout
Packed with stills, posters, articles and info
Printed and finished to the highest standard