Product Description
In stock for immediate shipping.
Classic Monsters of the Movies issue #21 is a celebration of the horror cinema of yesteryear. This is a classic horror movie magazine like nothing you've ever seen, packed with beautiful imagery and absorbing articles to fire your imagination and recall fond memories of the motion pictures you love. Monster kids around the world enjoy the glorious image reproduction, compelling writing and high-end production values that characterise this publication.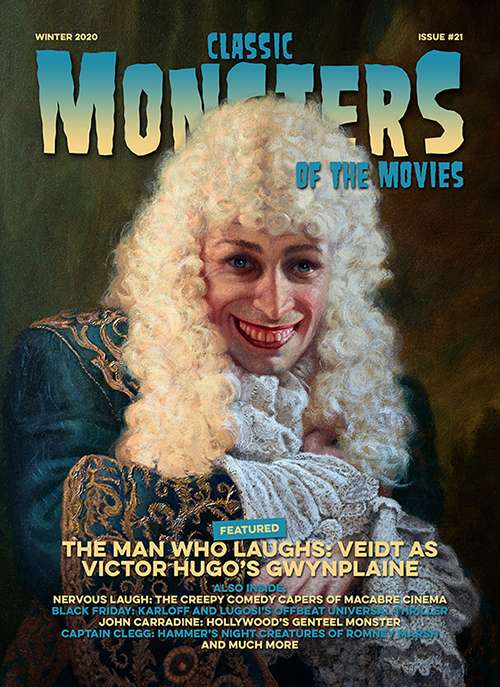 Daniel Horne's breathtaking oil painting leads you straight into our lead article, an exploration of Universal's 1928 silent classic The Man Who Laughs. We explore the film's origins in Victor Hugo's novel, the story of its production, and the many reasons why it remains so powerful today. Conrad Veidt's towering central performance is just one element in a most potent cinematic experience, and a collection of beautifully restored stills bring the tale to life.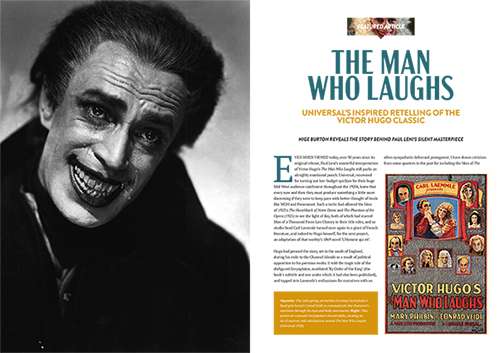 We move from The Man Who Laughs to the horror films that have made us laugh: our Nervous Laugh feature explores the ways in which horror and comedy have been combined to such compelling effect throughout cinema history. From early silents to Abbott and Costello's beloved monster mash-ups, horror movie history is packed with films that have raised a chuckle as much as a chill. As well as the films themselves, we delve into the psychology of horror-comedy: why does it work so well? It's time to find out.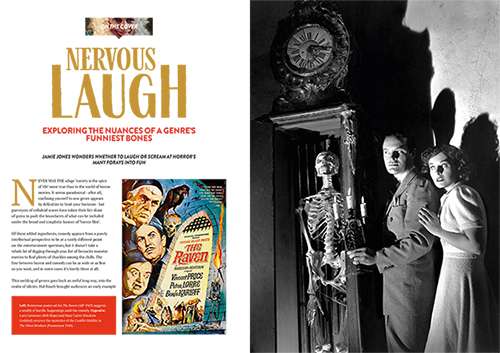 Classic Monsters of the Movies issue #21's biography section, meanwhile, charts the life of one of cinema's all-time icons, John Carradine. His extraordinary career took in screen classics ranging from Stagecoach to The Grapes of Wrath and The Ten Commandments, but he also carved out a niche in the horror field thanks to the likes of Voodoo Man and House of Frankenstein. Our in-depth feature looks at his enormous cinematic legacy as well as his life off-camera.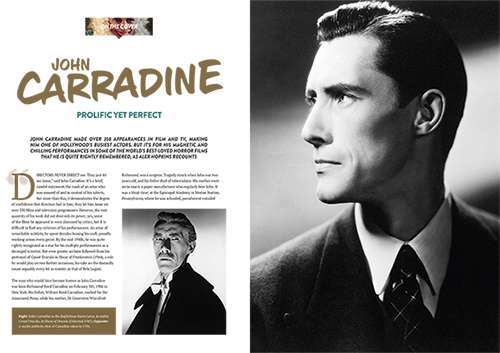 There are further movie classics in store as we discover 1940 gangster horror thriller Black Friday. With Bela Lugosi and Boris Karloff heading up a strong cast also including horror favourite Anne Nagel, you'd expect something special, and this one certainly doesn't disappoint, packed as it is with action and drama. We dive into the wild world of sci-fi noir with a movie profile that will revitalise your passion for a most unique movie, one that crosses genres with ease and never fails to get the pulse racing. No fan of Lugosi or Karloff should miss this feature.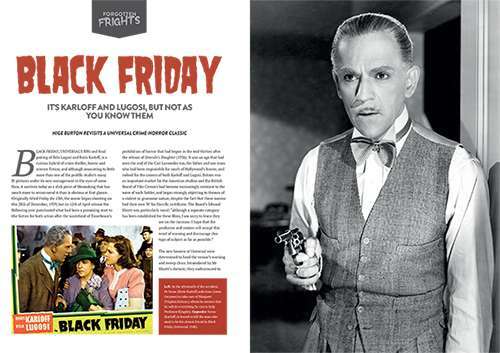 Hammer fans also have plenty to enjoy in Classic Monsters of the Movies issue #21, with our examination of the atmospheric 1962 adventure Captain Clegg (or perhaps you'll know it as Night Creatures). Smuggling, romance and some seriously spooky phantoms await as Hammer Horror takes a distinctly swashbuckling turn. Packed with definitive performances from Peter Cushing, Oliver Reed and Michael Ripper, it's a firm favourite for Hammer devotees – let's look at why.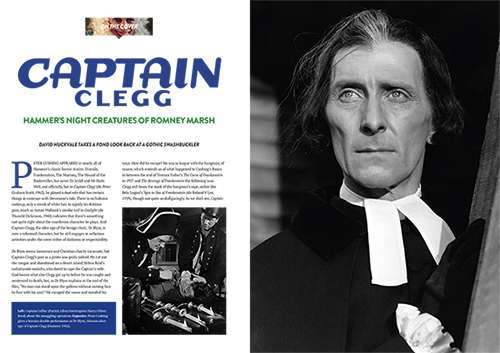 And if things are looking a little bleak, fear not, as this issue's Kitsch Corner follows the overwrought misadventures of George Zucco and Glenn Strange in werewolf sci-fi cult classic The Mad Monster. There's plenty of shaggy-haired mayhem afoot as poor gardener Petro runs afoul of Dr Lorenzo's crazy schemes to rule the world – anything could happen, but chances are it's not going to be pretty.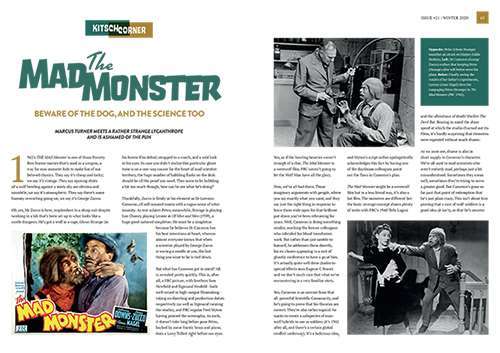 This is just a taster of what Classic Monsters of the Movies issue #21 has in store – our remit is a broad one, taking in all areas of classic horror movie cinema with our famed mix of stunning stills reproduction, clean timeless layout, and meticulous attention to detail in production and finishing. This vintage monster movie magazine is printed in full colour to give even black and white stills a depth and richness that monochrome print simply can't provide – Classic Monsters of the Movies is a glorious, rewarding experience for every fan of classic horror.
Issue 21 includes:
The Man Who Laughs – whether you view it as an Expressionist horror film or a historical drama, this is a movie whose imagery and performances never fail to stir the imagination.
John Carradine – we celebrate the life of a true Hollywood legend. From sinister bit parts to high-profile horror, he brought a unique presence to every situation, both on the screen and off it.
Nervous laugh – why is it that laughter and terror can coexist so beautifully? The horror-comedy genre has given us any number of unforgettable motion pictures; we check out the reason for its enduring appeal.
Black Friday – this action-packed thrill ride has it all: nefarious villains, glamorous heroines and some truly creepy scientific goings-on. And with Bela and Boris taking the lead, it simply can't fail.
Captain Clegg – don't be fooled by the unassuming appearance of the village of Dymchurch. Those eerie marshes are haunted by phantoms and there's a smuggling ring to break…
The Mad Monster – howl at the moon and giggle at the scientific outrages perpetrated by George Zucco, as we prowl the swamps in search of a very different kind of werewolf.
And more besides!
Classic Monsters of the Movies issue #21 is a must-have for every fan of classic horror movies. From cover to cover it's inspired by the passion that led to the creation of these movies: each page bursts with a love for vintage horror and a dedication to making every image look its absolute best Taking the kind of passion you remember from the movie magazines of your youth, and presenting it in a beautiful collector's edition format, Classic Monsters of the Movies issue #21 is a horror film magazine you won't want to be without.
Magazine specification:
68 pages
Full colour throughout
Packed with stills, posters, articles and info
Printed and finished to the highest standard