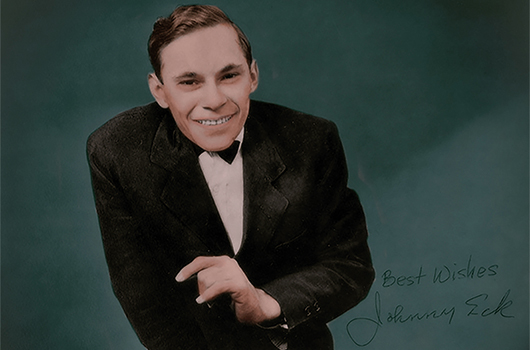 Johnny Eck – the famous Half-Boy from Freaks
John Eckhardt Jr, known simply as Johnny Eck, and his twin brother Robert were born on the 27th of August, 1911 in Baltimore, Maryland.
Unlike his fully formed brother, Johnny was born with sacral agenesis, a congenital disorder in which there is abnormal foetal development of the lower spine, which resulted in a truncated torso. Eck would often describe himself as being "snapped off at the waist", but he did in fact have underdeveloped, unusable legs and feet which he would hide under custom-made clothing. As an adult, he measured just eighteen inches at his tallest.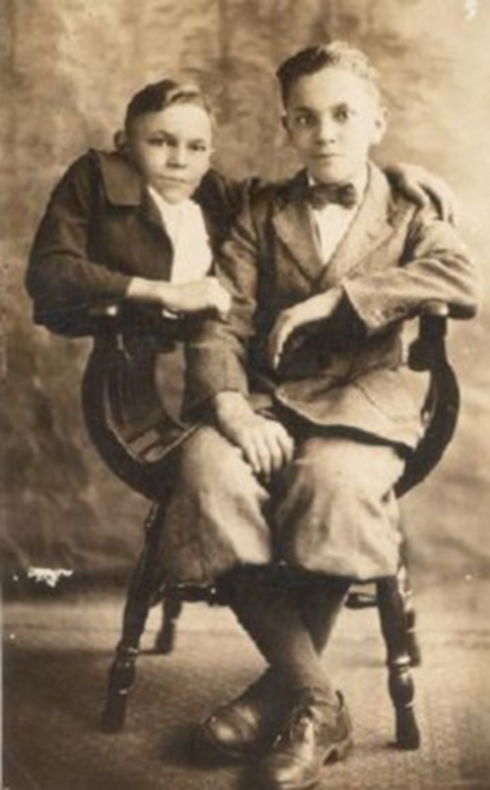 Johhny and Robert, the Eckhardt twins – once famous, Johnny became known simply as Johnny Eck
The twins had an older sister, Carolyn, who educated the young Eck until parents Amelia and John Sr enrolled the boys in public school at the age of seven. Johnny was extremely popular with the other boys and, despite the obvious attention his condition attracted, he remained upbeat about it throughout his life. When questioned rather crassly about whether or not he wished he'd been 'born normal'; he would quip "Why would I want legs? Then I'd have pants to press." He would often challenge his fully-formed contemporaries by asking "What can you do that I can't do, except tread water?"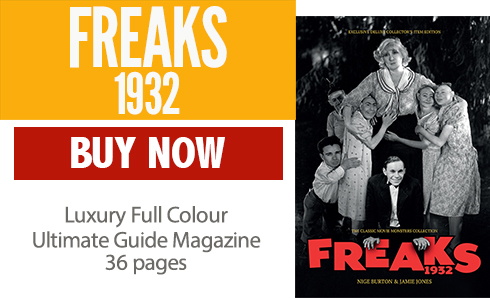 The young Johnny Eck was a precocious child, able to walk on his hands at the age of one, long before his brother was even standing. He also became something of a craftsman, acquiring and honing exceptional skills as an artist, photographer, illusionist, Punch and Judy operator and his particular forte, model-making.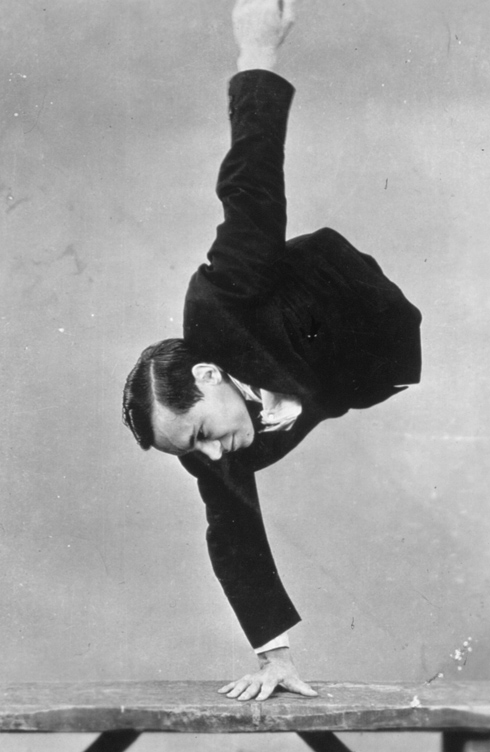 Johnny Eck's trademark one-arm handstand
His mother was set on him having a career as a minister, and as a child he would often be called upon to give sermons at his local church, as Eck later recalled: "I would climb atop of a small box and preach against drinking beer and damning sin and the devil!"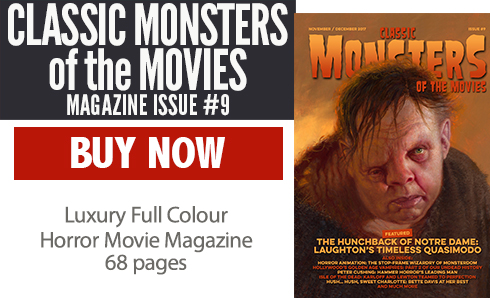 Check out our Star Spotlight feature on Johnny Eck in Classic Monsters of the Movies issue #9
But the clerical plans ended abruptly when Eck, aged 12, bounded on his hands onto John McAslan's stage show in 1923, avidly volunteering to take part in the act. Astounded, McAslan persuaded him to join his sideshow under his management and, under the proviso that Robert was accepted too to look after Johnny, the boys' parents signed a one year contract, although Eck would later claim that the unscrupulous magician changed the term to ten years by slyly adding a zero.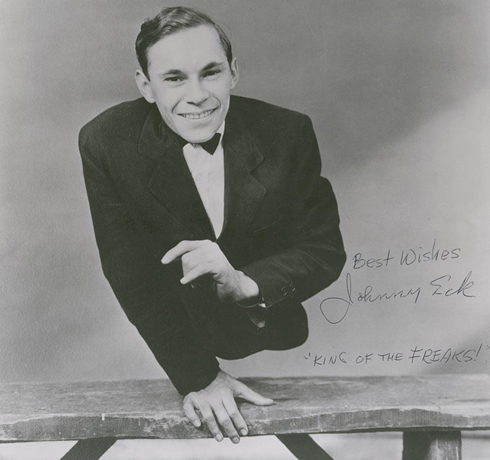 Johnny Eck never became despondent about his condition
Notwithstanding this fraudulent sleight of hand, the boys left McAslan after a twelvemonth anyway, signing up with Captain John Sheesley where, although Johnny was ostensibly billed as a single-o (a sideshow solo act), he would often perform alongside Robert to accentuate his abnormal physique.
During his time with the various carnies, Eck became an astute acrobat, usually appearing in a tuxedo performing his trademark one armed handstand. Bigger names beckoned, and it was not long before he was working with Ringling Brothers and Barnum and Bailey, a happenstance which took him to the 1931 Canadian Expo at Montreal where he was spotted by an MGM talent scout who approached him with the role of the 'Half-Boy' in Tod Browning's forthcoming production of Freaks (1932).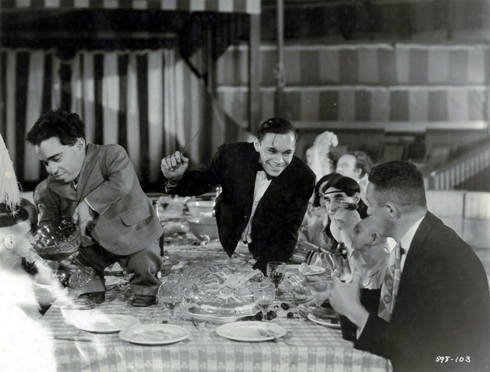 Johnny Eck and co-stars in Tod Browning's Freaks (MGM 1932)
Johnny Eck famously accepted the part, and he and Browning became firm friends, the young star oftentimes sitting beside the director, contributing to the structure of a scene on occasion. Eck didn't really enjoy working with his various Freaks co-stars, whom he described as a "happy, noisy crowd; childish, silly and in a world all their own." He also complained that they had "gone all 'Hollywood' – wearing sunglasses and acting funny."
Browning planned to cast Eck, along with Robert, in a follow up film where he would play a mad scientist's creation, but the public and studio outrage over Freaks damaged the director's career severely, and it was some years before he would be given any kind of autonomy over productions. Eck, although generally pleased with Freaks, lamented the harsh use of the censor's scissors, which left a large chunk of his performance on the cutting room floor.
Johnny Eck's movie career did continue with three Tarzan movies, in which he played the Gooney Bird, but he signed up for the Ripley's Believe It or Not! Odditorium at the 1933 Chicago World's Fair in order to prevent the loss of the family home due to the Great Depression; Ripley's billed him as "the Most Remarkable Man Alive!"
In 1937, the twins began working for the illusionist and hypnotist Rajah Raboid, with whom they would go on to create one of their most famous routines. Devising a twist on the man sawn in half illusion, Robert would play the 'straight' volunteer who, once apparently 'sawn asunder' would be replaced by Johnny at the top half and a dwarf as the bottom half, with the former running around the stage screaming "Come back! I want my legs back!". The trick was theatrical perfection, at first shocking the audience and then reducing them into fits of laughter, and successfully toured the East Coast to packed houses.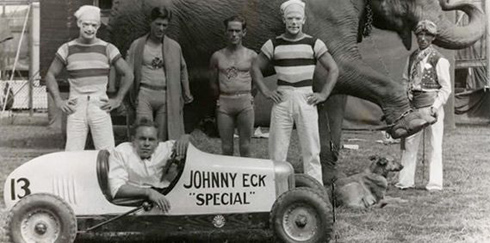 Johnny's famous racing car, the Johnny Eck Special
In addition to the show business life, Eck took time out to pursue his other interests and passions. Both keen musicians, he and Robert headed up their own twelve-piece orchestra in Baltimore, with Johnny conducting while Robert played the piano. He also threw himself into his love of drawing and painting, and raced his own custom-built roadster, named the 'Johnny Eck Special'. In 1938, he climbed the Washington Monument on his hands.
As sideshows became more un-PC, the brothers repaired to their family home at 622 North Milton Avenue, in the East-side, working-class section of Baltimore. It would be where they would live for the rest of their lives, and the pair invested in a penny arcade, which they ran successfully together until a business tax forced them to close in 1950. Later, they bought and operated a children's train ride in a local park where Johnny became a firm favourite as conductor; he was a much-loved local celebrity, and could often be found sitting on the steps of his porch, Chihuahua Major at his side, telling stories of his life and adventures.
After many years in the wilderness due to a censor's ban, Freaks was finally released on VHS in the 1980s, a move which brought a new generation of fans flocking to the neighbourhood, hoping to meet the star. Eck was dismayed that he had not become more financially stable, a fact which he attributed to what he called "sharp management crooks" and even "best friends", and he lamented to a close friend in the mid-80s "I am so embarrassed – I would love to be financially able to entertain these wonderful people in a refined way – a tiny sandwich, cold Cola or something…"
The Eckhardt brothers' Baltimore suburb was becoming increasingly violent, suffering from an acute drugs and crime problem. In January of 1987, the twins were robbed at their home in an ordeal lasting several hours, with one of the thieves physically sitting on Eck, pinning him down, while the other stole his possessions. Neither of the brothers ever really recovered from this, and no longer invited visitors into their home, Eck commenting "if I want to see freaks, all I have to do is look out the window."
Johnny Eck suffered a fatal heart attack in his sleep on the 5th of January, 1991, dying at the age of 79 in the home where he was born. Robert survived him by four years, passing away on the 25th of February, 1995, aged 83. The two brothers are buried under one headstone in the Green Mount Cemetery in Baltimore.