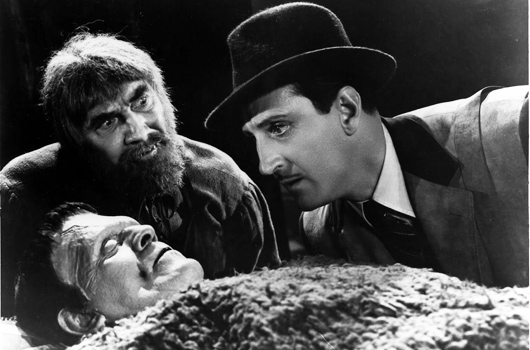 Son of Frankenstein (Universal 1939)
Son of Frankenstein, Universal's third episode in their Frankenstein series, was the last to feature Boris Karloff and the first to feature Bela Lugosi.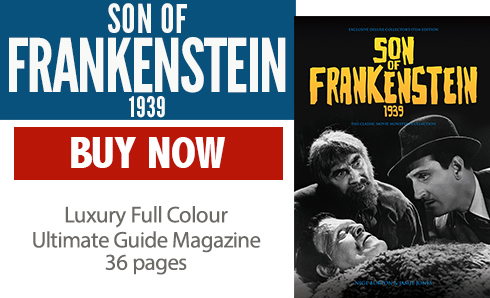 As the studio's horror output started to dwindle in the late 1930s, the original Dracula and Frankenstein went out as a re-release double bill, and the unexpected success prompted a resurrection of horror films from all the major studios after a self-imposed two-year prohibition. Rowland V Lee directed, and Basil Rathbone starred as the titular Wolf von Frankenstein, with Josephine Hutchinson playing wife Elsa and Donnie Dunagan toddler son Peter.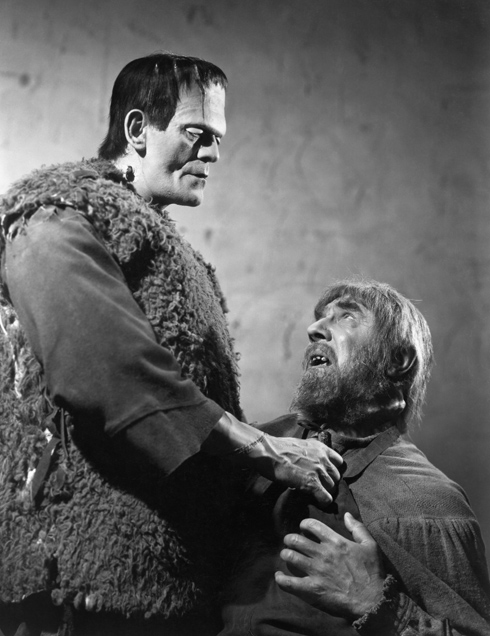 Friends for life: Karloff and Lugosi (as the Monster and Ygor respectively) paired up for one of their most memorable double acts in Son of Frankenstein (Universal 1939)
Years after the destruction of Henry Frankenstein's (now Heinrich von Frankenstein) old lab tower, Wolf relocates his wife and son to the family castle in the eponymous village. Gone are the gothic sets of James Whale's day, to be replaced by futuristic sweeps and vast curves, which makes the housekeeper's colloquial mutterings a little incongruous: "If the house is filled with dread, place the beds at head to head." Whale would have seen the funny side of that.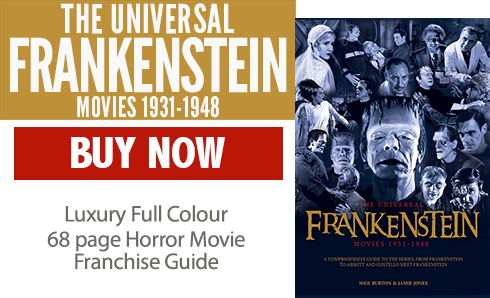 Otherwise tightly scripted by Willis Cooper, with significant input by Lee himself even while filming was underway, Son of Frankenstein fairly sparkles at times, such as when Wolf, after being accused of making a monster, quips "Is it the old, legendary monster of my father's time? Or am I supposed to have whipped one up, as a housewife whips up an omelette?"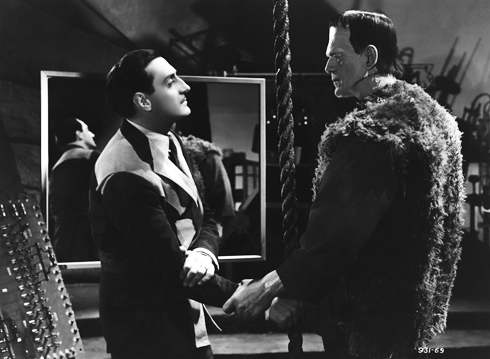 Wolf (Basil Rathbone) comes face to face with his 'brother' (Boris Karloff) in Son of Frankenstein (Universal 1939)
Soon, mad and twisted shepherd Ygor (Lugosi) is demanding monsters with menaces, and Wolf is ensnared into restoring Karloff to his former glory, apart from that creature's being mute after his articulate performance in Bride of Frankenstein (1935), doubtless induced by his coma-like state. He does, however, have a sheepskin liberty bodice, presumably fashioned by Ygor, to keep him warm on those brutish Mitteleurope winter nights.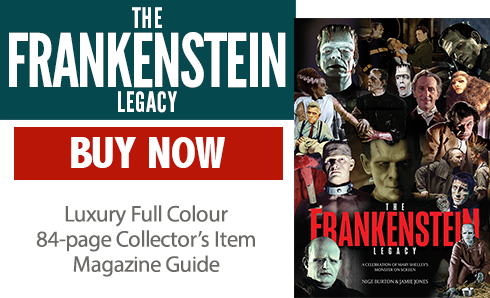 Wolf shoots Ygor, the Monster screams in lamentation as he cradles his dead friend's body, and makes off with young Peter to teach the son and heir a lesson. One armed Inspector Krogh (Lionel Atwill, giving a faultless, understated performance) gets involved, and Wolf swings on a rope, kicking the Monster into a bubbling sulphur pit just in time to save the day.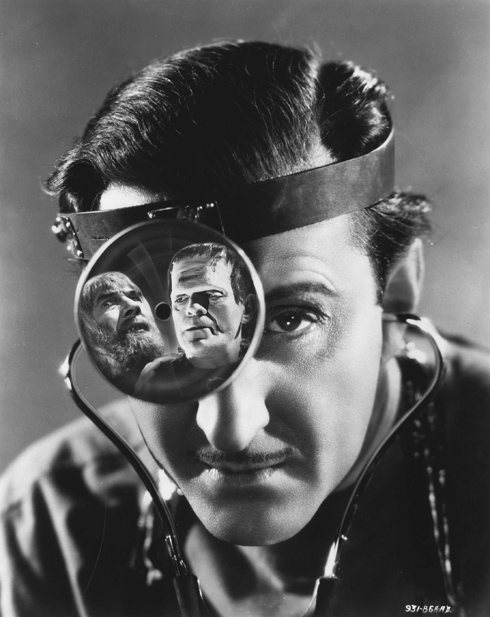 The three main protagonists shown off in this publicity still for Son of Frankenstein (Universal 1939)
Superbly directed, Son of Frankenstein shows off every dollar it went over budget and, despite initially lambasting Lee, Universal were ultimately delighted at the enormous box office take; their fortunes were finally reversed.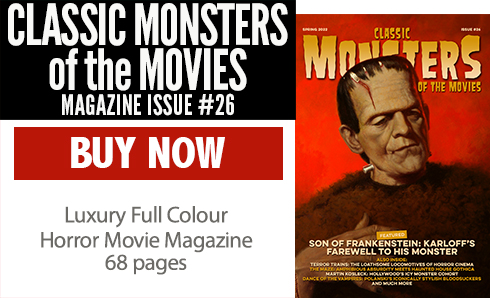 Brimming with exceptional performances, Son of Frankenstein is a powerful mystery thriller as well as a horror film, emulating the dark expressionist days of Caligari. Karloff is given much less to do than in the previous two films, but what he has is done well; it is not difficult to understand why the actor felt that his beloved character's development had gone as far as it could, and therefore vowed not to play him again.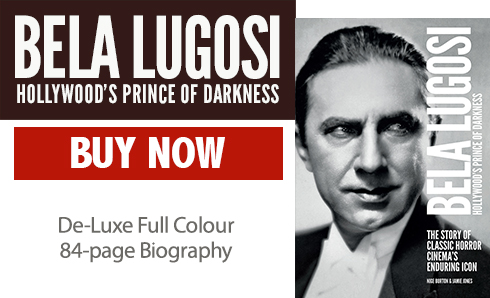 It is also a notable time, although arguably not the only time, that he was outshone by co-star Lugosi, whose brilliance in the realisation of shaggy Ygor is an exceptionally fine piece of character acting even by today's standards.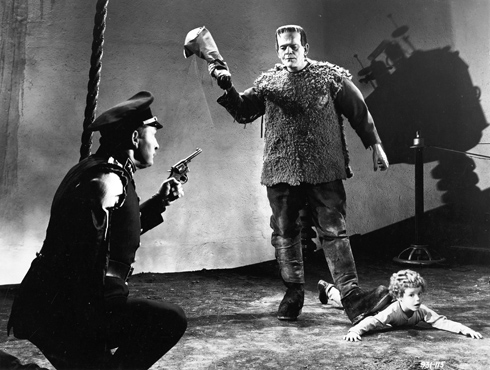 The climactic finale sees Inspector Krogh (Lionel Atwill) have his arm ripped off again by his old adversary the Monster (Boris Karloff), as he attempts to rescue little Peter (Donnie Dunagan) in Son of Frankenstein (Universal 1939)
With a wonderful score written by Frank Skinner and arranged by Hans J Salter, Son of Frankenstein was the last of the series that critics took seriously. Good entries would follow, but they would never quite be on this scale again.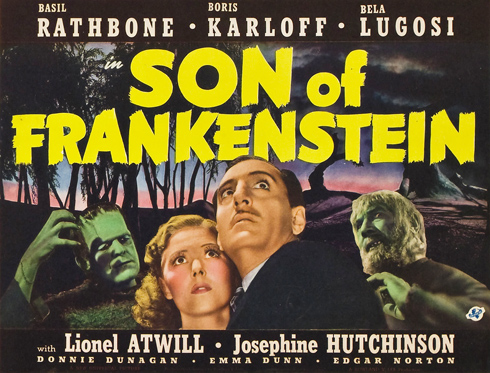 Original theatrical release poster for Son of Frankenstein (Universal 1939)