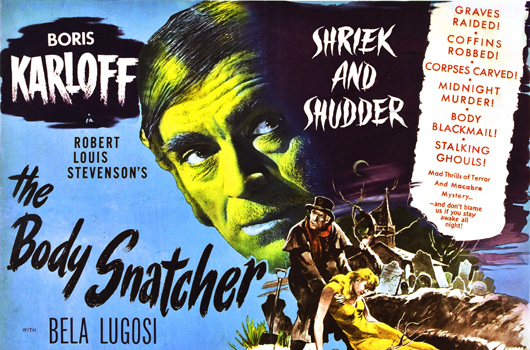 Body Snatcher, The (RKO 1945)
Val Lewton's broody shocker for RKO, The Body Snatcher, was released on 25th May, 1945.
Directed by Robert Wise, and based on the short story of the same name by Robert Louis Stevenson, the adaptation was also worked on by producer Lewton, under the pseudonym of Carlos Keith. With frequent mentions of notorious grave robbers Burke, Hare, and Dr Knox, the film's marketing screamed: The screen's last word in shock sensation! It would be the last time Boris Karloff and Bela Lugosi worked together, the former tending to outshine his counterpart both in billing and screen time. However, small as Lugosi's part in the film is, the performance is brooding and melancholy and, in many opinions, outshines Karloff's more 'hammy' offering.