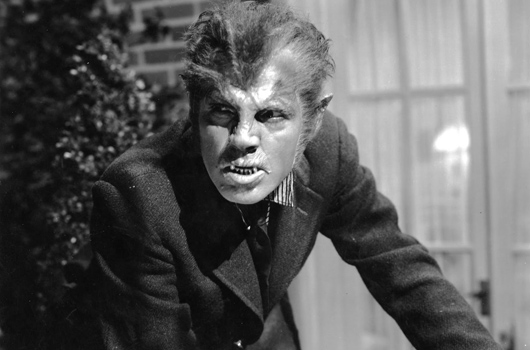 Werewolf of London (Universal 1935)
Universal's first full moon foray into the world of the luckless lycanthrope came with their Werewolf of London, released on the 3rd of June, 1935.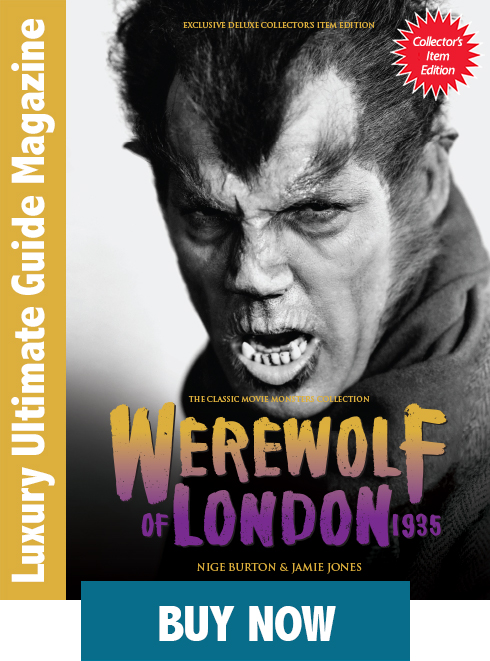 Jack P Pierce devised a make-up similar to that he would use on Lon Chaney in The Wolf Man some six years later, but hirsute antihero Henry Hull objected to hours in the chair, so a much simpler, more minimal approach was adopted, allowing the actor's face to be more readily identified through the yak hair; a useful plot device also enabling his wife Lisa (Valerie Hobson) to recognise him at the film's denouement. The result, rather than being a disappointment, gives us another iconic monster like no other.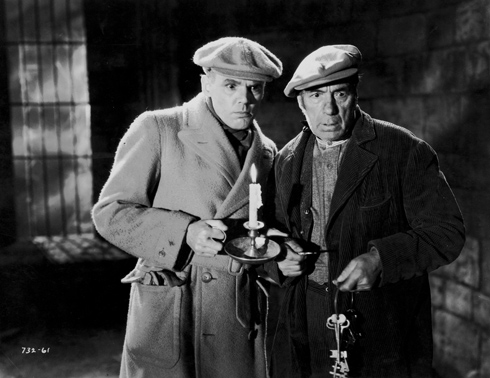 Safety cell: Dr Glendon (Henry Hull) entreats Timothy (Reginald Barlow) to lock him away in Werewolf of London (Universal 1935)
Werewolf of London was heavily criticised on its first airing, many claiming it was too similar to Paramount's 1932 version of Dr Jekyll and Mr Hyde, with the monster becoming yet more monstrous at every transformation, whereas initially, he was seen to don a hat and scarf while at large as his evil alter ego. Based on Robert Harris's original story, John Colton's screenplay is a little stilted at times, a drawback compounded by a relatively laid back approach from director Stuart Walker, with several instances of the cast speaking over one another.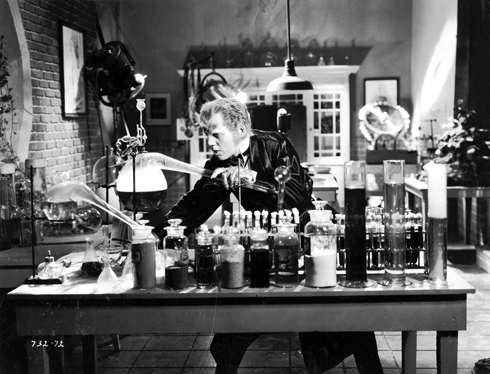 Mad in the lab: Glendon (Henry Hull) gets a little frantic in his laboratory in Werewolf of London (Universal 1935)
Hull's unsympathetic Glendon, brutish and inattentive to his wife, yet unconvincingly mawkish at the feisty lass's dalliance with ex-beau Paul Ames (Lester Matthews), does make for a sinister undertone to the proceedings, added to by the unscrupulously selfish Dr Yogami (Warner Oland) as he repeatedly steals Glendon's prized Tibetan flower, the Mariphasa lupino lumino, from under his nose.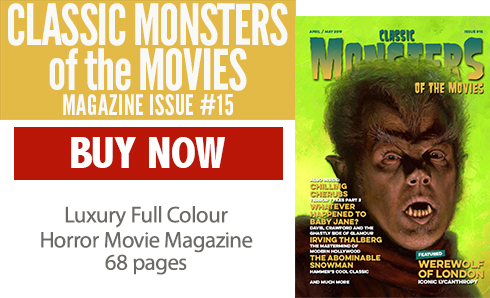 The rare plant, which only blooms in the moonlight, brings temporary relief from the curse of 'werewolfery'. Fatal allies in their quest for a cure, Glendon and Yogami are at once united and divided in their struggle to save their own souls: "the werewolf instinctively seeks to kill the thing it loves best," the latter warns while committing his skullduggery in plain sight. These scenes are the stuff of great cinematic drama and conflict but, sadly, in Walker's hands they never quite reach their potential.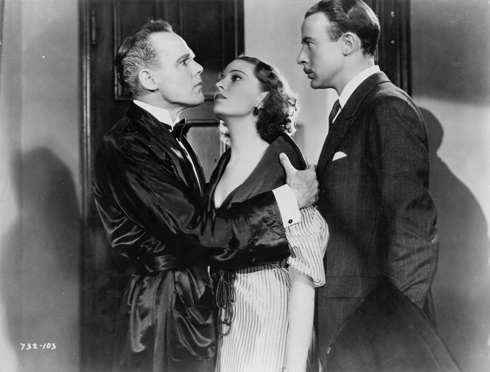 Three's a crowd: Dr Glendon becomes a little jealous at his wife Lisa's (Valerie Hobson) friendship with her ex, Paul Ames (Lester Matthews) in Werewolf of London (Universal 1935)
The comic elements to the story at times work well and at others are mediocre. Highlights include the wonderful banter between rival landladies Mrs Moncaster (Zeffie Tilbury) and Mrs Whack (Ethel Griffies), but there are weaker elements which feel as if they could have worked so much better had they been handled by James Whale.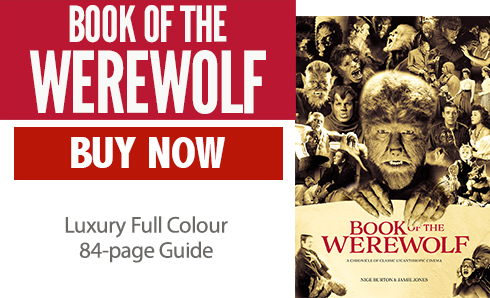 But then, that is the lamentable fact about Werewolf of London generally: for decades, fans have vented their 'what-ifs?' – what if Boris Karloff had played Glendon, what if Bela Lugosi had played Yogami, what if Whale or Robert Florey had directed? Add to these the fact that Guy Endore's popular lycanthropy novel, The WereWolf of Paris, had been published in 1933 and would have made a perfect vehicle for treatment, yet Universal opted for an original story, and you have a whole pile of 'might have beens'.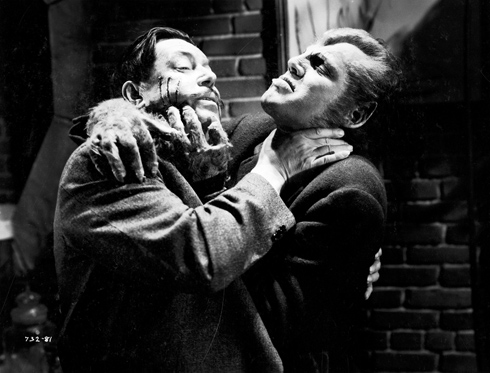 Wolf pack: Yogami (Warner Oland) and Glendon (Henry Hull) battle to the death in Werewolf of London (Universal 1935)
There are so many curious circumstances surrounding the inception, development and execution of Werewolf of London, that it's hard to make out exactly what was going on in the Universal collective psyche. The mid-1930s was a very hectic time for the studio, and various plans were afoot and titles mooted. One of the most exciting was a vehicle for Karloff and Lugosi, to be directed by Robert Florey, entitled The Wolf Man – clearly, this was never to come about in this format, but it was long before Universal discovered their new Monster in Lon Chaney Jr. Hull and Walker were still flushed with success from 1934's Great Expectations, and there has been speculation that Universal did not want Karloff and Lugosi to completely rule the monster roost (although documentation exists to suggest Lugosi was at one time earmarked for the part of Yogami).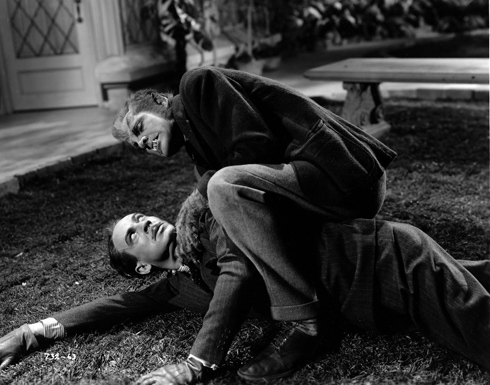 Jealous rage: Wilfrid Glendon (Henry Hull) decides it's time to have it out with love rival Paul Ames (Lester Matthews) in Werewolf of London (Universal 1935)
It's very easy now to deride Werewolf of London for what it could have been, instead of praising it for what it was. Hull received much critical acclaim for the role at the time of the film's release, but since then it has come to be considered one-dimensional and dated. Ironically, his character becomes more human the deeper he descends into despair and hopelessness, and the improvement in Hobson's acting skills from her rather wet-lettuce approach to Elizabeth in Bride of Frankenstein is phenomenal. Strong too is Pierce's make-up which, in its pared down state, is disturbingly frightening, having an almost satanic look.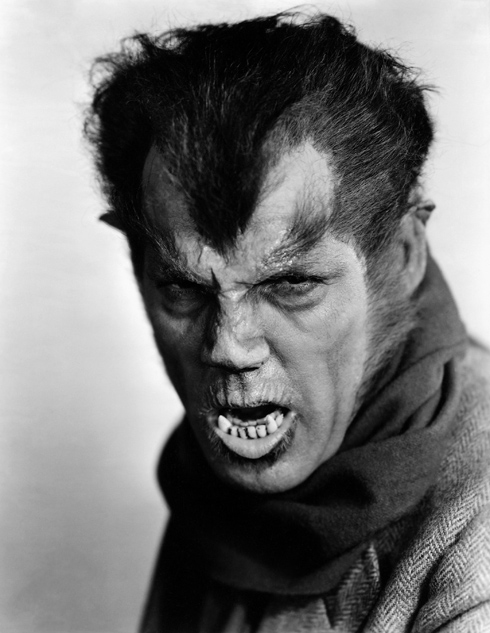 Frown lines: a superb close-up of Jack Pierce's remarkable make-up for Werewolf of London (Universal 1935)
Compared to George Waggner's eventual masterpiece, the dramatically superior The Wolf Man (1941), Werewolf of London does not stand up very well at all. But in the forgiving stable of the true horror movie aficionado, there is usually room for all, and surely it is better to regard the film now for all it did give us, rather than simply criticise it for what it was not.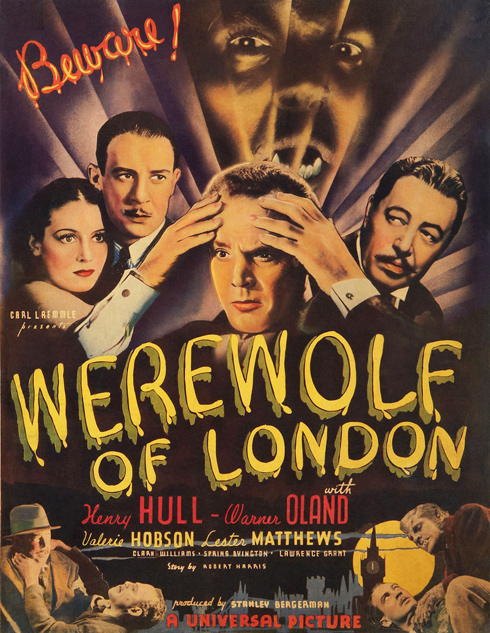 Poster boy: Original theatrical release poster for Werewolf of London (Universal 1935)