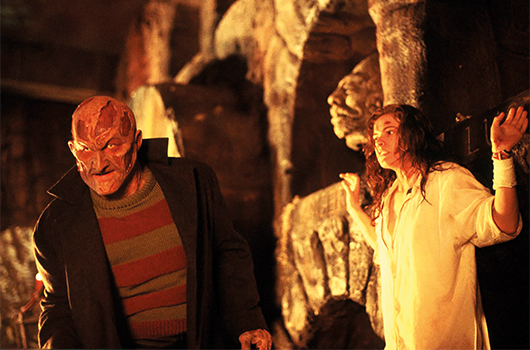 Wes Craven's New Nightmare (New Line 1994)
In the aftermath of Freddy's Dead: The Final Nightmare (1991), New Line had wedded themselves to the principle that Freddy Krueger was indeed dead, even staging a fanciful funeral for their character. Uneasy with the idea that his most lucrative property had finally been laid to rest, regular series producer Robert Shaye agonised over a way to resurrect him one last time.
With Shaye having made reparation with franchise founder Wes Craven, the project was underway, but director Craven could initially see no way of bringing Freddy back. Suddenly, he hit upon the only possible scenario of telling a new Freddy story that would be both fresh and innovative, while at the same time restoring Krueger's original terrifying persona. Wes Craven's New Nightmare would recreate Freddy as an entity in his own right, separating him even from his cinematic alter ego Robert Englund, and weaving a tale set within Hollywood itself, with many of the cast and crew of the first film making appearances as themselves.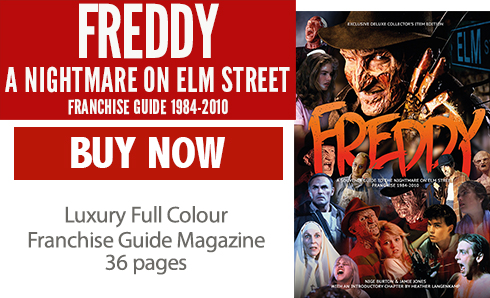 Back for her finest hour is Heather Langenkamp in an uncomfortable mix of reality and fantasy, as her 'character' is troubled by a grim stalker amid a backdrop of crazy nightmares. Playing her troubled son Dylan with an uncanny mastery of his craft is Miko Hughes, who had cut his teeth on horror films some five years earlier as creepy Gage Creed in Stephen King's Pet Sematary (1989). The dazzling youngster's chemistry with on-screen mum Langenkamp is nothing short of startling, and makes New Nightmare an outstanding and haunting episode.
Excelling not only as the most evil Freddy Krueger ever, but also himself, is Englund, magnificent in David Miller's new, satanic make-up. "Wes came to me and said he'd been talking to Heather a little bit about if he could delve into her private life and put some of it on the screen," the actor later revealed.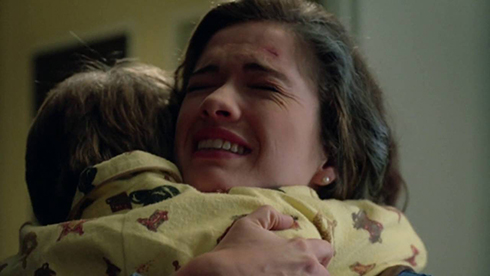 Heather Langenkamp comforts son Dylan (Miko Hughes) in Wes Craven's New Nightmare (New Line 1994)
Big screen newcomer Tracy Middendorf sparkles as babysitter Julie, seamlessly melding a seasoned Elm Street ensemble cast with her previously unseen character. Heather's rock throughout the action, she meets an untimely death at the hand of Freddy akin to that of Amanda Wyss in the original film, one of many affectionate nods to A Nightmare on Elm Street (1984), but it is the heart-stopping freeway scene that follows, which is surely New Nightmare's pièce de résistance.
The film's denouement, in which Heather and Dylan battle Freddy to the death, is swamped with evocative imagery that plays with the complex psychosexual undertone between the two adult protagonists. "He throws me up against the wall," explained Langenkamp, "and if you'll notice, right next to my head it says LUST. Nancy and Freddy's relationship has always had a sexual component and, to me, that is just the embodiment of our battle."
Other names back from the dead are John Saxon and Tuesday Knight to name but two, in what turned out almost to be a grand reunion party for the Elm Street gang. "It was a very pleasant film," reminisced Craven, "I remember how fun it was, and what a sense of love there was on the set."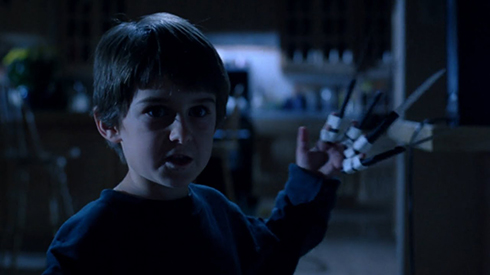 Young Dylan (Hughes) under the influence of Freddy Krueger in Wes Craven's New Nightmare (New Line 1994)
Craven's intention had been to create something classical. "This is something that's ageless," he said afterwards. "This kind of story could be found in the Odyssey or Greek tragedies; it's the type of story that's been part of humanity for millennia." He certainly achieved his ambition. New Nightmare broke important ground which sadly proved too much for 1994 audiences. Hugely acclaimed and almost universally championed by the critics upon its release, it received a lukewarm reception from the fanbase and was drowned among the furore that accompanied the simultaneous opening of Quentin Tarantino's Pulp Fiction. Finally receiving its fair dues and recognition thanks to VHS, DVD and Blu Ray releases in the decades that followed, it is now considered by some to be the best entry in the series.