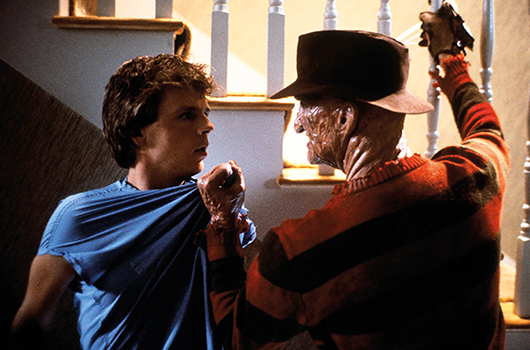 Nightmare on Elm Street 2: Freddy's Revenge, A (New Line 1985)
For all its difficulties and budgetary restrictions, 1984's A Nightmare on Elm Street had turned out to be something of a dream; while a sequel was the natural consequence, though, things were not straightforward.
Wes Craven had never envisaged the Elm Street tale as a series of movies and opted out, to be succeeded as director by Jack Sholder. Also, in order to fund the first movie's production, producer Robert Shaye had sold most of the rights to it, meaning that the returns on Freddy Krueger's debut hadn't made their way back to New Line.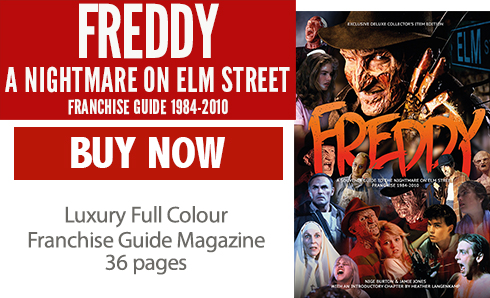 Meanwhile, Robert Englund's agent had become wise to the character's potential, demanding a much higher sum for the star's reappearance in A Nightmare on Elm Street 2: Freddy's Revenge. Production companies Heron Communications and Smart Egg Pictures decided that Krueger's disfigurements did not necessarily require Englund to be under the make-up, and that anyone else could do the job; an extra was cast in the role, but the actor's total lack of charisma quickly proved that Robert Englund and Freddy Krueger were inseparable.
This time, Krueger's target would come not in the form of a teenage girl, but a young man. The role of nightmare-haunted Jesse went to Mark Patton, whose performance in 1982 stage-to-screen adaptation Come Back to the Five and Dime, Jimmy Dean, Jimmy Dean had showcased his gift for feisty yet fragile characterisations.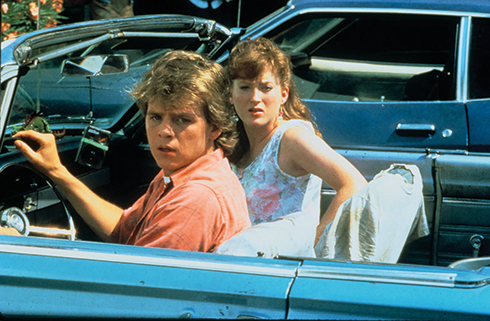 Jesse (Mark Patton) and Lisa (Kim Myers) are in for a shock in A Nightmare on Elm Street 2: Freddy's Revenge (New Line 1985)
Plenty of nightmarish happenings make good use of the increased budget granted to A Nightmare on Elm Street 2: Freddy's Revenge, while Christopher Young's score provides a more mature backing, particularly in the pursuit scenes. As the movie's focal point (Freddy himself having relatively little screen time until the final reel), Jesse is an interesting protagonist, new to the neighbourhood and lacking the strong network of friends that helped to define the first movie. The dynamics between the group are well portrayed by Patton, Kim Myers as girlfriend Lisa, Robert Rusler as new best friend Ron, and Sydney Walsh as Kerry.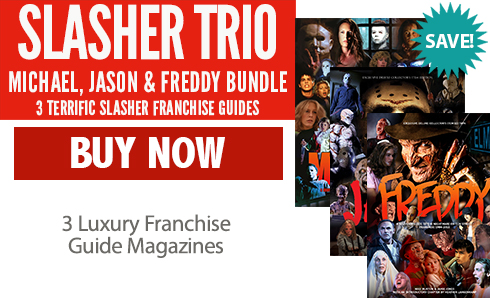 While Freddy's costume returned in its familiar form, his facial appearance needed an overhaul, and with no reference pictures having been taken from the original movie, make-up artist Kevin Yagher had to figure things out for himself. His hook-nosed creation, based around the idea of a male witch, was more structured, with evidence of sinews and bones underneath Krueger's burned skin. The movie's special effects as a whole are generally well handled, the chest-bursting sequence a lengthy and impressive array of different shots.
Common gripes about A Nightmare on Elm Street 2: Freddy's Revenge among franchise fans are the theme of possession, and Freddy's more protracted involvement in the waking world, but to level these criticisms is to overlook the movie's place in the saga as a whole: at this point in the series, there barely even was a series – there were fewer rules to abide by.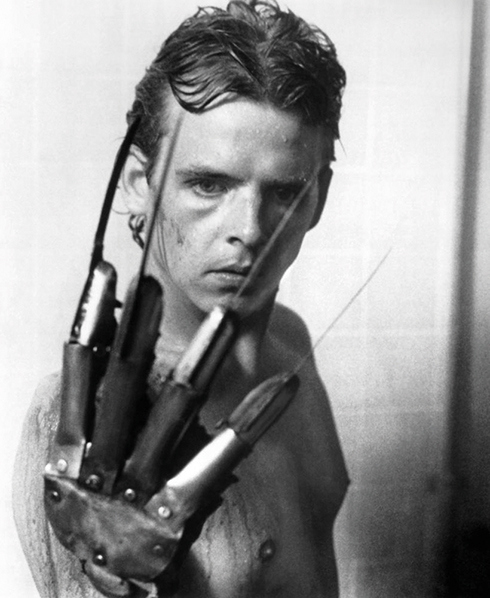 As Freddy takes possession of Jesse (Mark Patton), his traits come to the surface in A Nightmare on Elm Street 2: Freddy's Revenge (New Line 1985)
The relationship between Jesse and Lisa puts a new spin on the original movie's template, with Jesse playing the part of the damsel in distress, relying on Lisa to save him. It's just one of many overtly 'gay' elements in the movie which have sparked endless discussions about screenwriter David Chaskin's intentions. Mark Patton became known as horror's first male scream queen, and while Chaskin downplayed the homoerotic components of the script for years, he eventually admitted to having made an active decision to include them.
Ultimately, the fire that acts as a symbol of Freddy's presence throughout the movie becomes a purifying force, freeing Jesse from the killer. And while the Elm Street universe does not have provision for a happy ever after, A Nightmare on Elm Street 2: Freddy's Revenge worked like a charm, raking in the box office dollars and giving New Line some welcome breathing room.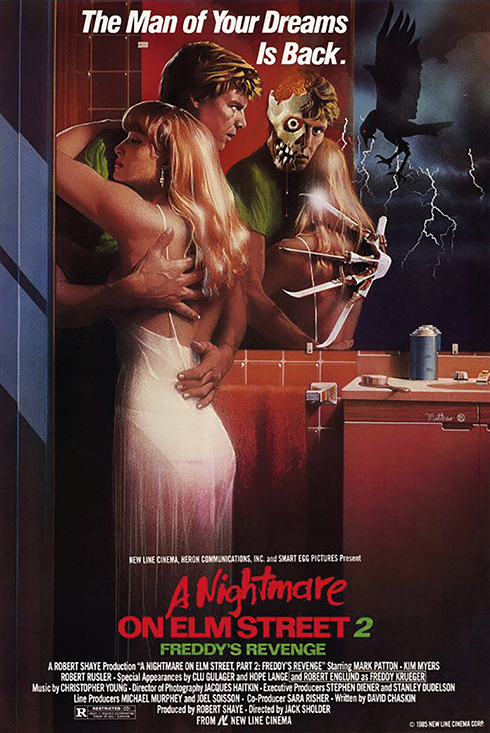 Original poster art for A Nightmare on Elm Street (New Line 1985)