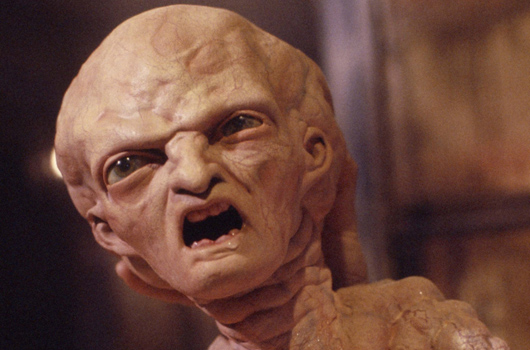 Nightmare on Elm Street 5: The Dream Child, A (New Line 1989)
A Nightmare on Elm Street 5: The Dream Child was released in the US on the 11th of August, 1989, and in the UK on the 11th of May, 1990.
The fifth in the Elm Street series, it was directed by Stephen Hopkins, and stars Robert Englund, Lisa Wilcox (reprising her role of Alice from the previous instalment) and Danny Hassel. The film's general tone is quite a departure from the others in the series, having a much darker feel and gothic dream sequences shot through blue filters. Interestingly, the film's main titles do not display the '5', which only appears on posters and press material. Although the second lowest grossing episode of the franchise, it still quadrupled its spend, making it a relative financial success.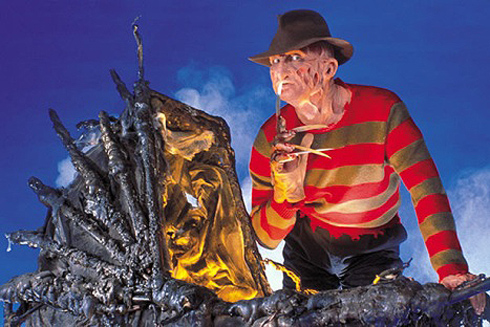 Baby minder: Freddy Krueger (Robert Englund) poses with a suitably demonic pram in this publicity shot for A Nightmare on Elm Street 5: The Dream Child (New Line 1989)
Disparaged by critics for its comedic leanings, the film did get several plaudits for its more imaginative camera work and, more particularly, for Englund's portrayal of Krueger. Wilcox is also praised for a strong, emotional performance.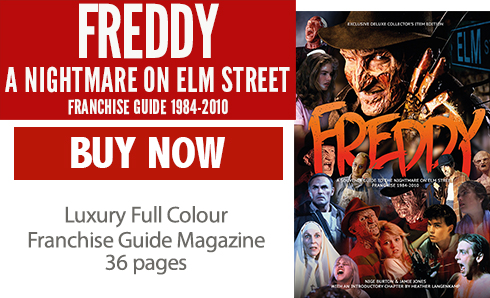 It is thought by some that the subjects dealt with were a little too much for an Elm Street audience to handle, such as abortion, teen motherhood, drinking and driving, bulimia and anorexia, but it did receive some surprising praise from a handful of political pressure groups for highlighting issues regarding teen pregnancy and the rights of a mother, to their often difficult to reach target audience.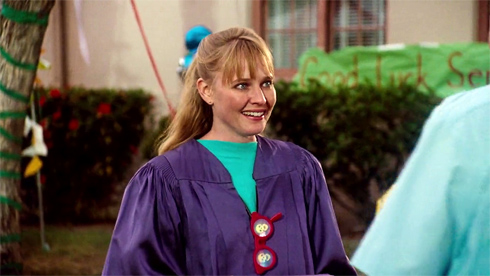 School's out: It's graduation day for Alice (Lisa Wilcox) in A Nightmare on Elm Street 5: The Dream Child (New Line 1989)
A Nightmare on Elm Street 5: The Dream Child was originally offered to Stephen King to write and direct, but the author declined. The preliminary screenplay was written by John Skipp and Craig Spector, but hardly any of this draft actually made it into the final picture. A rewrite was commissioned from Leslie Bohem, but half of this was excised too when further rewrites were carried out by William Wisher Jr and David J Schow. With time running out, the final version was completed by Michael De Luca just days before shooting commenced.
So tight was the schedule and budget allocated to Hopkins (four weeks to shoot, and a further four weeks for editing) that he had to film sequences back to back, working on one stage while crew dressed another. His dexterity so impressed studio bosses that he was given directorial responsibilities for Predator 2 (1990) on the strength of his achievements.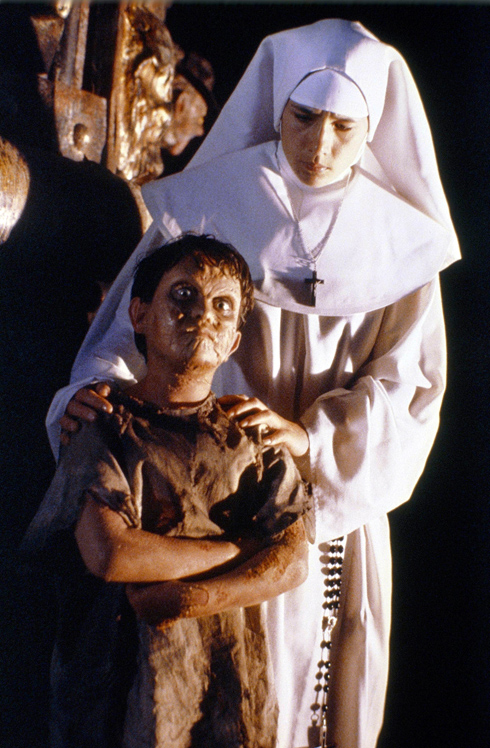 Unholy infant: Amanda Krueger (Beatrice Boepple) takes charge of Jacob (Whitby Hertford) in A Nightmare on Elm Street 5: The Dream Child (New Line 1989)
One area which did fall a little foul of the tightened schedule was the graduation scene, which was considerably shortened to improve the film's pacing. The result was a number of continuity errors and one or two inexplicable moments which actually harm the finished version rather than enhance it.
Although innovative on some levels, it is fairly clear that the series was running out of steam, and A Nightmare on Elm Street 5 feels tired and not a little desperate. Foreknowledge of the ailing franchise is doubtless what inspired producers to take a more daring and less formulaic approach, but this tends to be a sticking plaster. If the series were to continue, new inspiration would be needed to ensure continued success.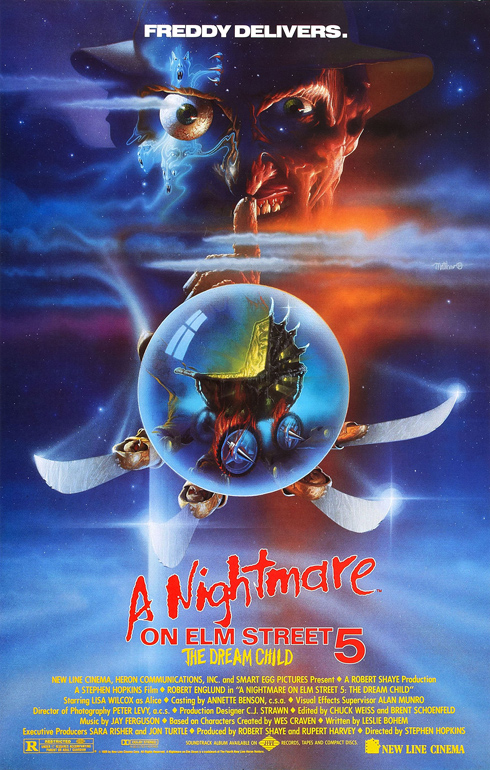 Sweet dreams: Theatrical release poster for A Nightmare on Elm Street 5: The Dream Child (New Line 1989)