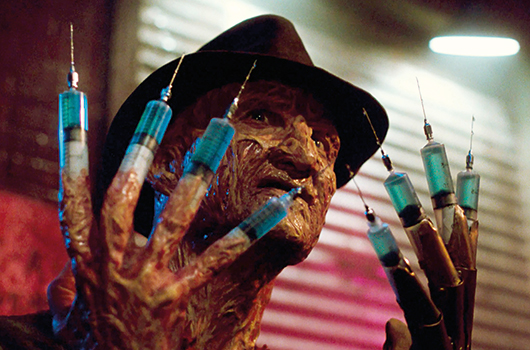 Nightmare on Elm Street 3: Dream Warriors, A (New Line 1987)
An initially reluctant Wes Craven was brought back on board to get the Nightmare on Elm Street franchise back on track after the critical failure of 1985's Freddy's Revenge. "I wanted to take it up to the next level," he recalled, "I felt like if I was going to do another one I wanted it to be somehow better."
Studio producers were not completely happy with the direction taken by the first draft, so talks were held with up and coming Hollywood talents Frank Darabont and Chuck Russell, who were convinced that between them they could adapt the treatment into a workable screenplay that would deliver what New Line wanted.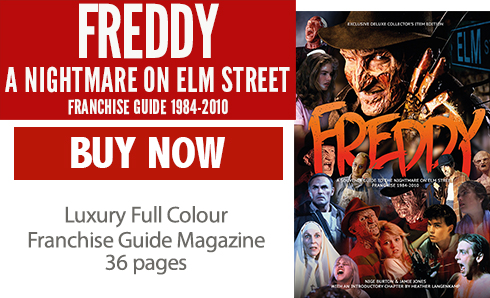 The resulting script delighted the company, so much so that directorial duties were assigned to Russell too, and production of A Nightmare on Elm Street 3: Dream Warriors commenced. One of the film's greatest strengths is its competent cast, headed up once more by Robert Englund as Freddy, but also seeing the return of Heather Langenkamp, reprising her role as Nancy Thompson, now on hand to help a group of teenagers deal with their troubling nightmares.
Part three marks the acting debut of Patricia Arquette who, despite her lack of experience, sparkles in the role of vulnerable Kristen Parker. The young star had a profound effect upon her strapping young co-stars: "At least a third of the male cast fell in love with Patricia," mused Englund.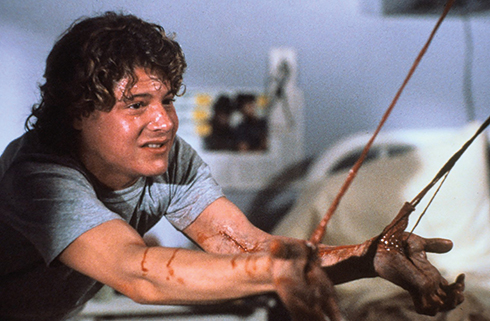 A favourite scene among fans: model maker Phillip (Bradley Gregg) becomes a human marionette in A Nightmare on Elm Street 3: Dream Warriors (New Line 1987)
Russell's attention to detail soon earned him the reputation of being a difficult perfectionist, particularly with a nervous Arquette, with whom he was especially harsh when long shoots well into the early hours made her struggle to remember lines. Her first scene reportedly took fifty-two takes, with increasing support in the form of cue cards and devices from other cast and crew members, but it set the tone for her relationship with Russell throughout the shoot. "I think there was more tension on that set than any set I've ever been on," remembered Langenkamp.
Dream Warriors is probably the strongest of all the sequels, and whilst it is impossible for it to capture the unique surprise and terror of the original, it manages to admirably develop the arc of the series, adding a welcome back story for Freddy to boot. The movie actually manages to break some important new ground with the franchise, further highlighting the theme of teenage isolation and frustration with those who are supposed to be their guardians and know best.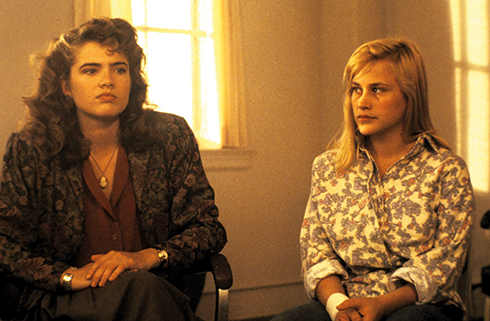 Nancy (Heather Langenkamp) and Kristen (Patricia Arquette) prepare the group to take on Freddy in A Nightmare on Elm Street 3: Dream Warriors (New Line 1987)
Ultimately, Freddy is dispatched by good old traditional horror movie means. "I wanted to bring in these kind of classic Christian values," Russell recalled. "We kill Freddy with a cross, I mean this is old school vampire stuff." It's a satisfying end to an innovative film, and one which remains not only at the heart of the franchise, but a firm favourite among fans.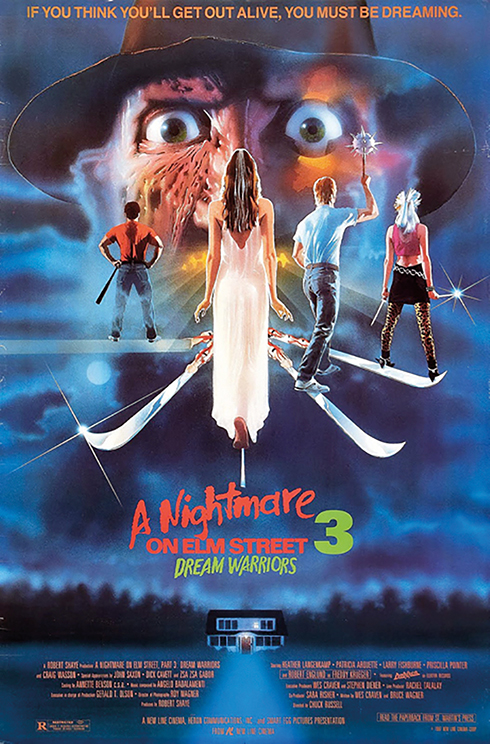 A theatrical release poster for A Nightmare on Elm Street 3: Dream Warriors (New Line 1987)