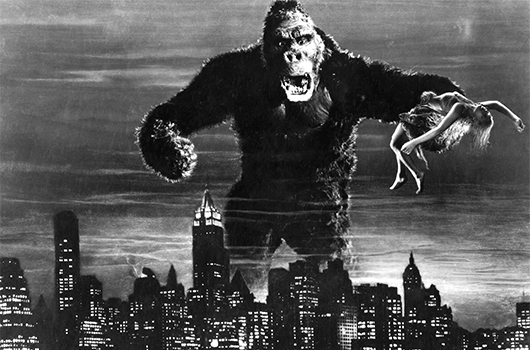 King Kong (RKO 1933)
Considered by many to be the greatest adventure movie ever made, King Kong had anything but a straightforward beginning, almost never seeing the light of day at all.
Its co-creators and joint adventurers Merian Caldwell Cooper and Ernest Beaumont Schoedsack had met in Vienna in 1918 and, sharing a passion for keeping things 'distant, difficult and dangerous', quickly became firm friends.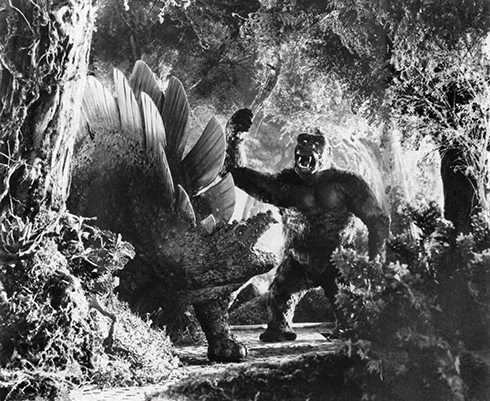 A potential battle between Kong and a stegosaurus, but a scene that was vastly different in the final print of King Kong (RKO 1933)
Both went on to work together at The New York Times before embarking on a mission to produce their own wildlife action films, which eventually led to 1925's Grass, made in concert with reporter, spy and filmmaker Marguerite Harrison. The following year, while Schoedsack was working as a cameraman on a New York Zoological Society expedition to the Galapagos Islands, he met and fell in love with young historical writer and journalist Ruth Rose; later the same year, they were married.
Cooper had a special fascination for gorillas, an interest that was piqued when he was afforded the opportunity to carefully observe a tribe of baboons while filming The Four Feathers in Africa in 1929. A subsequent discovery of W Douglas Burden's book, 'The Dragon Lizards of Komodo', would generate a spark of an idea that would ultimately culminate in the production of King Kong.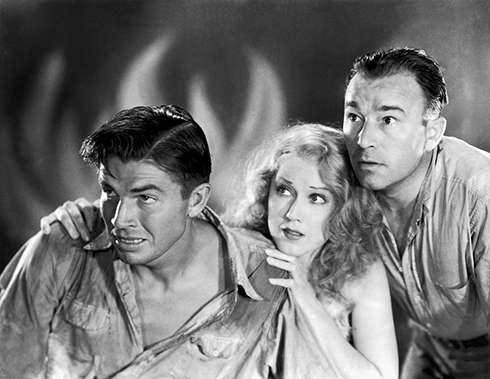 Heroic line-up: Jack Driscoll (Bruce Cabot), Ann Darrow (Fay Wray) and Carl Denham (Robert Armstrong) in King Kong (RKO 1933)
Cooper confided the idea to Schoedsack, and the pair fostered the notion of turning it into a dramatic motion picture. They pitched their treatment to Paramount, but the Great Depression was in its early years and the studio rejected the project, claiming it would be far too expensive to film. Fortune smiled as head of RKO David O Selznick offered Cooper a job as his executive assistant, agreeing part of the deal would be to allow the young creative to make his own pictures.
Cooper immediately set about developing a jungle romp, The Most Dangerous Game (1932), bringing Schoedsack into the fold to direct. Canadian actress Fay Wray was cast alongside Robert Armstrong, and a full scale jungle stage set was constructed. But RKO was in trouble: $100,000 had already been blown on big-budget fantasy Creation, a showcase for the effects wizardry of Willis O'Brien.
Creation's storyline did little to impress Cooper, but O'Brien's stop-frame animation techniques made him realise that his 'great ape' movie would not have to have expensive location shoots, but could be realised right there in the studio, and standing before him was a jungle set ripe for the pillaging.
---
Discover the King Kong 1933 Collector's Item Ultimate Guide Magazine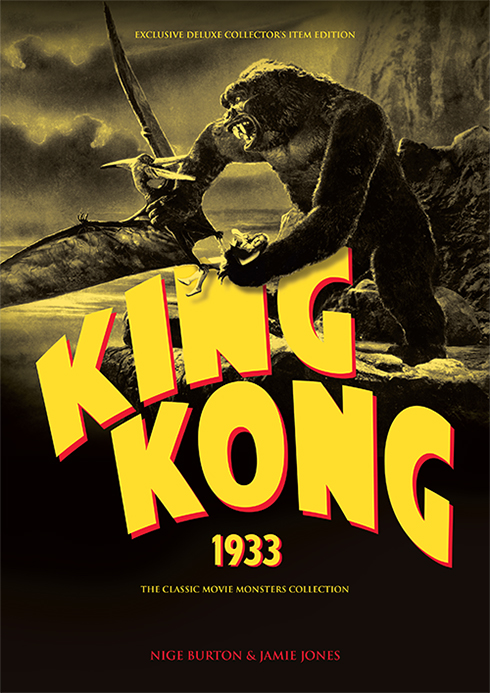 "Absolutely knockout. This is the best magazine that I have ever seen dealing with the original King Kong film."

Val Denham, Yorkshire, UK
Within the pages of this luxury King Kong magazine you'll find in-depth articles telling the story of the making of King Kong, its impact on cinemagoers on the time and its lasting legacy and influence on pop culture. Our King Kong magazine guide takes you right to the heart of the action, and has been studiously written and compiled by your usual Ultimate Guide authors, Nige Burton and Jamie Jones. The pair have raided the archive to bring you many rare and often unseen stills and posters which capture the very essence of Merian C Cooper's sensational masterpiece, and each one is reproduced faithfully to the unbeatable high standard you're used to.
"A beautifully made film brochure, well worth buying if you are a fan of the original King Kong film."

Andrew Hosegood, West Sussex, UK
"Great images, loads of info – well worth every penny."
Susan Clark, Kent, UK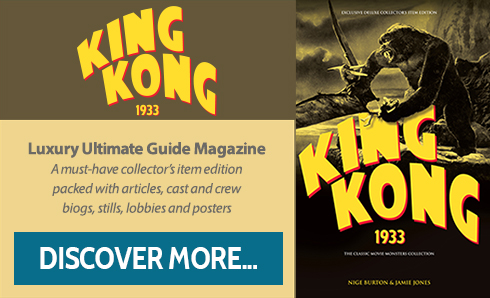 ---
Kong quickly replaced Creation in RKO's production schedules, with most of the crew simply being moved across. Initially disappointed, O'Brien soon began to see the potential of Kong and, putting his neck on the line as some studio executives wavered, Selznick stepped in and gave Kong the official green light.
Cooper needed a script quickly, so drafted in English mystery writer Edgar Wallace to help. Many film historians hold true that what came into being, notwithstanding rewrites and evolutions, would essentially be the King Kong that was made, but Cooper would later disagree. Wallace allegedly turned in his first draft, entitled The Beast, in January 1932, but it required considerable work. "Actually, Edgar Wallace didn't write any of Kong, not one bloody word," Cooper would later claim. "I'd promised him credit and so I gave it to him."
What does seem likely is that Wallace did indeed produce a provisional, if sketchy, outline. Anxious to get a competent script together, Cooper turned to The Most Dangerous Game screenwriter James Ashmore Creelman, and the project continued under the new working title The Eighth Wonder. Creelman changed the story's big game hunter from Danby Denham to Carl, heroine Shirley to Ann Darrow and her convict lover John to law-abiding Jack Driscoll. It was at this point that the 'beauty and the beast' angle was first introduced.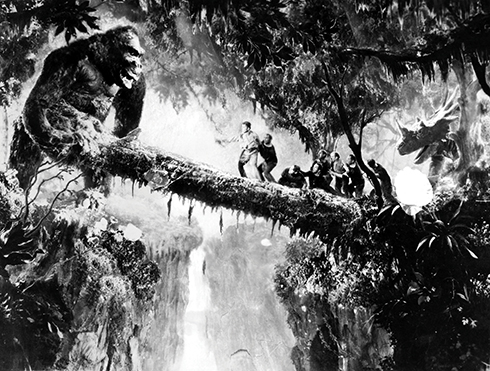 A production photo for the famous log scene, which shows the styracosaurus at the opposite end to Kong. The action was heavily edited, including the complete removal of the 'spider pit sequence' in the final release of King Kong (RKO 1933)
Things seemed finally to be cracking on apace, when the pressures of working on two movies simultaneously erupted, and Creelman had to leave off The Eighth Wonder to concentrate full time on The Most Dangerous Game. Horace McCoy, an RKO staff scribe, was assigned as Creelman's replacement, and working alongside Cooper developed some of the story's most striking plot points.
Cooper felt Creelman's final revision wasn't right, the pacing being too slow and "the dialogue unbelievable and unnecessarily flowery". Ruth Rose, Mrs Ernest Schoedsack herself, was brought in to do the job and, although she had never penned a screenplay before, her understanding of Cooper's thinking and vision for Kong gave her the credentials to create the definitive draft. Her sagacity paid off, and King Kong was transformed from unmanageable behemoth to box office triumph.
Casting got underway, and it made perfect sense to screen-test the two stars of The Most Dangerous Game. Fay Wray had graduated from Hollywood bit parts to the lead in Erich von Stroheim's The Wedding March (1928), and had first met Cooper and Schoedsack when cast as Ethne Eustace in The Four Feathers (1929).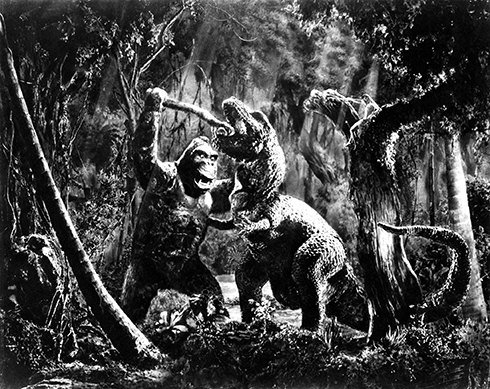 The mighty Kong defeats the tyrannosaurus in King Kong (RKO 1933)
Robert Armstrong was a Michigan native, and had cut his teeth as a character actor in the silents. Very much a part of the Cooper-Schoedsack ensemble, his accession to the role of Denham was almost a foregone conclusion. Hailing from New Mexico, inexperienced young actor Jacques de Bujac had been signed by Selznick as a contract player, and had his name changed to Bruce Cabot. He first met Cooper when auditioning for The Most Dangerous Game, and was ultimately cast as Driscoll in King Kong.
The real star, of course, was Kong himself. It was the first time in cinema history that a leading character had been a fabrication, a mere model brought to life by the apparent alchemy of trick camera work. Marcel Delgado's painstaking 18" high models, given soulful existence by Willis O'Brien's masterful animation, had allowed King Kong to take $2 million at the box office on its initial release, and it is widely believed that the film single-handedly saved RKO from bankruptcy.
Whatever the validity of those claims, it is beyond question that the film remains one of the greatest achievements in motion picture history, its legacy still evident in the movies of today. A groundbreaking masterpiece in so many ways, it is has arguably had more impact on movie making culture than any other film before or since. It was, and remains, the true eighth wonder of the world.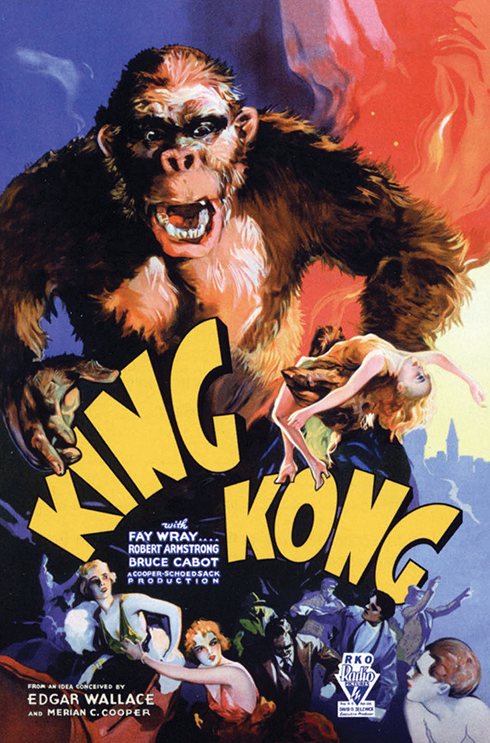 A vibrant theatrical release poster for King Kong (RKO 1933)