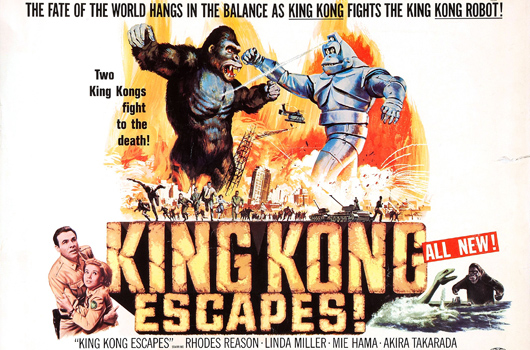 King Kong Escapes (Toho 1968)
The Japanese-American co-production King Kong Escapes was released on the 19th of June, 1968.
Made by Japan's Toho and the US's Rankin/Bass, and directed by Ishiro Honda, the film featured special effects created by Eiji Tsuburaya. Cannily casting both American and Japanese actors such as Rhodes Reason, Linda Miller, Akira Takarada, Mie Hama and Eisei Amamoto, the two production companies ensured a wider audience across both countries.
Loosely based on Rankin/Bass's Saturday morning cartoon series The King Kong Show, which itself was based on the original 1933 film, King Kong Escapes was the second and final Japanese film to feature the great ape. Criticised by the New York Times' acerbic Vincent Camby – "the matching of the miniatures with the full-scale shots is just bad [and] the plotting is hopelessly primitive" – the film received much more favourable reviews elsewhere. In particular, Film Bulletin remarked, "grown-ups who like their entertainments on a comic-strip level will find this good fun, and the Universal release … has plenty of ballyhoo angles to draw the school-free youngsters in large numbers."