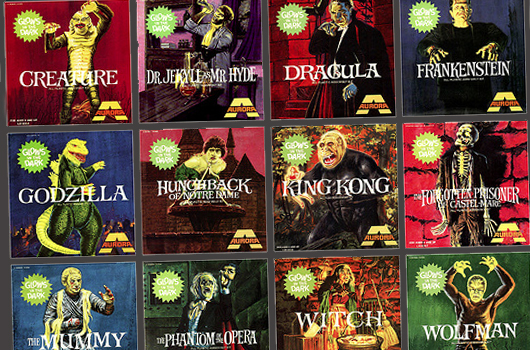 Aurora Monster Models – turning every boy's dream into a nightmare!
by Nige Burton
The first of the Aurora monster models was Frankenstein, although the kit was, of course, of the Monster.
From a sculpture by Jack Lemon, based on a Marx's wind-up walker toy, the original prototype was shown at the HIAA annual convention in January, 1962. No orders were received until the last day of the show, when industry representatives were allowed to bring their families. On that day, Chicago distributor Al Davis's sons Glenn and Fred wandered into the Aurora exhibit. Instead of grabbing the planes, cars or trucks, they made straight for the Monster, and Davis placed an order. A couple of California distributors saw this and placed orders too.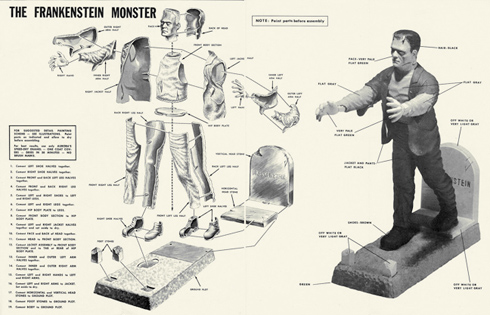 Instructions for the original Aurora Frankenstein monster model
Aurora shipped the kits, and a few days later the phone started ringing: 'Can we have some more monsters?' As it became obvious that the Frankenstein kit was going to be a huge success, the rest of the line-up was rushed into production. Dracula came next, followed by the Wolf Man, both of these being in stores in time for Christmas 1962.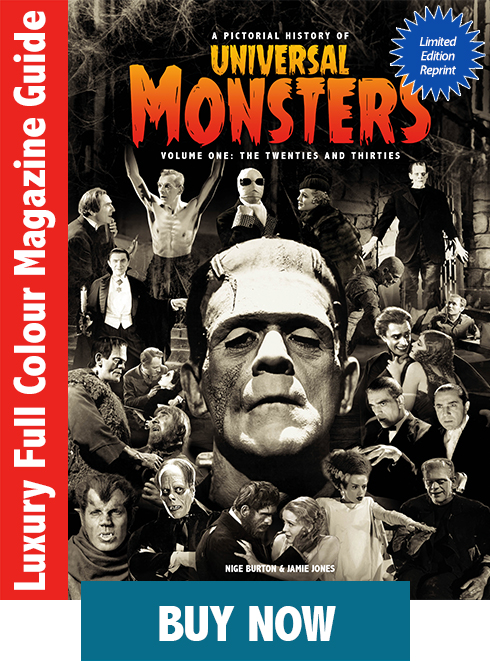 The following year saw The Creature from the Black Lagoon, The Mummy and the Phantom of the Opera, with the Hunchback of Notre Dame, King Kong and Godzilla coming in 1964. Dr Jekyll as Mr Hyde was not released until 1965. Later that year, the Bride of Frankenstein and the Witch went into production, but it was a miscalculation by Aurora; girls tended not to buy model kits, and female characters don't appeal to 10 year old boys.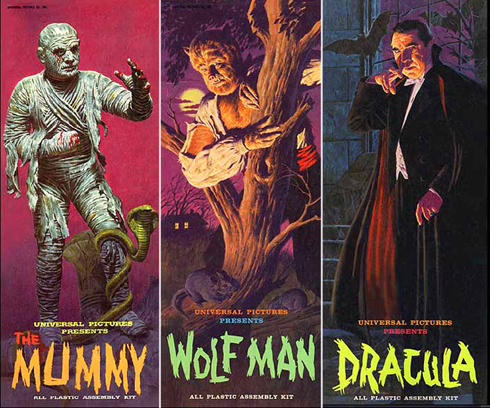 Iconic Aurora box art by James Bama for The Mummy, Wolf Man and Dracula – these were the original, non-glow-in-the-dark editions in oblong boxes
The last of the line of Aurora monster models was The Forgotten Prisoner of Castel Mare, which was created in association with Warren Magazines. The story of the hapless prisoner was told in the August 1970 edition of Creepy. As famous as the models today is James Bama's fantastic box art, and a mere glimpse of it recalls fantastic childhood memories for many an 'old boy'.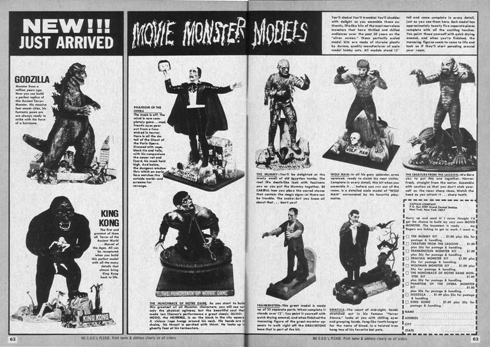 A typical Aurora monster model double page advert from Famous Monsters of Filmland magazine
As sales dwindled, Aurora attempted to revitalise the range with their 'Frightening Lightning' and 'Glows in the Dark' series in 1969, which featured new, square boxes (the originals had been rectangular) and an extra sprue with some phosphorescent plastic parts. The move worked, and once again the monsters racked up sales from a new generation of 1970s kids.
Nige Burton is the founder and editor of Classic Monsters of the Movies magazine. A lifelong horror film enthusiast, he contributes regularly to the genre through his range of publications. He is also a published novelist and photographer.