Product Description
In stock for immediate shipping.
Embark on a truly iconic adventure with the King Kong 1933 Ultimate Guide, a beautiful luxury publication evoking the spirit of the brochure you might have bought at the cinema in 1933. This glorious magazine guide is packed with information, carefully restored stills and trivia to lead you through the fascinating development of one of cinema's all-time greats.
Even after all these years, RKO's 1933 production of King Kong is the cinematic adventure romp of a lifetime, showcasing Willis O'Brien's extraordinary stop-frame animation talents which are still loved by many, more so than modern takes with CGI. The King Kong Ultimate Guide is an ideal way to rediscover this beloved motion picture, chronicling the people and events who shaped its fortunes and brought us the Eighth Wonder of the World.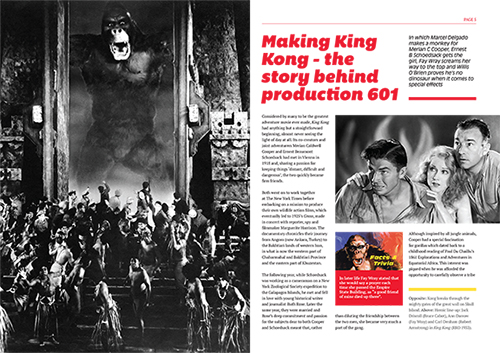 As you explore the pages of this King Kong magazine guide, you'll discover that Kong's journey to the screen wasn't straightforward. The complexities of studio politics, not to mention a number of rewrites, meant it took a deal of ingenuity to create the story we know and love. Each page of this luxury King Kong guide has a wealth of information to impart, giving you a deeper understanding of the movie's history.
Presented in A4 format (210mm x 297mm), this King Kong guide magazine has a luxurious matt laminated cover that hints at vintage Hollywood style. Our timeless approach to design means that while it evokes the retro qualities of the movie, this magazine also has a clean and unfussy look that makes reading a pleasure.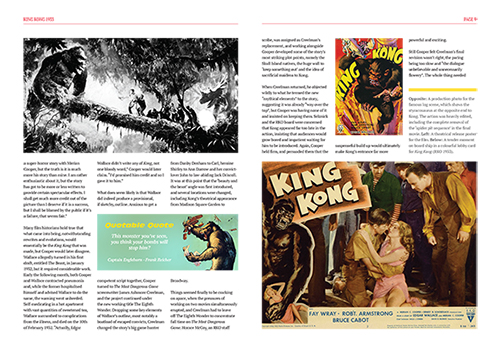 A deluxe shrine to this behemoth of a monster movie, our gorgeous King Kong guide takes you right to the heart of the action, and has been studiously written and compiled by your usual Ultimate Guide authors, Nige Burton and Jamie Jones. The pair have raided the archive to bring you many rare and often unseen stills and posters which capture the very essence of Merian C Cooper's sensational masterpiece, and each one is reproduced faithfully to the unbeatable high standard you're used to.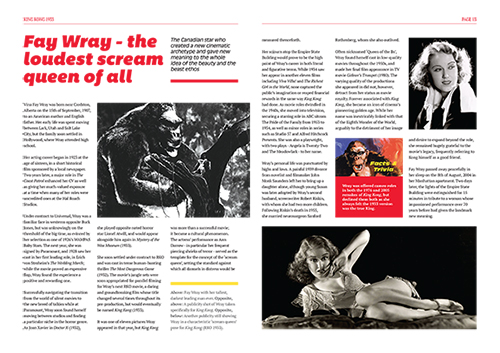 The acting talents of Robert Armstrong, Bruce Cabot and even the incomparable Fay Wray are no match for the Eighth Wonder of the World himself, Kong! Detailed biographies of the cast and crew bring you closer to the huge and diverse array of talent that was responsible for transforming moviegoers' understanding of what cinema could achieve.
There's no denying that Kong is more than just a movie character, he's a cultural phenomenon. That's why the King Kong Ultimate Guide also looks at the enduring appeal of this greatest of apes, and the many ways in which he's insinuated himself into our shared consciousness, with a cheeky look at Kong merchandise through the ages and sequel The Son of Kong (1933). This King Kong magazine guide is an absolute essential for any fan of the movie.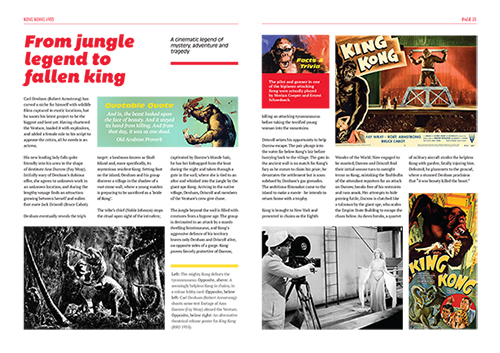 Our King Kong Ultimate Guide is stunningly designed to evoke the mystery and adventure of Edgar Wallace's most famous story. Jump aboard the Venture as we head deep into the heart of the island you won't find on any chart…
36 pages
A4
Full colour throughout
Luxury matt laminated cover