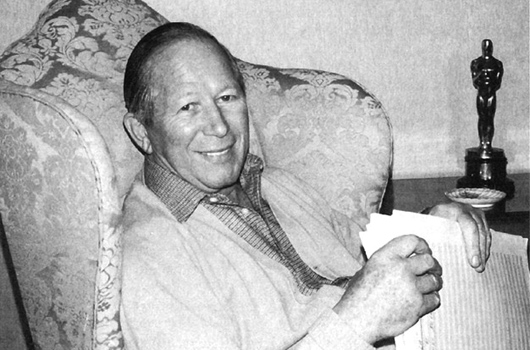 James Bernard
Horror composer James Bernard was born in Nathia Gali, India on the 20th of September, 1925.
The son of a British Army officer serving in a regiment still defending the Khyber Pass, Bernard was moved to the UK as a small child along with his brother. The two lived with their grandparents, and the young James spent time discovering a passion for music.
Bernard attended Wellington College – which, coincidentally, counted future Hammer star Christopher Lee as an alumnus – and met composer Benjamin Britten when the latter visited the school's arts master. Britten advised Bernard on a piece he was developing for an inter-house music competition, and the two became friends, corresponding during Bernard's RAF service in World War II, where he worked with a team assigned to cracking the German Enigma code.
In 1944 James Bernard met Paul Dehn, an Army Major working for MI6. The two began a lasting personal and professional partnership, collaborating on the screenplay for the Boulting Brothers film Seven Days to Noon (1950), for which they shared the 1952 Academy Award for Best Writing, Motion Picture Story. The next year, Bernard received his first radio commission, for the play The Death of Hector. His studies at the Royal College of Music, which he had attended after being demobbed, had not covered orchestration, so he took advice from composer Imogen Holst for the project, as well as for a radio production of The Duchess of Malfi. This second work came to the attention of Hammer music supervisor John Hollingsworth, who was so impressed that when the composer for The Quatermass Xperiment (1955) became ill, the job went to Bernard.
James Bernard's groundbreaking score for The Quatermass Xperiment is recognised as the first film score to use strings in an unconventional manner, predating by five years the iconic compositions of Psycho (1960). His next commission was for Hammer's first horror movie, The Curse of Frankenstein (1957), and was followed by the likes of Dracula (1958), The Plague of the Zombies (1966), Frankenstein Created Woman (1967) and The Devil Rides Out (1968), which had been one of his favourite novels during his teens. With their use of clashing harmonies and percussion instruments, James Bernard's scores are now seen as a key element in the unique Hammer horror experience. In the 1990s, Bernard was commissioned to write a new score for a restored re-release of Nosferatu (1922).
Paul Dehn died in 1976; James Bernard would later forge a relationship with actor Ken McGregor, who he had originally met while working on She (1965), and the two lived in Jamaica until McGregor's death in 1994. Moving back to London, Bernard remained in the UK for the rest of his life. He died on the 12th of July, 2001, aged 75.