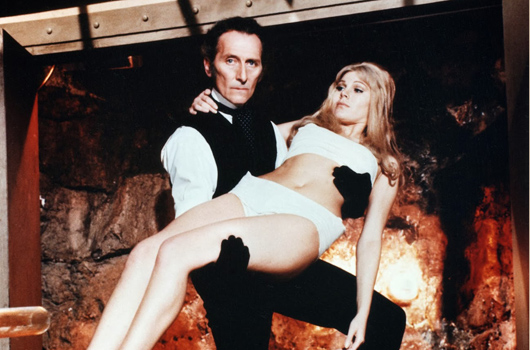 Frankenstein Created Woman (Hammer 1967)
Frankenstein Created Woman, the fourth film in Hammer's Frankenstein series, was released on the 18th of May, 1967.
Directed by Terence Fisher, it stars Peter Cushing as Baron Frankenstein and Susan Denberg as his new creation. Unlike the previous entries, which were concerned with the physical aspects of the Baron's work, Frankenstein Created Woman focuses on the metaphysical dimensions of life, exploring the question of the soul and its relationship to the body. Commencing production in July the previous year, the film was Hammer's penultimate at Bray Studios.
Critics were not kind, and the film fared particularly badly at their hands, being branded as idiotic and poorly written. As is often the case, however, time has been a little kinder, as have diehard fans and, even just twenty years after its original release, Martin Scorsese selected it as part of a 1987 National Film Theatre season of his favourite films, commenting "If I single this one out it's because here they actually isolate the soul… the implied metaphysics are close to something sublime."
The film was released as part of a double-bill with The Mummy's Shroud.