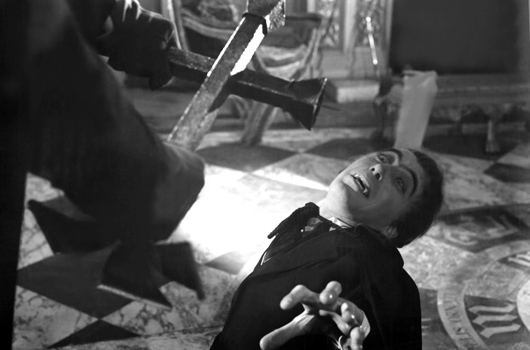 Dracula (Hammer 1958)
When Hammer released their production of Dracula on 22nd May, 1958, they managed to redefine not only Bram Stoker's iconic novel, but also the image of its title character in popular culture.
Christopher Lee's athletic, debonair Count becomes an almost feral, animalistic fiend so completely, that he possesses that rare kind of magnetism that by turns repulses and attracts in equal measure.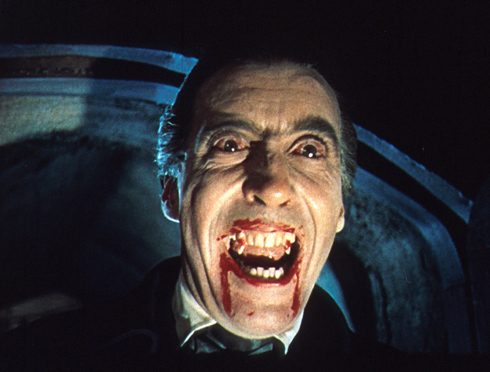 Bloodlust: Christopher Lee's portrayal of the Count is now as important as Bela Lugosi's. Unlike his predecessor, Lee played him with both fangs and blood, in Dracula (Hammer 1958)
The suaveness of Bela Lugosi was hitherto the defining factor in cinemagoers' impression of this literary giant, especially those who had not read a single word of the source material, but the sensual, sexual monster that Lee creates is by turns both believable and beguiling.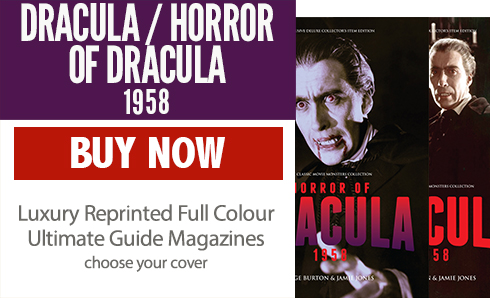 As important to Dracula is Peter Cushing's timeless interpretation of Van Helsing, with his trademark humour and understated delivery striking the perfect note of authority and heroism.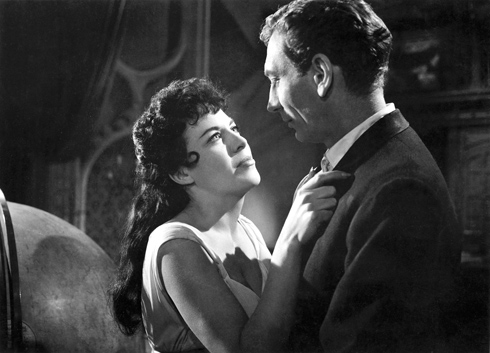 Cry for help: Dracula's bride (Valerie Gaunt) tries to convince Jonathan Harker (John Van Eyssen) to assist with her escape from Dracula (Hammer 1958)
Beautifully shot in rich reds, blues and golds, Dracula benefits from director Terence Fisher at his best, making short work of Jimmy Sangster's wonderfully truncated screenplay, which confines all the action to a fictional mittel-Europe to keep events tight and easily paced within the 81 minutes of screen time.
The supporting cast is generally both accomplished and watchable, with lovely turns from Melissa Stribling as Mina (Holmwood rather than Harker, here in Sangster's mix and match), Carol Marsh as Lucy (another Holmwood, but why not keep it in the family!), Janina Faye as young Tania, John Van Eyssen as Jonathan Harker and an increasingly overwrought Michael Gough as Arthur Holmwood.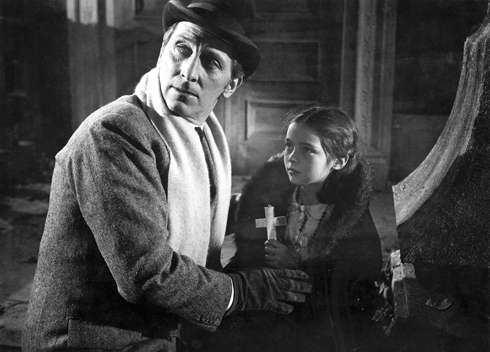 Cross your heart: Venerable Van Helsing (Peter Cushing) comforts and protects young Tania (Janina Faye) in Dracula (Hammer 1958)
Valerie Gaunt is delicious as Dracula's bride, with George Woodbridge playing the quintessential innkeeper and Miles Malleson providing superb comedy relief as an eccentric undertaker.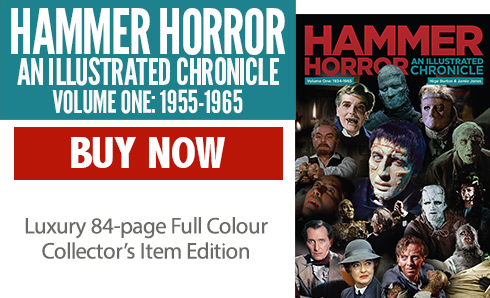 Hammer billed Lee as their new matinée idol, but gave top billing to Cushing. With a fairly modest budget of £81,412, Dracula wrapped in just 25 days but, like that vampire, had trouble crossing running water. Despite the costly arrangement with Universal to be able to make the picture at all, they insisted upon it being released in the States as Horror of Dracula so nobody confused it with their Lugosi original. Ironically, four years later Stoker's book and character would pass into the public domain, making it free for all.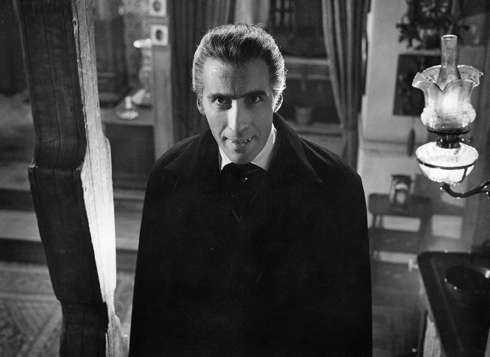 Come-to-dead eyes: Count Dracula (Christopher Lee) is portrayed very much as a charming sexual predator in Dracula (Hammer 1958)
Dracula followed in the footsteps of the previous year's The Curse of Frankenstein, and proved to be a huge box office hit, cementing the reputations of Hammer, Cushing and Lee as the new horror triumvirate.
Lambasted by most critics for being too gratuitous, Dracula's blood red gore in beautiful, but inexpensive, Eastmancolor did little to deter fans, and James Carreras was subsequently dubbed 'King of Nausea' by the Daily Mail on the 23rd of May. Apart from the graphic stakings along the way, the film's triumph comes at its dramatic finale; the collaborative work of make-up man Phil Leakey and and special effects supervisor Sid Pearson achieved what is still the greatest of vampire demises committed to celluloid. The gruesome destruction of the Lord of the Undead, as his flesh crumbles from his bones in the dawn sunrise, took three lengthy and complicated takes to perfect, but the result remains one of the most stunning moments in horror film history. In 2011, an extended print of this was discovered in Tokyo's National Film Center, showing Lee brutally clawing off his own face as his body disintegrates. This long-sought, reclaimed footage has now been added to new Blu-Ray releases of the film.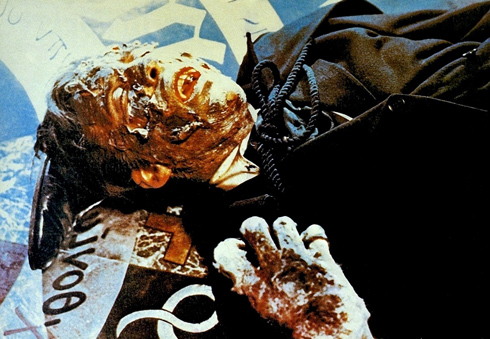 Dusty demise: The spectacular destruction of the Count (Christopher Lee) in Dracula (Hammer 1958)
Topped off by James Bernard's now iconic score, Dracula is considered by many to be Hammer's masterpiece. Many decades on from its original release, it is still probably one of the most satisfying 'new era' horror films ever made, and one of the very few films to have brought everything together in a perfect symphony of terror.
Hammer's Dracula gets pretty much everything just right.
Love bite: Original theatrical release poster for Dracula (Hammer 1958)