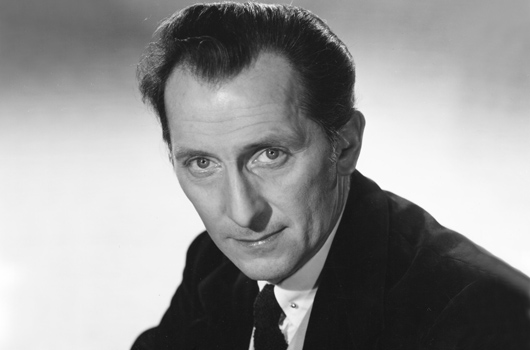 Peter Cushing
Peter Cushing, OBE, was born Peter Wilton Cushing on the 26th May 1913, in Kenley, Surrey, England.
Finding fame on both sides of the Atlantic, Cushing is best known for his prodigious career in Hammer films and, outside of the genre, playing Doctor Who in Dr Who and the Daleks (1965) and Daleks' Invasion Earth: 2150 AD (1966) and as Gran Moff Tarkin in George Lucas's Star Wars (1977), a role which he played wearing his slippers due to ill-fitting riding boots; the camera only ever filmed him from the knees up.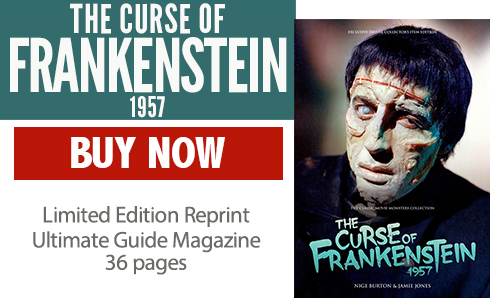 Cushing made the character of Baron Frankenstein the continuing thread in the Hammer series, rather than the Monster as it had been in the Universal days. He was cast in the role some half dozen times, making it his own, as well as breathing new life into Professor Van Helsing in the Dracula movies, and delighting audiences with superb performances in classics like The Mummy (1959) and Captain Clegg (1962). He frequently starred opposite Christopher Lee, and the two became lasting and lifelong friends.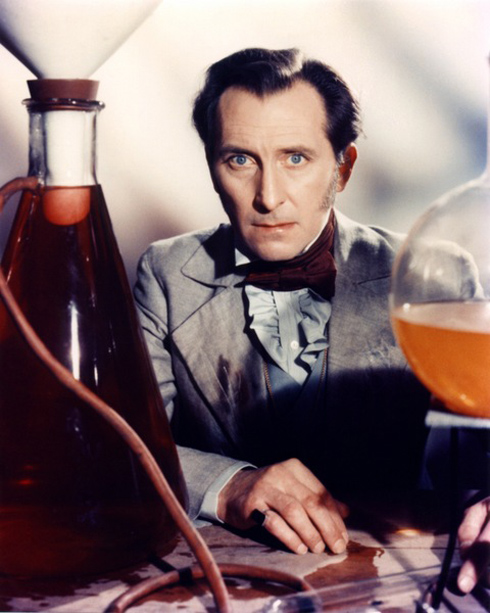 Suave Science: Peter Cushing in the role that began his horror film career, that of Baron Victor Frankenstein in The Curse of Frankenstein (Hammer 1957)
The actor withdrew from filming Blood from the Mummy's Tomb in 1971 following the death of his wife, the Russian born actress Violet Helene Beck. The two had lived a fairy-tale love affair since meeting in a production of Noel Coward's Private Lives, of which Beck recalled: "From the stage door stepped a vision, and my heart skipped a beat. I had never met him, yet I knew, deep in my deepest heart, we had been together before. Tall and lean, a pale, almost haggard face, with astonishing large, blue eyes: on his head an old grey velvet hat, with a hole between the dents of its crown, a jacket beyond description and repair, spotless white shirt badly frayed at the cuffs and collar, a pair of once dark blue corduroy trousers, most of the nap long since worn away through constant wear, down-at heel shoes of grey suede. Later, I was to discover the soles were as worn down as the heels, and had holes as large as half crowns in their centres, also woollen stockings that have never known the comfort of a darning needle.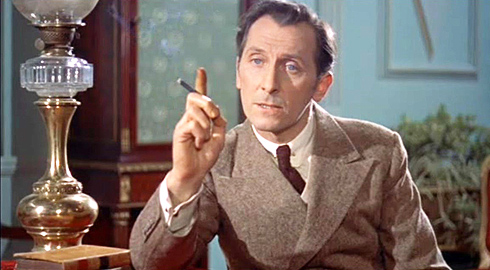 Vampire hunter: Cushing as Professor Van Helsing in Dracula / Horror of Dracula (Hammer 1958)
"He walked with a slight limp, using an ash walking-stick, the ferrule now a mere useless ring of metal around its tip, on his back a huge and obviously heavy kit-bag, such as sailors use. There was an aura about this 'beloved vagabond'. His hands told me he was either a musician or an artist – they reminded me of those drawn by Albrecht Durer – and when he bent over one of mine to kiss it, a faint and quite delightful waft of tobacco and lavender-water hung upon the air. I knew I would love him for the rest of my days – and beyond."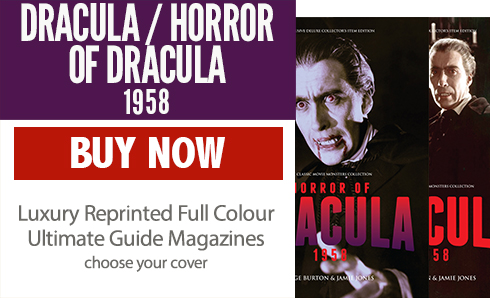 The devotion was mutual, and his wife's death left Cushing a broken man. In a Radio Times interview a year later, he said: "Since Helen passed on I can't find anything; the heart, quite simply, has gone out of everything. Time is interminable, the loneliness is almost unbearable and the only thing that keeps me going is the knowledge that my dear Helen and I will be reunited again some day. To join Helen is my only ambition. You have my permission to publish that… really, you know, dear boy, it's all just killing time. Please say that."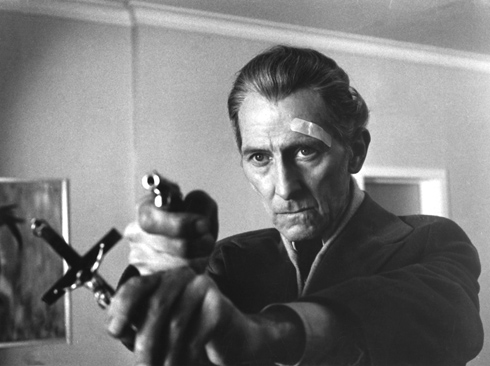 Belt and braces: Cushing reprised his Van Helsing role, but this time as the original adversary's descendant, in The Satanic Rites of Dracula (Hammer 1973)
In his autobiography, Cushing implies that he attempted suicide on the night of his wife's death by running up and down stairs in the vain hope that it would induce a heart attack.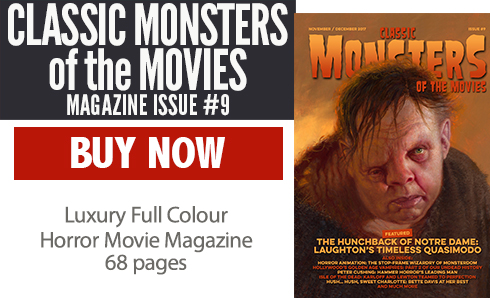 Classic Monsters of the Movies issue #9 contains a biography of Peter Cushing
He later clarified that this had simply been a hysterical response borne out of grief, and that he had not purposely attempted to end his life; Helen had left him a poem imploring him not to die until he had lived a full life, and he had decided that to commit suicide would have meant "letting her down". Cushing was not conventionally religious, but maintained a strong belief in both God and an afterlife.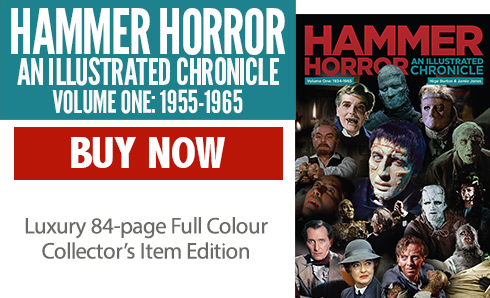 Helen's death took a huge physical as well as mental toll on the grieving actor; in Dracula AD 1972 (1972) he had originally been cast as Stephanie Beacham's character's father, but he had aged so considerably and lost so much weight, the part was hastily rewritten as her grandfather.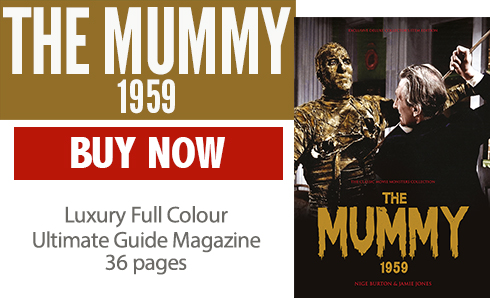 Diagnosed with prostate cancer in 1982, Cushing survived for a further 12 years without the intervention of surgery, although his health remained fragile. In 1989, he was made an OBE, although Lee was critical, publicly opining that the honour was "too little, too late". Cushing repaired to Whitstable, on the Kent coast, where he had bought a seafront home in 1959, and continued his hobbies of birdwatching, painting and writing two autobiographies.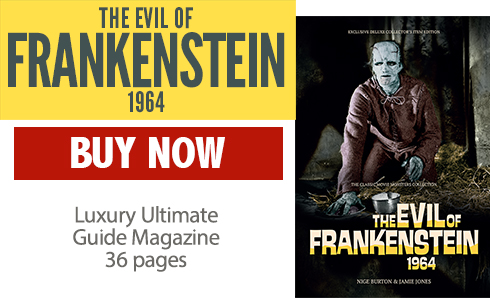 He left a legacy of love in the sleepy town, and is affectionately remembered to this day with a pub named in his honour, and a bench at his favourite seaside spot, named – appropriately – "Cushing's View".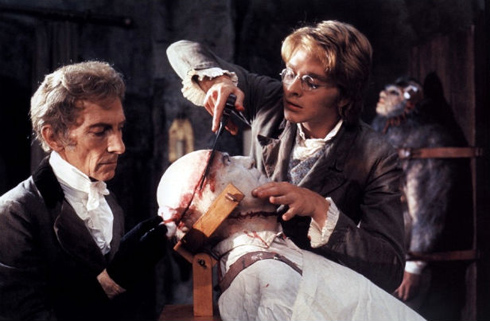 Splitting headache: By the time of his final appearance as the Baron in Frankenstein and the Monster from Hell (Hammer 1974), Cushing's grief over the loss of his beloved wife was impossible to hide. In this final entry in the studio's Frankenstein series, Shane Briant was his sidekick, helping him to create new creature David Prowse.
Of his friend's passing, Christopher Lee said: "I don't want to sound gloomy, but, at some point of your lives, every one of you will notice that you have in your life one person, one friend whom you love and care for very much. That person is so close to you that you are able to share some things only with him. For example, you can call that friend, and from the very first maniacal laugh, or some other joke, you will know who is at the other end of that line. We used to do that with him so often. And then when that person is gone, there will be nothing like that in your life ever again."
Peter Cushing died on the 11th of August 1994, aged 81.