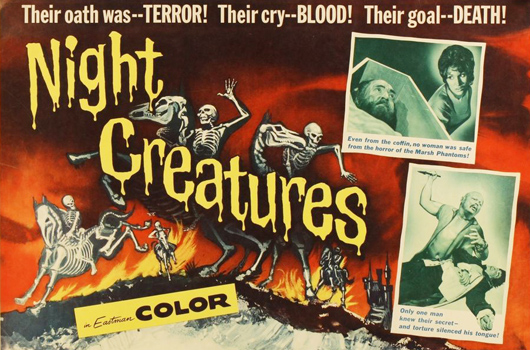 Captain Clegg (Hammer 1962)
The 7th of June 1962 saw the initial release of Hammer's smuggling adventure Captain Clegg (named Night Creatures in the USA), which appeared as a support feature for The Phantom of the Opera.
Broadly based on the Doctor Syn series of novels by Russell Thorndike, the movie stars Peter Cushing as the titular captain, by day a mild-mannered small-town parson and by night the leader of a gang of smugglers whose eerie methods of concealment have the locals terrified.
Directed by Peter Graham Scott from a screenplay by Anthony Hinds, the film's combination of the suspenseful and the supernatural rips along in fine style, propelled by excellent performances not just from the ever-reliable Cushing, but also a veritable who's-who of other stars including Yvonne Romain, Oliver Reed, Michael Ripper and Jack MacGowran. Of particular note is the make-up of the "Marsh Phantoms" themselves, created by Roy Ashton and Les Bowie: the image of the spectral riders is a powerful and arresting one.
Although Captain Clegg is perhaps not one of the best-known names in the Hammer stable, it's a satisfying, thoroughly entertaining romp, and one which darts deftly from wry humour to edge-of-the-seat suspense against the brooding backdrop of the Romney Marshes' lonely wastes.