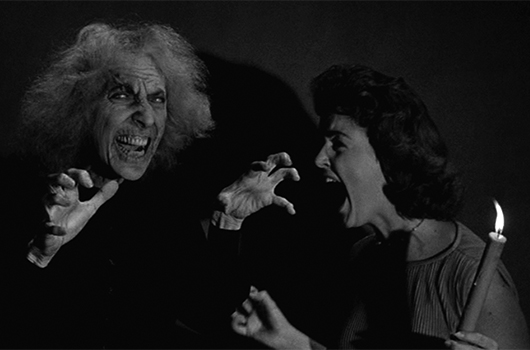 House on Haunted Hill (Allied Artists 1959)
House on Haunted Hill – the title says it all. No need for subtlety or mystery; before we've even watched a frame of the movie, we know that good old-fashioned spooks await.
Screenwriter Robb White and director William Castle cut straight to the chase with the disembodied head of house owner Elisha Cook Jr relating a little of the building's grisly history against a backdrop of screams and clanking chains. Next thing we know, a procession of funeral cars is heading up to the eerie abode of the title while Frederick Loren (Vincent Price) introduces the key characters. Critics would argue that it's too heavy-handed, sidestepping its dramatic potential. Devotees, on the other hand, are too busy enjoying the atmosphere to give a damn.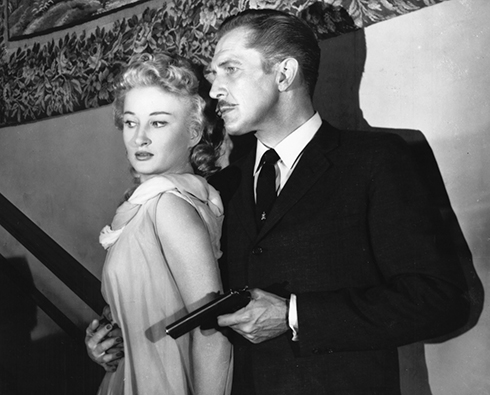 Married life is anything but straightforward for Annabelle (Carol Ohmart) and Frederick Loren (Vincent Price) in House on Haunted Hill (Allied Artists 1959)
Once we're past the exterior shots of Los Angeles' historic Ennis House – used in movies including 1982's Blade Runner – the scares come thick and fast. The obvious animosity between Loren and his wife Annabelle (Carol Ohmart) erupts into dignified little catfights here and there, adding an unexpected domestic tension.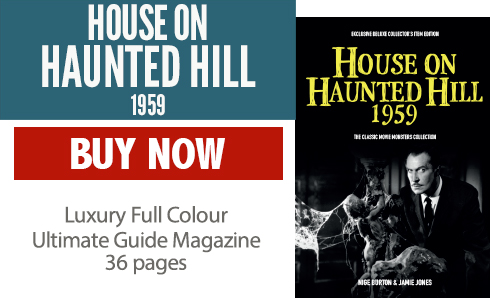 And here we find one of House on Haunted Hill's greatest strengths – its ability to satisfy our expectations of a haunted-house movie whilst throwing new ideas in. The house is spooky in the traditional sense but there are doubts and mistrusts too, a sense of very human evil amid the floating spectres.
Yes, Loren is double-crossing his cheating wife, but the movie double-crosses us too. Turning the lights out at one point so we can't see the action seems such a basic technique, such a crass Halloween-party way to ramp up the suspense, but in the hands of director William Castle, it genuinely works. Similarly, the Emergo system he installed in cinemas, whereby a skeleton slid out over the heads of cinema audiences, might seem silly today, but its potential as a dramatic device is clear.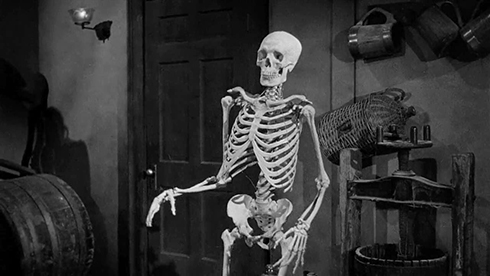 Director William Castle makes the most of every scare in House on Haunted Hill (Allied Artists 1959)
The relatively small cast roster allows for different combinations of characters to share scenes, each one deepening the mystery. Performances are solid throughout, with Carolyn Craig's jumpy Nora Manning proving a helpful outlet for the rising suspense. Price naturally merits a particular mention; playing things a little straighter than in some of his other movies, he still manages to inject some trademark swivelling-eyed camp into his poised portrayal of Loren.
It doesn't matter whether or not you're a fan of William Castle or Vincent Price: look past the slight hamminess and you'll find House on Haunted Hill is a non-stop masterpiece of atmosphere which captures the eeriness and fun its title suggests.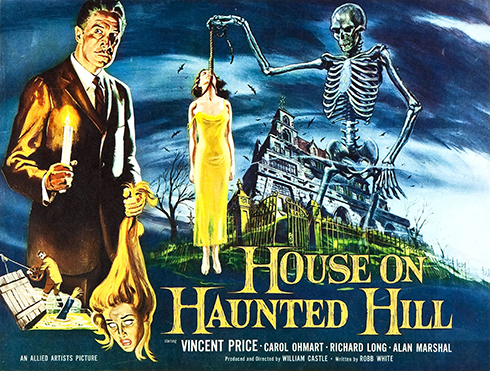 Suitably horrific poster art for House on Haunted Hill (Allied Artists 1959)