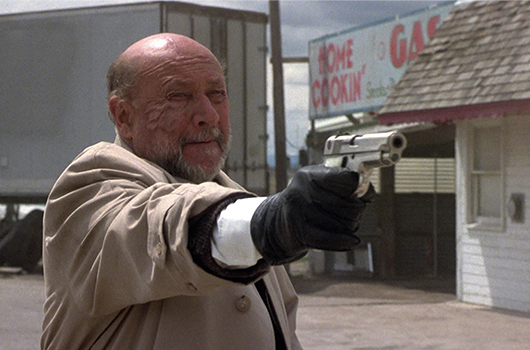 Halloween 4: The Return of Michael Myers (Galaxy 1988)
Halloween III: Season of the Witch had not fared well at the box office, with fans of the franchise furious at the absence of Michael Myers. When series executive producer Moustapha Akkad decided the time was right for another sequel proper, he approached John Carpenter to write and direct Halloween 4 in late 1987.
For the story treatment, Carpenter teamed with Denis Etchison, who had penned the novelisations of both Halloween II and III under the pseudonym of Jack Martin, with the intention of passing directorial duties to Joe Dante. The draft for Halloween 4 was an intellectual ghost story focusing on the psychological effects Michael Myers had had on the residents of Haddonfield, but it was considered "too cerebral" and promptly rejected. Carpenter bailed on the project.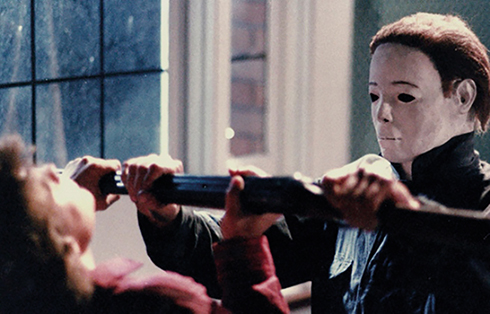 A crazed Michael (George P Wilbur) dispatches have-a-go hero Brady (Sasha Jenson) in Halloween 4: The Return of Michael Myers (Galaxy 1988)
For an impatient Akkad, it was back to the drawing board, and he began seeking a new director. He handed the reins to Ohio born Dwight H Little, who seconded fellow Ohio native Alan B McElroy to write a new narrative. With a budget of $5 million, shooting for Halloween 4: The Return of Michael Myers began on the 11th of April, 1988 and, due to financial constraints, the filming location of the fictional town of Haddonfield was moved to Salt Lake City, Utah from its original Pasadena, California.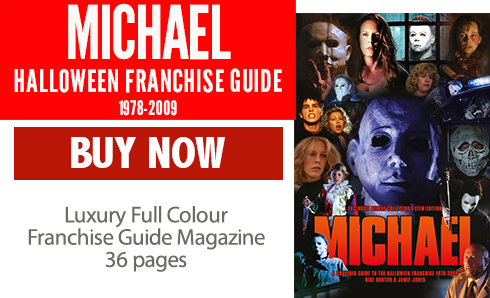 Akkad had wanted Jamie Lee Curtis back, but the actress had gone on to bigger and better things after hits like Trading Places (1983) and was already working on A Fish Called Wanda (1988). Her character was killed off in a car crash, leaving her nine-year-old daughter Britti to assume the mantle, sought out and pursued by her deranged Uncle Michael.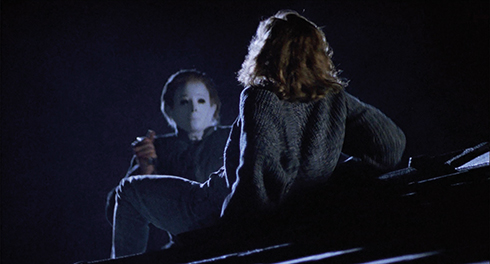 In a tense rooftop chase, Michael (Wilbur) viciously pursues Rachel (Ellie Cornell) in Halloween 4: The Return of Michael Myers (Galaxy 1988)
Donald Pleasence did return though, as the scarred, dishevelled Loomis, by now as mad as a box of biscuits and paranoid to boot in his bid to finally undo Myers, and still sporting his trademark mud-stained macintosh that was proving as indestructible as Haddonfield's most infamous son himself, this time played by George P Wilbur.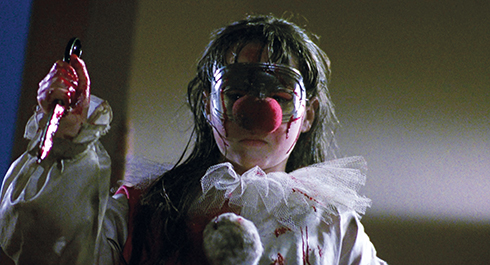 Jamie (Danielle Harris) proves she's just a chip off the old block in Halloween 4: The Return of Michael Myers (Galaxy 1988)
Although not as tense as its predecessors, Halloween 4 is nonetheless a grown up film, eschewing many of the cheesy traits of its genre stablemates and almost maintaining a standard that had been set some ten years earlier.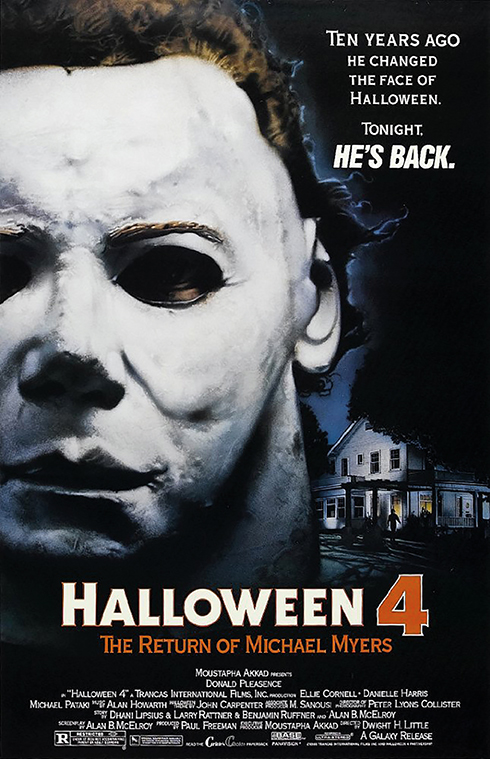 An original theatrical release poster for Halloween 4: The Return of Michael Myers (Galaxy 1988)