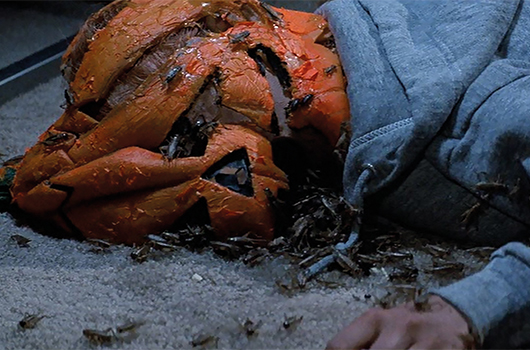 Halloween III: Season of the Witch (Universal 1982)
The success of Halloween II naturally raised the question of what would happen next. Having reduced Michael Myers to a scorched mess, John Carpenter and Debra Hill felt they had quite literally taken the character to its furthest extreme; it made sense to do something completely different.
Hill and Carpenter engaged English screenwriter Nigel Kneale to create the next instalment in what they envisaged as an anthology series of movies, each covering the festival of Halloween in a different way. Ultimately, Kneale was so dismayed by the violence that was added to his work that he asked for his involvement not to be publicised.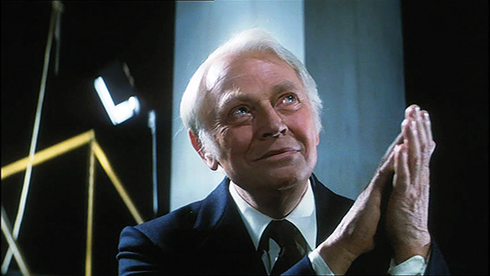 Conal Cochran (Dan O'Herlihy) realises that, at least for himself, the game is up in Halloween III: Season of the Witch (Universal 1982)
Halloween III: Season of the Witch stands very much alone in the series, but this does not detract from its fresh angle on the scares that fans had enjoyed in the previous movies. Inky shadows, skin-crawling tension, people emerging from out of shot; all have been imported, and all are well handled by Tommy Lee Wallace in his new role as director.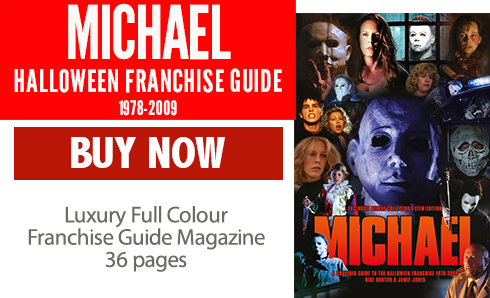 Also present is a sense of threatening mystery, this time embodied as toy company Silver Shamrock Novelties. The first two movies portrayed Michael Myers as a near-unstoppable presence, but throughout Season of the Witch, the danger is a much larger one, the 'company town' of Santa Mira portrayed as an eerie, soulless place.
Nemesis Conal Cochran is well played as the centrepiece of the story's focus, and if the run-up feels nothing like the previous Halloween films, the final sequence certainly takes a leaf out of its predecessors' books, with Dan's (Tom Atkins) exploration of the factory packed with jump scares.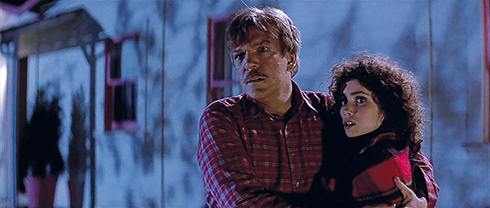 Dr Dan Challis (Tom Atkins) and Ellie Grimbridge (Stacey Nelkin) try to discover the secrets of Santa Mira in Halloween III: Season of the Witch (Universal 1982)
The movie is undoubtedly keen to make its own mark, daring to include the taboo idea of violence against children. The scene of Buddy Kupfer Jr (Brad Schachter) becoming a test subject of the arcane-powered mask is genuinely ghastly, and the bleak, panic-stricken final scene stops abruptly, leaving us in little doubt as to the inevitable outcome of events.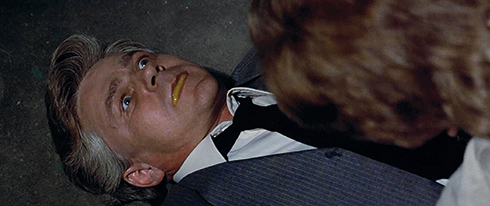 The assassin android (Dick Warlock) comes undone when his attack on Challis (Atkins) goes awry in Halloween III: Season of the Witch (Universal 1982)
Fans who had enjoyed two movies' worth of bloodshed didn't see the point of changing the franchise model, and Season of the Witch served as a warning to future franchise custodians never to abandon Michael Myers.
However, Halloween III is by no means universally shunned; some series purists object to its complete lack of a Shatner-masked antagonist, but it fits in well with the 1980s vogue for horror thrillers and as such, has a valid place in cinema culture of the time.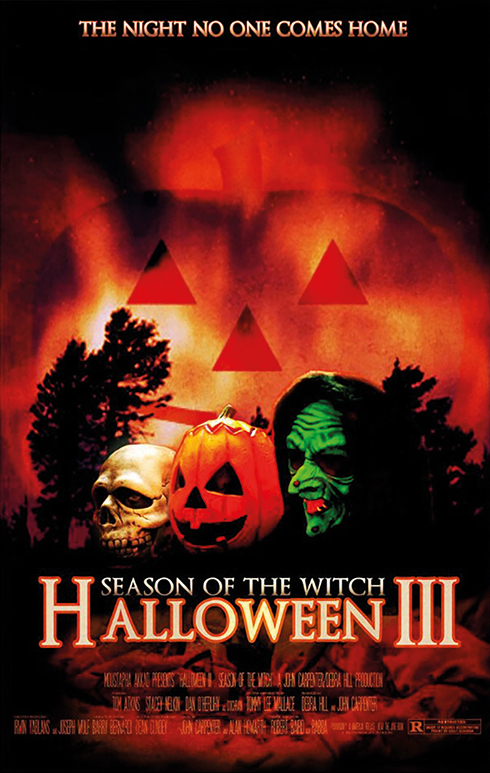 An original theatrical release poster for Halloween III: Season of the Witch (Universal 1982)