Product Description
In stock for immediate shipping.
Make another journey into classic Hollywood horror with the House on Haunted Hill 1959 Ultimate Guide – a glorious tribute to an unforgettable entry in the creepy camp hall of fame.
You can't afford to be late for Frederick Loren's all-night house party, and the Ultimate Guide to William Castle's House on Haunted Hill is your must-have accessory as you get ready for a soiree like no other. This magazine guide leads you through the shadowy twists and turns of a cinematic legend, revealing the secrets of House on Haunted Hill and immersing you in its unique atmosphere in the inimitable Classic Monsters style.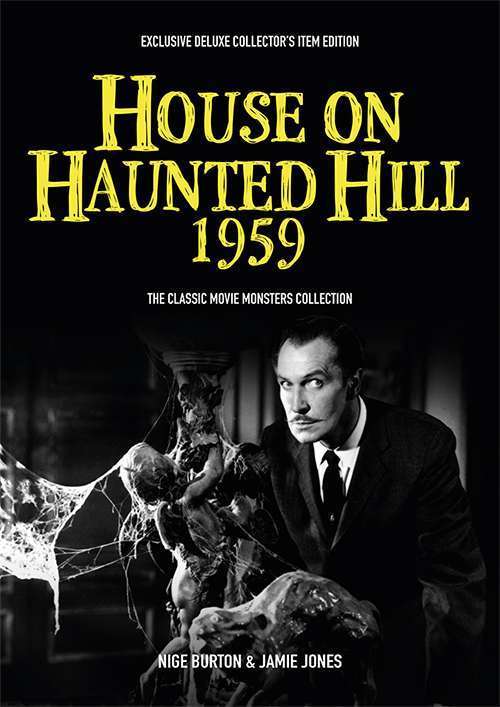 Each page of this magazine guide to House on Haunted Hill is inspired by the macabre playfulness that characterises the movie itself. Timelessly elegant layouts mean the painstakingly restored stills – reproduced to the highest quality – look their absolute best while a range of absorbing articles delve into the movie's development, production and impact. The combination of contemporary scares, traditional haunted-house theatrics and gothic horror gave 1959 audiences exactly what they didn't know they were looking for; as you browse this Ultimate Guide you'll learn more about its impact on the horror genre and movie culture more widely. We all know there's nothing like House on Haunted Hill, but this magazine guide explores the many reasons why it remains so powerful.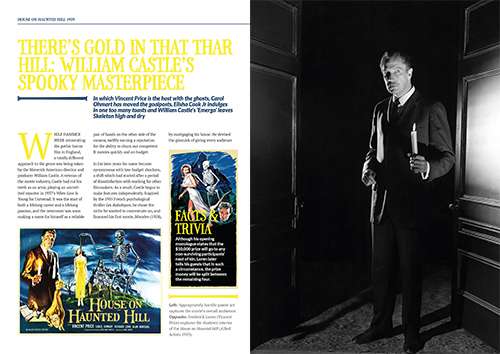 Vincent Price's sparkling portrayal of darkly comic playboy Frederick Loren brings chills and laughs in equal measure, and our guide to House on Haunted Hill celebrates his ever-watchable performance. However, he's by no means alone, as each of the other cast members – not to mention all those ghosts we can hear rattling around – has something special to bring to the party. Co-stars such as Carol Ohmart and Elisha Cook Jr all add to the uncomfortable dynamic of the movie's descent into treachery, but behind the scenes all manner of eerie magic was being cooked up. That's why this luxury guide to House on Haunted Hill also features biographies of the crew who brought it to the screen, from visionary director William Castle to gifted cinematographer Carl E Guthrie.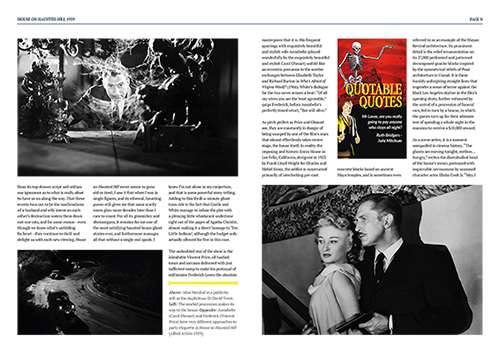 As you'd expect from Classic Monsters, the Ultimate Guide to House on Haunted Hill is printed and produced to the absolute highest standard, making it an essential for any fan of the movie itself, or of Vincent Price. Full colour printing means that even black and white stills enjoy a richness and depth that traditional monochrome printing won't provide, while our famed image restoration work means you'll be drawn right to the heart of the action.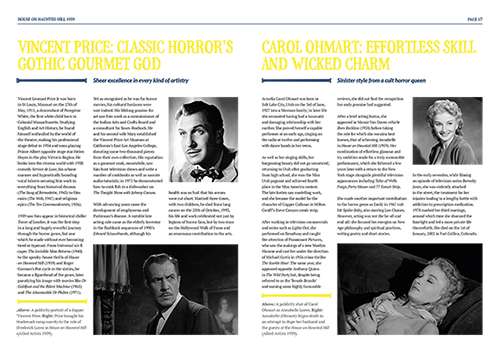 Your car is here to collect you, so sit back and enjoy the House on Haunted Hill 1959 Ultimate Guide as you travel to that strange mansion up in the hills. Then again, perhaps it's better to lose yourself in the beautiful imagery and wealth of information in this must-have guide – it's certainly a safer bet than locking yourself in with all the ghosts…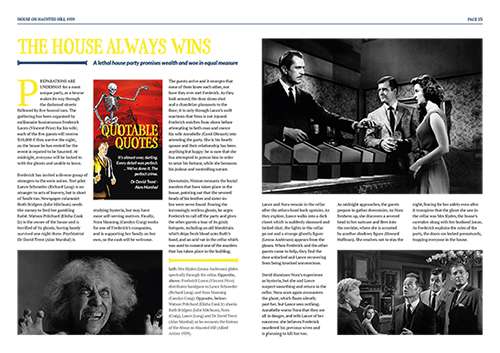 36 pages
A4
Full colour throughout
Luxury gloss laminated cover