Product Description
In stock for immediate shipping.
Teleport back to the age of fifties science fiction and tangle with tentacled terror in Popcorn and Pincers, the ultimate anthology of sci-fi horror cinema – a truly luxurious 84-page Classic Monsters publication.
LOW SHIPPING RATES WORLDWIDE!
Monsters have come in many shapes and sizes throughout cinema history, and while the concept of sinister science has played a role in the appearance of movie monsters since as far back as the dawn of moviemaking, it wasn't until the 1950s that we really began hiding under the sofa from those bug-eyed critters. Classic Monsters are delighted to present Popcorn and Pincers, a unique publication celebrating the very best in science fiction from the golden age of this very special genre.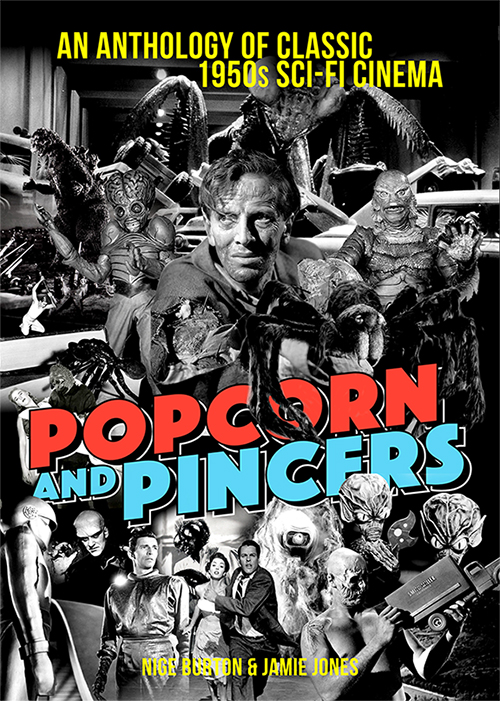 One of science fiction's greatest gift to us all was the wealth of new and often terrifying characters it presented. Klaatu and Gort from The Day the Earth Stood Still (1951), the Creature from the Black Lagoon (1954), the Metaluna Mutant from This Island Earth (1955), the pod people of Invasion of the Body Snatchers (1956)… we know them all well, and yet within the pages of our science fiction cinema guide they become so much more than old friends. You'll gain a fresh appreciation of how these beloved monsters have shaped our understanding of science fiction, and how they became the poster boys of the genre.
In line with our other luxury movie guides, Popcorn and Pincers boasts 84 pages packed with meticulously restored stills, posters and artwork, giving you an unparalleled science fiction movie guide experience. Full colour printing means that even black and white images burst with a richness and depth of tone that traditional black and white printing can't produce. Meanwhile, every page is designed with your experience in mind, allowing you to enjoy the lovingly written chapters and relish your own memories of this particular age of movie magic.
As well as the more recognised monsters, this science fiction movie guide magazine examines plenty of the other beasties that had us running for the hills. You'll see that they didn't all come from Hollywood, with doomed astronaut Victor Carroon from 1955's The Quatermass Experiment and everyone's favourite atomic dinosaur Godzilla (1954) just two of the many memorable monsters you'll meet in Popcorn and Pincers. And that's before we move away from the creatures that were simply bug-eyed, to those that were just plain bugs, such as the giant insects from Them! (1954) and The Deadly Mantis (1957). This luxury science fiction movie guide takes you through the numerous different types of monster that emerged – whether from space, from the water, or from anywhere in-between – throughout science fiction horror's heyday.
The world of science fiction is an infinite one, and the 1950s saw it flourish in a reflection of a changing world. As well as paying tribute to the monsters themselves, this luxury classic science fiction horror magazine looks at the wider context including the cultural values that shaped the way we imagined new terrors. Presented in the inimitable Classic Monsters style, Popcorn and Pincers is an essential for any fan of classic science fiction cinema.
Or, if you'd prefer something extra special, click here to check out the exclusive limited hardback edition – there are only 30 in the world!
84 pages
A4
Full colour throughout
Luxury soft-touch laminated cover