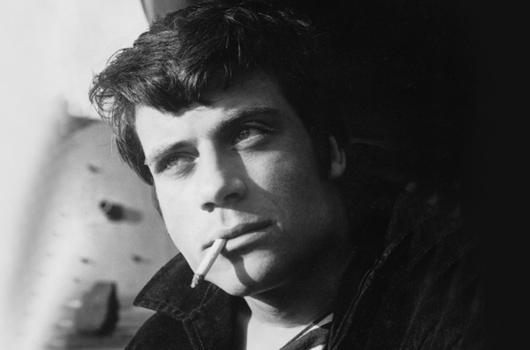 Oliver Reed
Robert Oliver Reed was born in Wimbledon, England on the 13th of February, 1938, the grandson of RADA founder Sir Herbert Beerbohm Tree.
He became a movie extra in the 1950s, taking uncredited roles in films such as 1958 comedy The Square Peg as well as appearing on television.
In 1960 he played a nightclub bouncer in The Two Faces of Dr Jekyll for Hammer Film Productions. He went on to appear in movies for the studio including Captain Clegg (1962) and Paranoiac (1963), but it was in the lead role of Leon in 1961's The Curse of the Werewolf in which he truly shone, offering a weighty performance vacillating between the two extremes of the doomed young man's nature.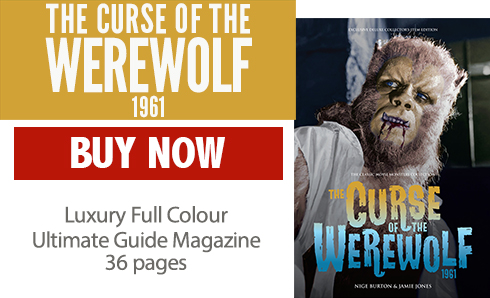 With his standing in the industry increasing, Reed showed in movies such as 1967 comedy The Jokers – one of six films he made for noted director Michael Winner – that he was perfectly capable of playing lighter parts too. The following year, his intimidating stature and portrayal of simmering rage brought Charles Dickens' character Bill Sikes to the screen with unnerving gusto in the musical Oliver!, directed by his uncle Carol Reed. The movie's colossal success made Reed a mainstream star and cemented his tough-guy image.
His increased popularity having opened up doors, Reed became a frequent collaborator with controversial screenwriter and director Ken Russell, appearing in outrage-baiting productions like Women in Love (1969) and rock musical Tommy (1975). More family-friendly fare came with the likes of The Three Musketeers in 1973.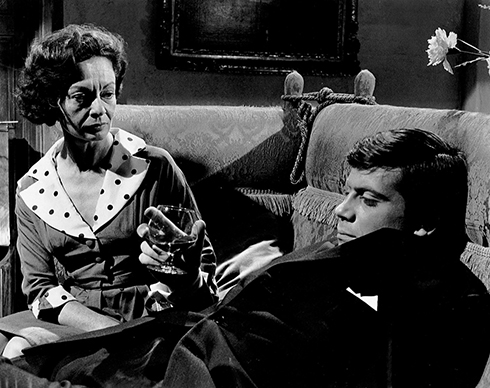 Aunt Harriet (Sheila Burrell) and Simon Ashby (Oliver Reed) have plenty of family secrets to battle with in Paranoiac (Hammer 1963)
Yet despite the increasing diversity of his projects, Reed seemed never to be far from the world of horror cinema. 1976's Burnt Offerings saw him star alongside Karen Black and Bette Davis, and 1979's The Brood took him into science fiction horror territory.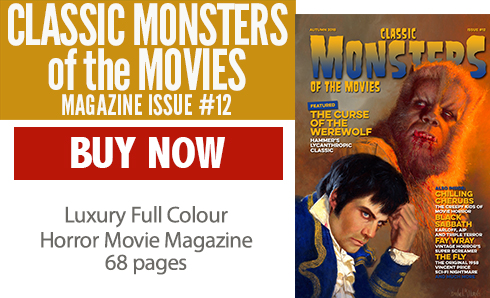 Reed's battles with alcohol abuse are well documented, and he is frequently painted as a volatile and almost dangerous character when under the influence. However, all is not as it seems; before one television appearance he was secretly set up with alcohol planted in his dressing room so that he could be covertly filmed and his alcoholism sensationalised, and on other occasions he was asked by producers to deliberately play the part of a drunken washed-up star so as to add interest to proceedings. Reed himself became weary of interviews focusing on his off-screen behaviour rather than his performances.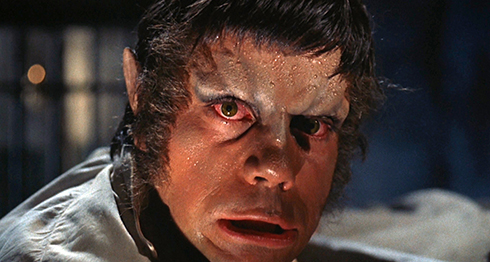 Leon (Oliver Reed) succumbs to the power of the full moon in The Curse of the Werewolf (Hammer 1961)
As the dawn of the millennium approached, it appeared that Reed's career was about to enter a new phase; his scenes as slave dealer Proximo in Gladiator (2000) showed he had lost none of his acting prowess. However, a fatal heart attack during a break from filming cut short his contribution to the movie, leaving the producers to fill in the remaining gaps using CGI techniques and a mannequin while Reed himself was posthumously nominated for a BAFTA Award for Best Supporting Actor.
Married twice, and with two children, Oliver Reed enjoyed a career as extensive as it was diverse. While his sudden death was an abrupt end to a career so full of impressive performances, his immense legacy remains nonetheless intact for generations of movie fans to enjoy.