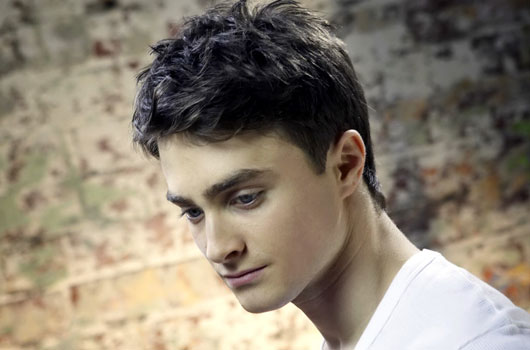 Daniel Radcliffe – from the magic of Harry Potter to the ghostly Woman in Black
Daniel Radcliffe, English star of the hugely successful Harry Potter film franchise, and Hammer's 2012 remake of The Woman in Black, was born Daniel Jacob Radcliffe in West London on the 23rd of July, 1989.
Parents Alan George Radcliffe, a literary agent, and casting agent Marcia Jeannine Gresham, encouraged the young actor's ambitions, and he made his debut at just 10 years of age in the title role of the BBC adaptation of Charles Dickens' David Copperfield. He would go on to work with co-star Maggie Smith time and again over the next ten years in all eight episodes of the Harry Potter series. In 2007, he branched out into theatre with Equus, a controversial role as the 17 year old had to appear naked.
Talking about his upbringing, Radcliffe remarks "There was never [religious] faith in the house. I think of myself as being Jewish and Irish, despite the fact that I'm English." He describes his family as "Christmas Tree Jews", but states that he was not brought up in the Jewish faith. "I was circumcised as a baby," he says, "but it ended there." Although "very proud of being Jewish," Radcliffe describes himself as an atheist. "I'm very relaxed about it," he adds, "I don't preach my atheism, but I have a huge amount of respect for people like Richard Dawkins who do. Anything he does on television, I will watch."
A prolific supporter of charity, particularly when it comes to young people, Radcliffe works closely with The Trevor Project, promoting awareness of gay teen suicide prevention. "I have always hated anybody who is not tolerant of gay men or lesbians or bisexuals. Now I am in the very fortunate position where I can actually help or do something about it," he said in a 2010 interview.
In 2008, the star disclosed that he suffers from a mild form of the neurological condition developmental coordination disorder. At times, his motor skills become so bad that he has trouble doing simple activities, such as writing or tying his own shoelaces. "I was having a hard time at school, in terms of being crap at everything, with no discernible talent," he said.
Anxious not to go down the well-trodden path of the child star prodigy, Radcliffe recognised he had a potential problem with alcohol, and so completely gave it up in August, 2010, after finding himself becoming too reliant on it.
Career wise, seeing the Harry Potter franchise coming to an end, he determined to make a genre transition to establish himself as a bankable adult star, and won the lead role in Hammer's 2012 remake of The Woman in Black which established him as a competent, well developed character actor. He had previously starred in the British TV film of Rudyard Kipling's My Boy Jack in 2007, and both these fine performances showcase his talents well.
Daniel Radcliffe lives in the West Village of Lower Manhattan in New York City and, as of October 2012, has been dating Kill Your Darlings co-star Erin Darke.