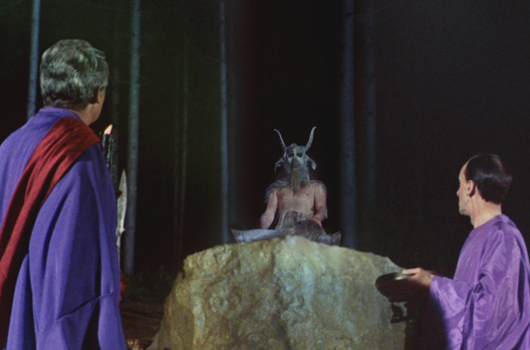 Devil Rides Out, The (Hammer 1968)
The Devil Rides Out was released by Hammer on the 7th of July, 1968, granting Christopher Lee a rare opportunity to play the hero.
Based on Dennis Wheatley's 1934 book, The Devil Rides Out takes viewers on a rollercoaster ride through the shady world of devil worship. Lee's Duc de Richleau battles Charles Gray's nefarious Mocata for the souls of two vulnerable neophytes, and as the stakes rise, the Angel of Death and the Goat of Mendes are summoned to wreak havoc.
Despite the controversial source material – direct references to Satanism being something of a departure from the "safe" monsters of other Hammer offerings, and resulting in years of delays before production commenced – the movie remains redemptive in tone, with proceedings wrapping up in as happy an ending as can be created under the circumstances. Terence Fisher's able direction keeps the action well-paced, while strong dialogue ensures a plausible atmosphere of brooding horror and genuine threat.
The film was released in the United States as The Devil's Bride, allegedly because the original title made it sound like a Western. Whatever the title, though, the movie was very well received, and remains a favourite among fans, not to mention with Christopher Lee himself, who has gone on record as calling it his favourite Hammer film of all.