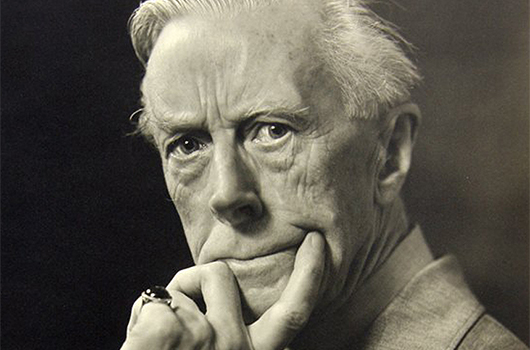 Ernest Thesiger
British actor Ernest Thesiger was born Ernest Frederic Graham Thesiger in London on the 15th of January, 1879, and thanks to three defining performances he gave, the world of classic monsters would never be the same again.
The grandson of the first Baron of Chelmsford, Ernest Thesiger was educated at Marlborough College and the Slade School of Fine Art, with his initial ambitions to become a painter quickly making way for a flair for the dramatic arts and his first stage appearance coming in a 1909 production of Colonel Smith.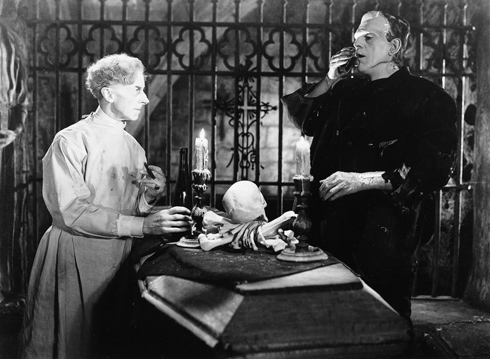 Dr Pretorius (Ernest Thesiger) befriends the Monster (Boris Karloff) in Bride of Frankenstein (Universal 1935)
When World War I broke out in 1914, Thesiger enlisted for active service. Rumour holds that he wanted to join a Scottish regiment so as to be able to wear a kilt, but whatever the truth of the matter, he was sent home after being wounded in the field, though not before his service had resulted in his being mentioned in dispatches.
What is undeniable is that Ernest Thesiger moved in numerous artistic spheres, rubbing shoulders with the likes of actress Mrs Patrick Campbell, composer Percy Grainger and artist John Singer Sargent to name but a few. Indeed, George Bernard Shaw would go on to write the role of the Dauphin in his 1924 play Saint Joan with Thesiger in mind.
Ernest Thesiger's film career began in 1916 in the silent satire on Macbeth, The Real Thing at Last; his drag performance as one of the witches would be reprised in a 1941 "straight" performance of Macbeth directed by John Gielgud. Throughout the silent era, his work was mainly on the stage rather than in front of the camera.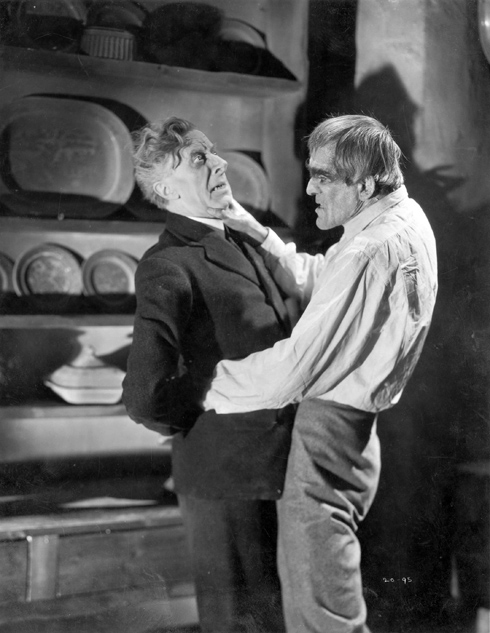 Thesiger's three horror performances all saw him appear opposite Boris Karloff, here in The Ghoul (Gaumont British 1933)
1917 saw Ernest Thesiger wed Janette Mary Fernie Ranken, the sister of his friend and fellow Slade graduate, the painter William Bruce Ellis Ranken. Although it is alleged that Thesiger made no secret of his homosexuality, the pair remained married until his death.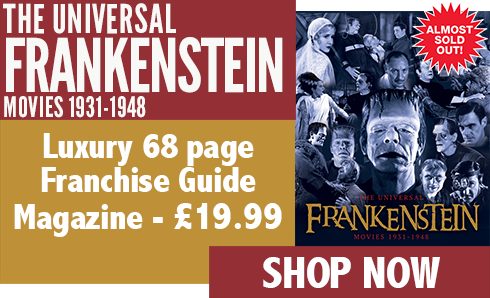 Of course, the highest-profile period in Ernest Thesiger's life came following his meeting with James Whale in 1919. Cast as the mincing Horace Femm in 1932's The Old Dark House, Thesiger was launched into the public consciousness and went on to play butler Laing opposite Boris Karloff in The Ghoul (Gaumont British 1933). When a sequel to Frankenstein (Universal 1931) was commissioned, Whale overruled Universal's choice of Claude Rains for the role of Dr Pretorius, and insisted that the role went to Thesiger, whose portrayal of the flamboyant mad scientist is a darkly sparkling crown jewel in the treasury of monster movie performances.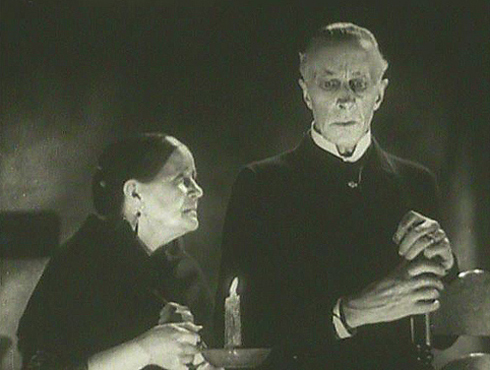 "You've a look of Eva Moore!" At least Ernest Thesiger thinks so, seen here in The Old Dark House (Universal 1932)
After his sojourn in the world of monsters, Ernest Thesiger focused more on stage roles with the occasional screen performance. Notably, he starred opposite Katharine Hepburn in the longest-running production of As You Like it ever to appear on Broadway. He also performed in 1960's Sons and Lovers with Heather Sears, who would find horror fame in Hammer's 1962 adaptation of The Phantom of the Opera. In his spare time, he was a keen needleworker and crochet partner to Queen Mary.
Awarded the CBE in 1960 for his services to drama, Ernest Thesiger made a huge mark on the world of the performing arts, as well as delivering some of the definitive performances in the horror oeuvre. He passed away on the 14th of January, 1961, on the eve of his 82nd birthday, and was buried in Brompton Cemetery in London.