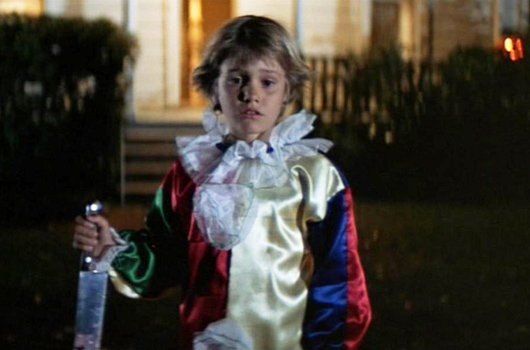 Halloween (Compass 1978)
When John Carpenter and Debra Hill unleashed their classic prototype of the slasher movie, Halloween, on an unsuspecting audience in 1978, cinemagoers didn't quite know what had hit them. The indie production, made by a group of youngsters with only one bankable star and a shoestring budget of just $300,000, may have struggled to secure distribution in its first few weeks, but no-one could have known that it would eventually hand creator Carpenter "the biggest check I'd ever seen".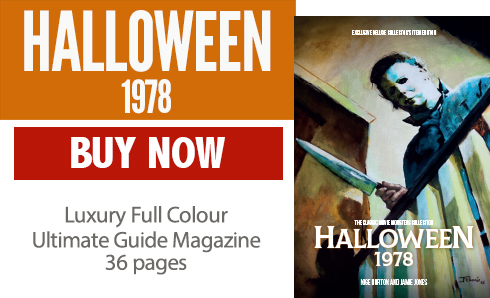 Revered as a true classic for over 35 years, Halloween has a small ensemble cast of incredibly strong characters. One of the most important key roles, that of Dr Sam Loomis, was turned down by both Peter Cushing and Christopher Lee; Lee later acknowledged his passing up of the role as one of the biggest regrets of his career. The part eventually went famously to Donald Pleasence, and the budget was duly increased by another $20,000 to meet his $40,000 fee for a week's work. It is hard now to imagine anyone else in this role, so great was Pleasence's interpretation of the character.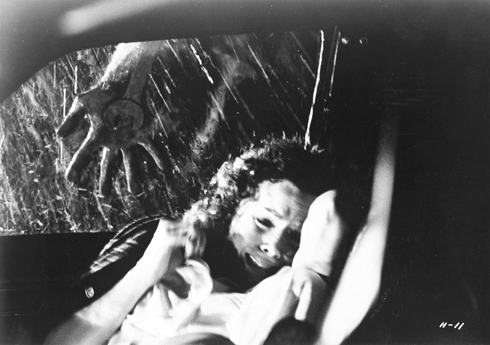 Deranged murderer Michael (Nick Castle) effects his escape, terrifying nurse Marion Chambers (Nancy Stephens) in the process, in Halloween (Compass 1978)
Halloween introduced contract player Jamie Lee Curtis as Laurie Strode, and her tour de force performance helps separate the film from much of the dross that was to follow in its wake. Although designated a slasher movie, Halloween follows many of the principles held dear by some of the golden age of horror's most skilful artisans, and faithfully follows the school of what you don't see being far more frightening than what you do. Its reputation is also something of a misnomer, as very little blood is actually spilled in front of the camera.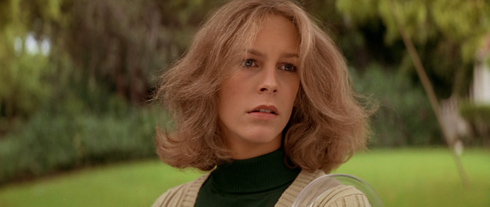 Laurie Strode (Jamie Lee Curtis) is soon to fall prey to Michael Myers' (Nick Castle) stalking in Halloween (Compass 1978)
The now-iconic figure of Michael Myers cuts a brutal, lumbering dash through the darkness to torment our most terrifying dreams, almost as much as those of our dowdy damsel and her hormonally-heightened counterparts. His eerily bland mask has become the stuff of nightmares, although ironically it was nothing more than a William Shatner mask sprayed white.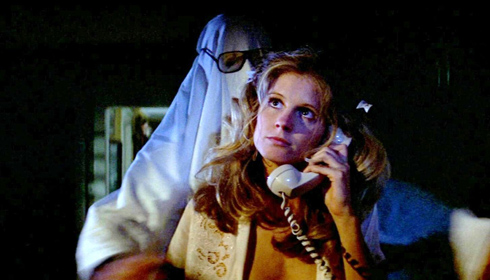 Posing as her boyfriend, Michael (Nick Castle) dresses up to thrill the unsuspecting Lynda (P J Soles) in Halloween (Compass 1978)
Like Karloff without the pathos, the characterisation of Myers is more human in this first instalment than any of the sequels; a fact made more remarkable in that 'the Shape', as he became known, was played by Carpenter's friend Nick Castle, who was paid just $25 a day for his work. He is only replaced in the final unmasking scene by Tony Moran, as the director felt the grown-up Michael still needed an angelic, almost childlike look.

One of the most important contributing factors to Halloween's success is undoubtedly the disquieting score, written by Carpenter in just three days. Like John Williams' epochal Jaws theme, it is identifiable in just a few short notes, and this bears testimony to its ability to descry the film in an instant.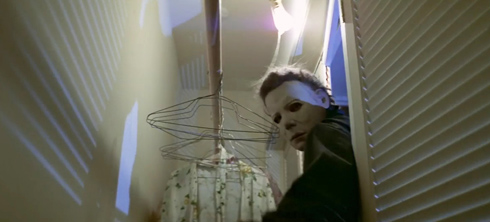 On a murderous rampage, Michael (Nick Castle) discovers Laurie hiding in the wardrobe in Halloween (Compass 1978)
Set in the fictional town of Haddonfield, Illinois, Halloween's action starts with the savage murder by six-year-old Michael of his sister Judith. Fifteen years of incarceration have done nothing to rehabilitate him: "I met him, fifteen years ago," Loomis tells town sheriff Leigh Brackett (Charles Cyphers); "I was told there was nothing left; no reason, no conscience, no understanding; and even the most rudimentary sense of life or death, of good or evil, right or wrong. I met this six-year-old child, with this blank, pale, emotionless face, and the blackest eyes… the devil's eyes. I spent eight years trying to reach him, and then another seven trying to keep him locked up because I realised that what was living behind that boy's eyes was purely and simply… evil."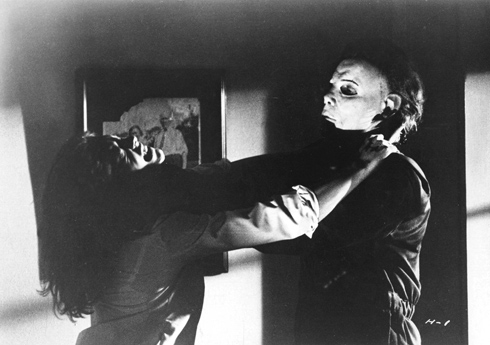 The tense, final struggle between Laurie (Jamie Lee Curtis) and Michael (Tony Moran) in Halloween (Compass 1978)
The 21-year-old Michael (although the end credits will have him as 23 – do the maths yourself!) escapes his institution and heads home to Haddonfield for Halloween 1978, where he is soon terrorising Laurie and fellow babysitters Annie (Nancy Loomis) and Lynda (P J Soles). Inventively dispatching the latter two, along with Loomis' boyfriend Bob (John Michael Graham), he turns his attention to Laurie and her two young wards for the evening, Tommy (Brian Andrews) and Lindsey (Kyle Richards).
The terrifyingly tense, edge-of-your-seat climactic battle between Laurie and Michael is still one of the most powerful in horror film history. Perfectly drawn out, this nerve-racking sequence culminates in the shooting of Myers by Loomis. However, the later discovery that, despite being riddled with bullets and falling from a first-floor balcony, Michael's body has disappeared serves as an ominous finale to the movie. Contrary to the apparent cliffhanger, no sequel had ever been considered by Carpenter or Hill, and it was the pure blockbuster success of Halloween which spurred them on to be a party to its successor, Halloween II, three years later.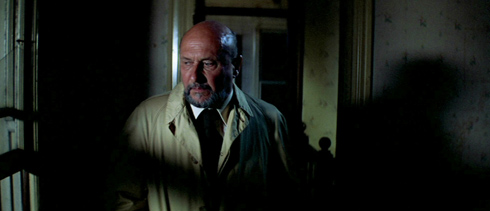 Dr Loomis (Donald Pleasence) is baffled, if not surprised, by the disappearance of Michael at the end of Halloween (Compass 1978)
Named in tribute to Carpenter's UK agent for his Assault on Precinct 13 (1976), the character of Michael Myers has become one of the true classic monsters of the modern era, surviving even more deaths than Universal's original Frankenstein Monster. His endurance through six out of the seven sequels of the original franchise (he made no appearance in the odd departure that was Halloween III), and two Rob Zombie reboots makes him a force to be reckoned with that was beyond the wildest imaginings of his original creators.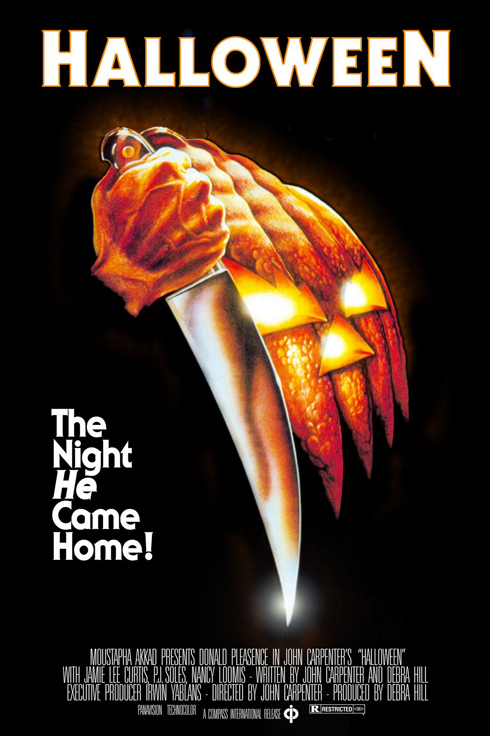 Original theatrical release poster for Halloween (Compass 1978)