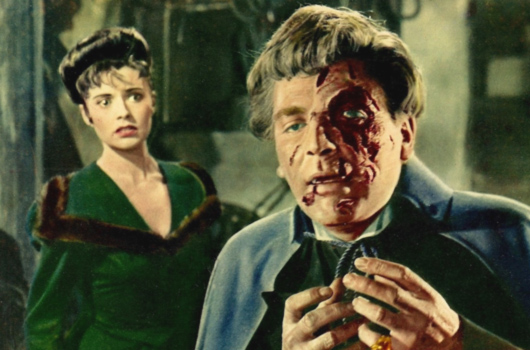 Brides of Dracula, The (Hammer 1960)
The Brides of Dracula (1960) is Hammer fans' favourite film and, although this masterpiece is undoubtedly one of the finest films the studio ever produced, it started life with its fair share of uncertainty and change.
With a chequered financial history at the best of times, Universal had once again been on the verge of bankruptcy when the charging steed in the form of Hammer's Dracula had reportedly saved them. Naturally, they were keen for a sequel, and Anthony Hinds commissioned Jimmy Sangster to produce a treatment for Disciple of Dracula at the beginning of 1959.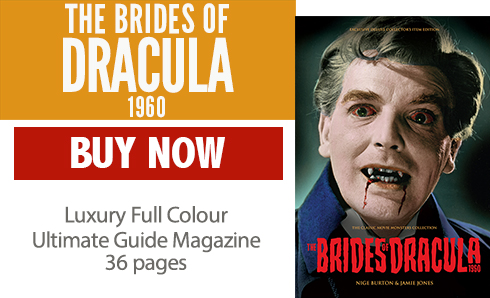 Hammer were looking for a new vehicle for Christopher Lee, and so Dracula the Damned appeared in the shooting schedules by the summer of that year, but Peter Bryan was brought in to rewrite Disciple of Dracula, which introduced Van Helsing into the mix as the nemesis of Baron Meinster; the result was renamed The Brides of Dracula.
Dracula the Damned subsequently disappeared from the schedules, although the reason for this has never been clearly understood, as Lee was becoming a Hammer stalwart and had no hang-ups by this time about being typecast as Dracula. Development of The Brides of Dracula, however, continued, albeit patchily. It was deemed absolutely necessary for Peter Cushing to reprise his role as Van Helsing, but he was unimpressed with the screenplay and so theatre writer Edward Percy was engaged to make yet further changes. The rewrites were minimal, but apparently enough to satisfy Cushing, but Hinds himself did yet a further rewrite just prior to production commencing, in an attempt to anticipate the scissor-happy censor.
"France's latest sex kitten!" Yvonne Monlaur was cast in the role of vulnerable heroine Marianne Danielle, while dashing, but relatively unknown, David Peel donned lifts and a ginger kiss-curl for the part of Baron Meinster. It was one of Peel's final film roles before he retired to become a fine art dealer, despite Hinds telling him he had "come out very well indeed" in a letter to the actor dated the 17th of March, 1960.
Peel caused quite a stir on set by turning up with his two pet poodles: "[He was] an extremely sweet actor, if you know what I mean," commented the film's composer, Malcolm Williamson.
Interestingly, The Brides of Dracula's American promotors billed Peel as a handsome new "teenage vampire", which seems rather curious, as the undoubtedly youthful and handsome actor actually turned 40 while on set.
Cushing is superb as Van Helsing, and we have a wonderful double act from Martita Hunt as Meinster's careworn mother, and Freda Jackson as her servant Greta, but it is Peel who steals the show, with a suave, energetic performance which lights up the screen.
"The Brides of Dracula comes opulently mounted with Technicolor flashing, slickly, meticulously produced," said the American trade magazine Film Daily. "Shame on anyone unimpressed".
Beautifully shot, expertly directed by Terence Fisher and superbly acted by a stunning ensemble cast, The Brides of Dracula hurtles towards its breathtaking and inventive finale which sees Baron Meinster's dramatic demise in a burning windmill. The film was a huge box office success, doing particularly well in Britain, the United States and Japan, and cementing head of Hammer James Carreras's relationship with Universal for several years to come.