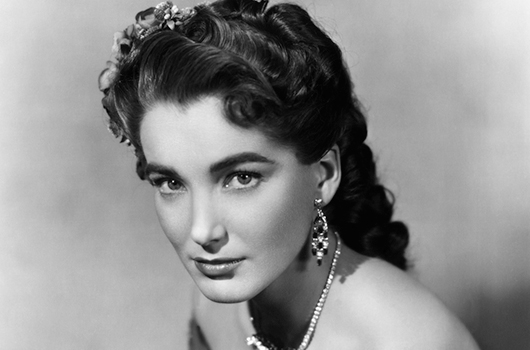 Julia Adams
Betty May Adams was born in Waterloo, Iowa on the 17th of October, 1926 and was crowned Miss Little Rock in Arkansas at the age of 19, later moving to Hollywood to pursue her acting career.
Her movie debut came in an uncredited role as a starlet in 1949's Red, Hot and Blue; she found increased exposure in a slew of westerns such as The Dalton Gang (1949), becoming a recognised name in the genre. When she moved to Universal after a successful screen test, she was pushed by the studio to legally change her name to Julia; unhappy with the new appellation, she later updated this to Julie.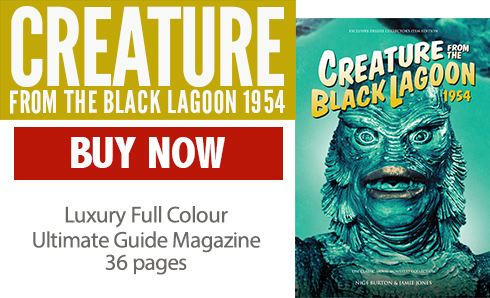 The early 1950s saw Adams remain in the world of western movies, albeit in higher-budget productions opposite Hollywood glitterati including James Stewart in Bend of the River (1952) and Rock Hudson in The Lawless Breed (1953).
In an era where performers were assigned roles by the studios to which they were contracted, Adams was given the part of marine scientist Kay Lawrence in 1954's Creature from the Black Lagoon. Taking up the mantle of endangered damsels such as Fay Wray and Evelyn Ankers from previous monster movies, she gave Kay a sense of confidence and independence that made the character far more than a pretty trophy.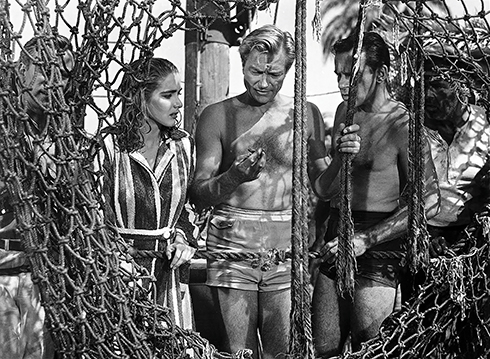 The expedition crew (from left: Whit Bissell, Julia Adams, Richard Denning, Richard Carlson and Nestor Paiva) find a clue in the breached drag net of the Rita in Creature from the Black Lagoon (Universal 1954)
Having been briefly married to screenwriter and producer/director Leonard Stern in the early 1950s, Adams married actor Ray Danton in 1955. Although not cast in either of Creature from the Black Lagoon's sequels, she by no means found herself at a loose end. Regular movie roles gradually gave way to television appearances in series such as Maverick and Bonanza, bringing her back to her roots in the western genre.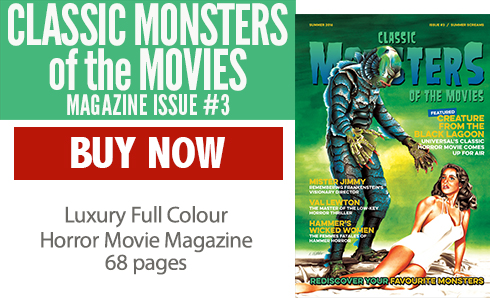 Check out our feature on Creature from the Black Lagoon in Classic Monsters of the Movies issue #3
No stranger to acting alongside the biggest names in the business, Adams worked with Elvis Presley in 1965 musical comedy Tickle Me. In 1971 she landed the role of Martha Howard in The Jimmy Stewart Show opposite James Stewart, whom she named as her favourite co-star.
Throughout the 1970s and 80s, Adams was a popular guest star across movies and television, becoming a familiar face in high-profile series including Cagney & Lacey and Murder, She Wrote. She and Ray Danton divorced in 1981 after having two children together; Adams later spent many years in a relationship with screenwriter Ronald M Cohen until his death in 1998.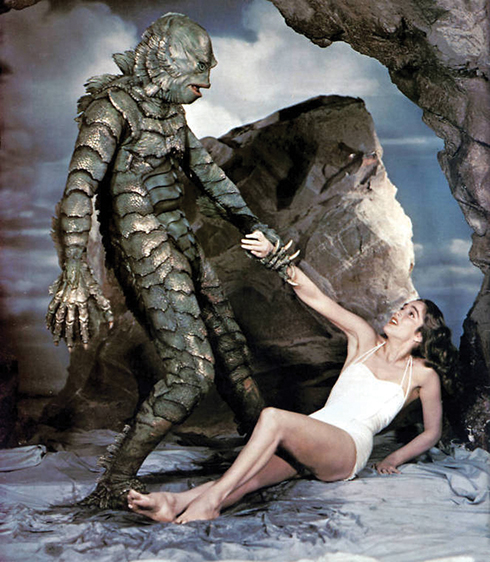 A colour publicity still showing once again the muted colours of the Gill Man opposite Julia Adams as Kay Lawrence in Creature from the Black Lagoon (Universal 1954)
Adams' continued bankability as a television guest star extended into the 21st century with small appearances in a new generation of thriller series. Roles in Lost and CSI: NY brought her to the attention of younger viewers, while her 2011 memoir cast fresh light on her career. She passed away on the 3rd of February, 2019, her legacy assured for monster kids as the glamorous heroine of Creature from the Black Lagoon.