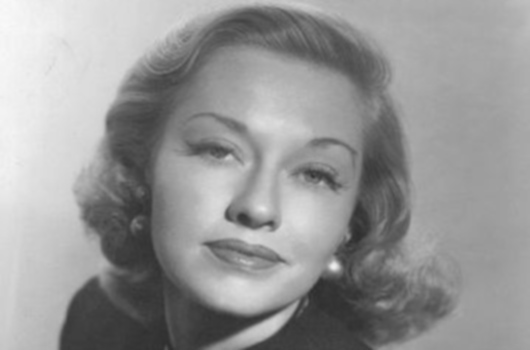 Virginia Christine – Princess Ananka to Lon Chaney's Kharis in The Mummy's Curse
American stage, film, television and voice-over actress Virginia Christine was born Virginia Christine Ricketts on the 5th of March, 1920, in the small Iowa town of Stanton.
She is best remembered in the US for playing Mrs Olsen in the Folgers Coffee TV adverts. As a tribute, the town converted its water tower to look like a coffee pot in honour of its most famous daughter.
Christine trained for the stage with actor/director Fritz Feld, whom she would marry in 1940. The couple had two sons, and remained together until Feld's death in 1993.
Virginia Christine had a long career in films, beginning with the Warner Bros. 1943 production of Edge of Darkness, and going on to such highlights as High Noon (1952) and Judgement at Nuremberg (1961), but it is her horror roles we remember her for here.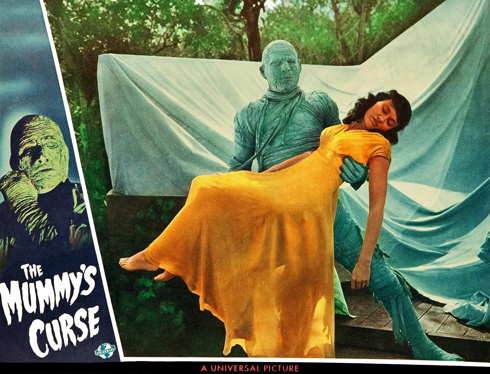 Lon Chaney Jr and Virginia Christine in a lobby card for The Mummy's Curse (Universal 1944)
The first of these was for Universal, when she played Princess Ananka opposite Lon Chaney Jr's Kharis in The Mummy's Curse (1944), the 'lady of the streets' in the Rondo Hatton B-picture, House of Horrors (1946), Wilma Lentz in the 1956 sci-fi horror, Invasion of the Body Snatchers and Mrs Oster – although in several instances throughout the film, she is referred to as her 'coffee' character, Mrs Olsen – in Billy the Kid Versus Dracula (1966). She also appeared in episodes of Alfred Hitchcock Presents and The Twighlight Zone on television.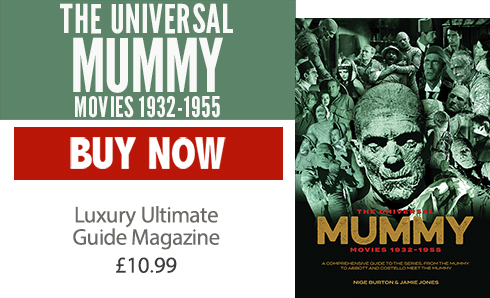 Virginia Christine died peacefully of cardiovascular disease on the 24th of July, 1996, at her Brentwood home. She was interred at the Jewish Mount Sinai Memorial Park Cemetery in the Hollywood Hills section of Los Angeles.