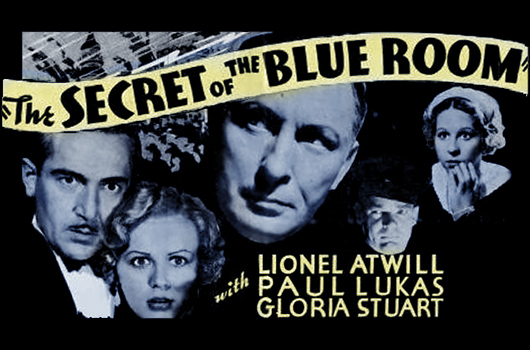 Secret of the Blue Room (Universal 1933)
The Universal murder-mystery Secret of the Blue Room was released on the 20th of July, 1933.
Steadfast Universal stars Lionel Atwill and Gloria Stuart receive top billing as Robert von Helldorf and his daughter Irene; their spooky castle home forms a suitably eerie setting for a tale of the titular haunted room and the three murders which took place in it twenty years before. In their desperation to win the hand of the fair Irene, three disparate suitors agree to spend consecutive nights in the jinxed room; what follows is a tale of murder, secrets, red herrings and eventual resolution.
Often overshadowed by the likes of The Old Dark House (1932), Secret of the Blue Room (often prefixed with "The") remains an enjoyable, atmospheric romp. Though completed on a limited budget and in just six days, and never rising above B-picture status, the movie still has a lot to offer in the way of charm, mood, and solid yet understated performances from Universal stars who had yet to hit the big time.