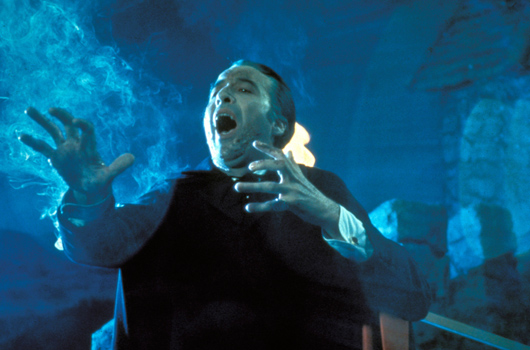 Scars of Dracula (Hammer 1970)
There is a belief, even among the most devout fans of Hammer horror, that as their Dracula franchise progressed, the films became steadily worse. Even Christopher Lee himself has suggested this to be true, and yet closer inspection of the later entries reveals these allegations to be largely groundless. Scars of Dracula serves to illustrate this point admirably.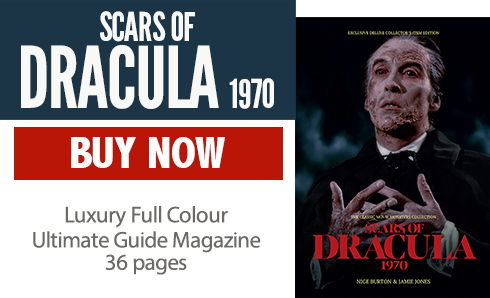 The perception that Hammer, as a studio, was struggling and at the mercy of its American distributors has helped fuel these rumours, and there was of course a deal of truth in that. It's true to say that Sir James Carreras was putting a brave face on his abandonment by Warner Bros-Seven Arts, but he did it robustly and made much of his new coalition with ABPC, although Chief Executive Bernard Delfont had cautioned that each film must not cost more than £200,000.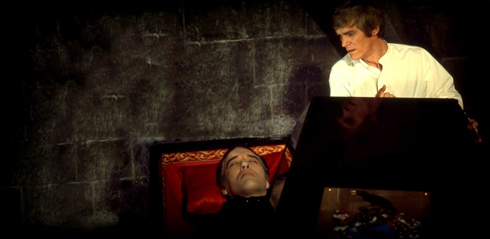 Errant Paul (Christopher Matthews) makes a grisly discovery at the castle in Scars of Dracula (Hammer 1970)
A bloodbath almost from start to finish, Scars of Dracula was a standalone feature, making no attempt to link itself to any of the previous four films. Happily, Lee got much of Stoker's Dracula back, and the film evokes more of a horror harking back to the Universal glory days than what had become standard Hammer fare. Given dialogue to spare, the broody yet brutishly cruel Dracula of this episode was directed by Roy Ward Baker.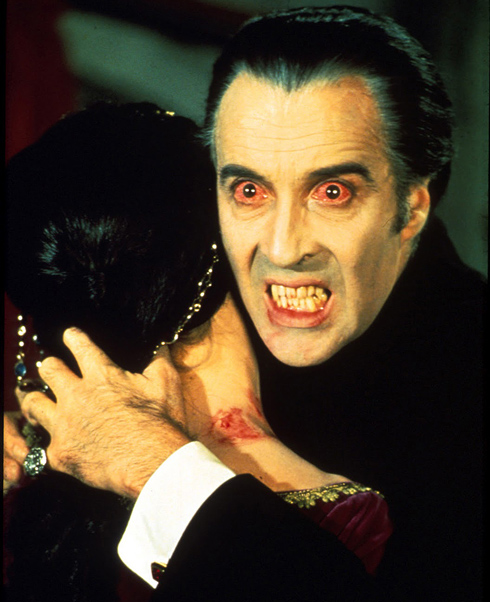 Dracula (Christopher Lee) sinks his teeth into Tania (Anouska Hempel) in Scars of Dracula (Hammer 1970)
Brought to life by an oversized mechanical bat vomiting blood on his remains, the Count continues his terror campaign against the inhabitants of a nearby Mitteleurope town, prompting an angry torch mob led by innkeeper Michael Ripper to storm the castle and set fire to it, despite the uneasiness of their priest Michael Gwynn. Upon returning triumphantly to the church to recover their womenfolk, the townsmen are horrified to discover them murdered and mutilated by Dracula's army of bats. Some years later, philanderer Paul (Christopher Matthews) is forced to make a retreat from his hometown of Kleinenburg after seducing the daughter (Delia Lindsay) of the Burgomaster (Bob Todd). Inevitably, he fetches up at Dracula's castle, finding out the vampire in all his gory glory whilst being seduced by the voluptuous Tania (Anouska Hempel). It's not long until Paul's brother Simon (Dennis Waterman) and his fiancé Sarah (Jenny Hanley) come looking for him, only to find themselves in Dracula's thrall and at the mercy of his servant Klove (Patrick Troughton).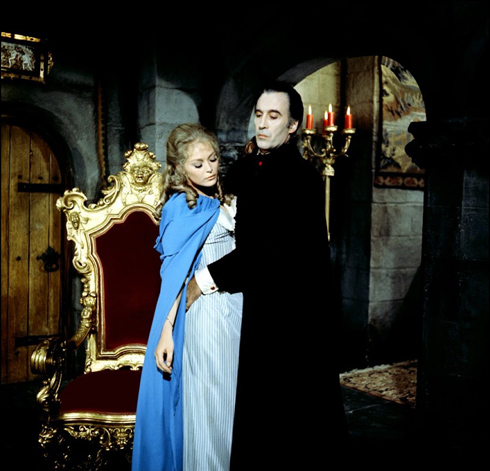 Dracula (Christopher Lee) has Sarah (Jenny Hanley) in his thrall in Scars of Dracula (Hammer 1970)
The Count's particularly evil murderous tendencies, coupled with themes of sado-masochism, put Scars of Dracula more on a par with action that might take place in the Hewitt household, and at times make for grisly viewing. Two scenes in particular caught the attention of the British censor and had to be revised accordingly. Dracula's frenzied stabbing of Tania was originally followed by him lapping up the blood from her wounds, a scene which was excised in its entirety; while Klove's later dismemberment of her corpse was toned down in both sound and vision.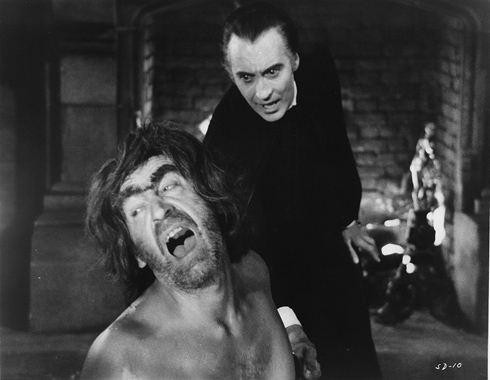 Dracula's (Christopher Lee) brutal treatment of Klove (Patrick Troughton) highlights the sado-masochistic elements of Scars of Dracula (Hammer 1970)
Strong performances mark Scars of Dracula out as a particularly accomplished effort. Lee is suitably menacing throughout, but more than able support is lent by Troughton, Waterman and Hanley, with a very capable ensemble cast headed up by the superb Michael Ripper; further sterling support comes from Michael Gwynn's anxious clergyman, and Wendy Hamilton as the feisty barmaid Julie. The vampire's demise comes courtesy of a dramatic lightning strike which engulfs him in flames as he plunges from the castle's battlements; Lee's regular stunt double Eddie Powell took over for the more strenuous moments.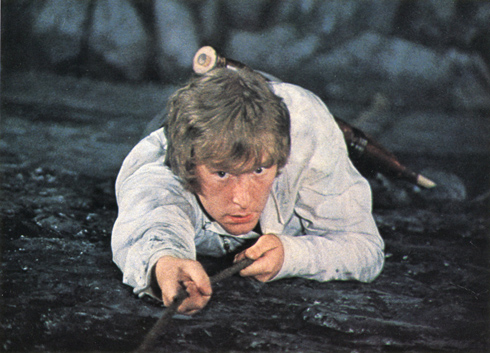 Simon (Dennis Waterman) determines to discover the truth in Scars of Dracula (Hammer 1970)
Roy Ward Baker's direction is particularly inspired, and enhanced by his refusal to use day-for-night shots against the wishes of producer Aida Young. The resulting sense of atmosphere and uneasiness that pervade the film make it certainly one of the most horrific of the franchise. Released as part of a double-bill with The Horror of Frankenstein, Scars of Dracula was looked upon favourably by fans and critics alike. The two pictures together grossed £55,385 upon release in London, but sadly the US rights went to American Continental Films and, lacking the clout of the bigger distributors, they failed to score with either film in the States. This lacklustre international return was undoubtedly instrumental in Hammer's decision to consider a new setting for the next film.
The dramatic final showdown atop the castle battlements in Scars of Dracula (Hammer 1970)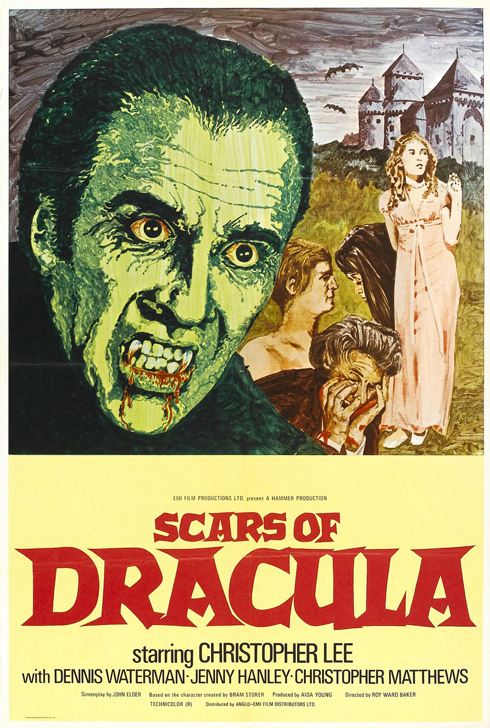 The original theatrical release poster for Scars of Dracula (Hammer 1970)