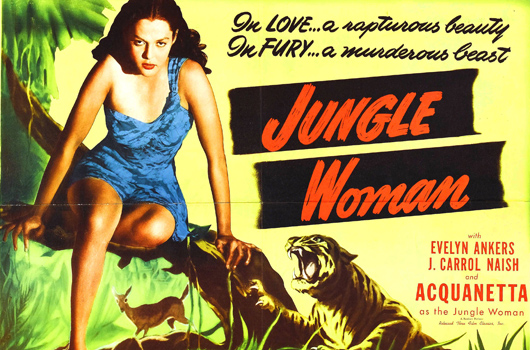 Jungle Woman (1944)
Universal's Jungle Woman was released on the 7th of July, 1944, marking the second appearance of Acquanetta as Paula Dupree, the Ape Woman.
Directed by Reginald LeBorg, the movie was shot in just 12 days, and sadly marked a particular low point for Universal's output. Footage from its prequel, Captive Wild Woman (1943), was used to provide context to the continuing story of semi-simian siren Paula, but the overall production was not received well at the time, and has not aged favourably.
Key elements of plot and mood in Jungle Woman were misjudged, fatally removing much-needed dramatic tension amid poor dialogue and unenthusiastic performances. Even the presence of House of Frankenstein (1944) veteran J Carrol Naish and The Wolf Man (1941) alumnus Evelyn Ankers fails to inject any urgency or excitement into an awkward, ill-conceived movie.