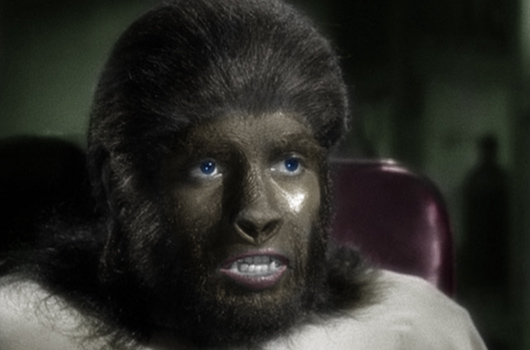 Captive Wild Woman (Universal 1943)
Universal's Captive Wild Woman was released on the 4th of June, 1943, some eighteen months later than planned.
Produced by Ben Pivar and directed by Edward Dmytryk, the screenplay was penned by Ted Fithian, Neil P Varnick, Griffin Jay and Henry Sucher, and took the studio out on a limb it had not previously chanced, introducing some of its most erotic themes, such as female vivisection and the injection of sex hormones.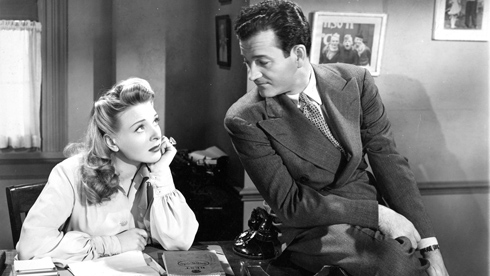 Tiger trouble: Beth (Evelyn Ankers) expresses her concerns over derring-do boyfriend Fred's (Milburn Stone) big cat antics in Captive Wild Woman (Universal 1943)
The success of the Mummy sequels inspired them to create a brand new monster specifically for the 'B' market, but they turned everything topsy turvy by making it a girl, applying a twist to the old monster and the girl idea; this time, the monster was the girl. The unconventional plot centres around the wicked Doctor Walters, who is John Carradine, treating Cheela the orang-outang, who is Ray Corrigan in a suit, with glandular extraction from Martha MacVicar, turning it into Paula Dupree (played by the exotic Acquanetta, nicknamed 'The Venezuelan Volcano', claiming to have been born Burnu Acquanetta, but also known as Mildred Davenport from Ozone, Wyoming).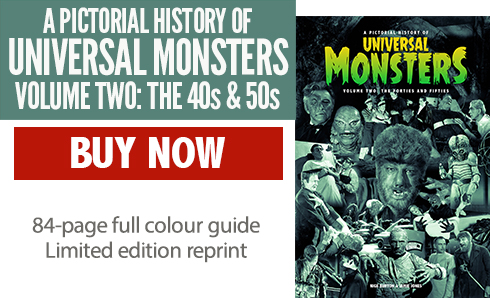 Jealousy prompts a reversion to form, and she comes over all ape-like when Evelyn Ankers makes eyes at beau Milburn Stone, on whom she had set her own simian stare. Of course, it all goes monkeys up as the ape girl saves the light of her life from a clowder of mixed cats, only to be shot dead by a nearby boy in blue.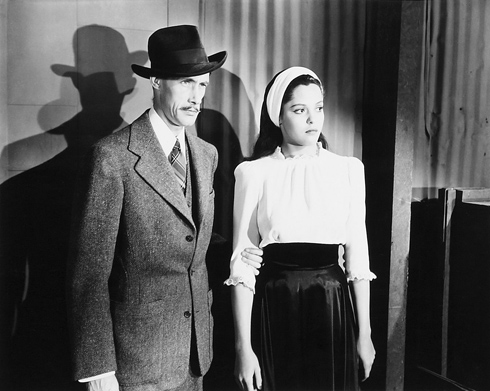 Animal instinct: Dr Walters (John Carradine) tests Paula Dupree's (Acquanetta) reaction to being in the circus environment again in Captive Wild Woman (Universal 1943)
In spite of everything the title and premise would suggest, Captive Wild Woman is actually an action-packed, thrill-soaked B-Movie extravaganza, providing a shade over 60 minutes of traditional Universal entertainment. Carradine, complete with sinister leer and amorals, is superb in his mad doctor role, a turn which proved career-changing as his first for the studio, and indeed his first major one. Ankers is on form and Acquanetta is suitably beautiful and exotic in her non-speaking introductory role (an exploitative move by Universal that was not strictly true; she had been given a speaking role in Arabian Nights (1942), and was introduced in Rhythm of the Islands (1943) in a reasonably substantial part). Great support, too, comes from Lloyd Corrigan as dithery circus boss John Whipple.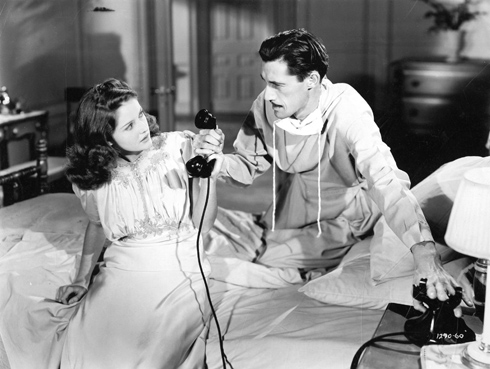 Time's up: Obsessed and murderous, Dr Walters (John Carradine) curtails Dorothy Coleman's (Martha MacVicar) call for sisterly help in Captive Wild Woman (Universal 1943)
Quite a large proportion of Captive Wild Woman is made up of the plucky ringside exploits of Stone, a feature that would be much more enjoyable if it hadn't been lifted directly from Universal's 1933 production, The Big Cage. Although editor Milton Carruth did his best to integrate this footage with the main event, the earlier film's ageing production quality is starkly evident, and the ploy to reverse shots of advancing big cats so they appear to be retreating is both glitchy and ludicrous. Leading man Stone was rarely given anything decent by Universal, due in the main to his slightly under-average 5 foot 8 inches stature, but was used here solely because of his resemblance to The Big Cage's Clyde Beatty. While the world-class animal trainer was given a major credit in the film's opening titles (Universal thanked him for his "his co-operation and inimitable talent in staging the thrilling animal sequences"), all he really had to do was give them permission to use the stock shots.
Successful enough to spawn two lacklustre 'sequels', Captive Wild Woman is well worth a look today, with Jack Pierce's half-transformed Paula giving us a new monster which is actually among his most frightening. Easily dismissed as fill-in fodder by those who haven't seen it, the movie oftentimes occupies a special place in the hearts of fans who eventually discover its charms.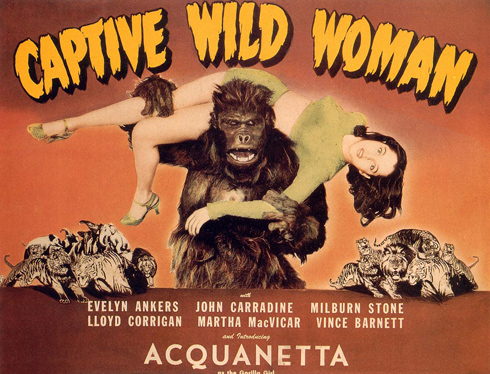 Girl power: Original theatrical release poster for Captive Wild Woman (Universal 1943)